Sun Mar 06, 2011 7:30 pm
I have a woods 42 inch FH rear mounted mower
C-2
the PTO shaft hits the diagonal link not allowing it to be coulpled to the pto on the tractor
how do I set it up properly?
remove the diagonal link
is there an ID to tell which model I have? (it's missing the belt guard/cover)
I want to find a parts/set up manual
thanks
Howard
Sun Mar 06, 2011 7:35 pm
Sounds like a RM42CF-1. Go to this link, scroll down to the correct model and download your manual.
http://www.woodsequipment.com/manuals.a ... Directory1
Sun Mar 06, 2011 8:18 pm
Thanks Don!!
I am thinking about making a belt cover
Does anyone have have a mower with guard that could take some measurements/
post a picture showing the mounting??
Sun Mar 06, 2011 10:02 pm
If I am not mistaken, there is a special diagonal cross link for use with PTO driveshafts. It has a "U" shaped drop in it for the drive linkage to pass through. And it is hard to find....
Mon Mar 07, 2011 7:25 am
I was studying the picture in the woods manual - it's hard to tell how they have it set up
the picture is a little fuzzy
some thoughts
could the link be reversed or left off while mowing??
or replaced with a home made solid bar??

just some thoughts

H-
Mon Mar 07, 2011 7:29 am
I see no reason why it couldn't be removed while the mower is in use. The setup for the fast hitch Mott Flail mower has the diagonal brace removed.
Mon Mar 07, 2011 8:33 am
BD
Hmm . . . . .interesting
yet another tidbit of information about the farmall cub
i'm amazed!!!

thanks
H-
Mon Mar 07, 2011 10:19 pm
Bigdog is correct. When using a driveshaft drive mower with fasthitch is may be needed to remove the diagnel brace rod. Also there is a special U shaped slide bar for use with fasthitch too. Also a special diagnal bar also but its very hard to come by.
Mon Mar 07, 2011 11:13 pm
There are two different versions for a fast hitch, 42F and
RM42
. The RM is essentially a 3 point version with a fast hitch 'adapter' and Cub PTO, probably orange. The 42F has a fast hitch assembly welded to the deck. There are a few variations of that one, including one for a Lo Boy.... but I don't know what is different about the Lo Boy version, except it needs the dropped cross piece on the Fast Hitch.
I only ran this one once or twice. Pretty sure all you need to do is make sure the 'lock collar' on the rod from the TC is free so the mower can 'float', otherwise it will bend it when the rear wheels are lower than everything else (think ditch).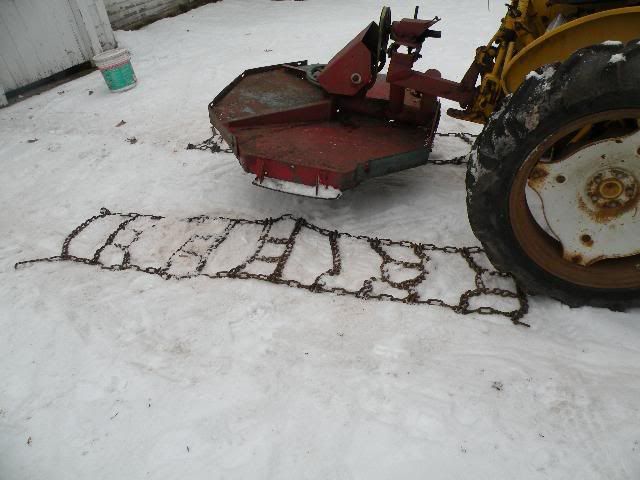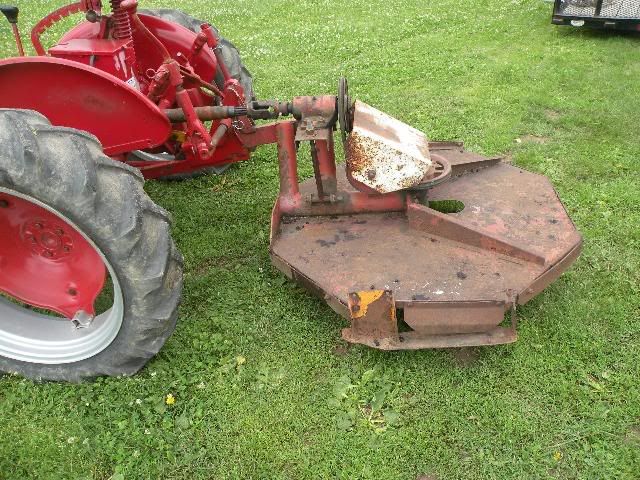 C-2 looks like this.... Do you have a picture??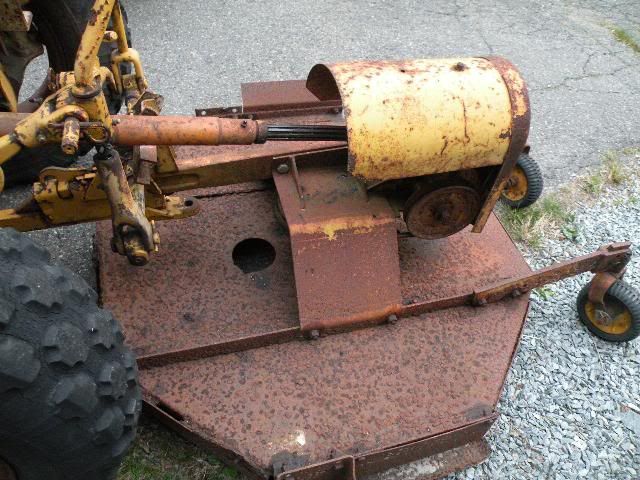 Wed Mar 09, 2011 9:48 am
I think mine is an RM 42
it has the over running clutch and the two dollie wheels in the back
I will try to post a picture . . . ..
You do not have the required permissions to view the files attached to this post.
Wed Mar 09, 2011 9:53 am
P.S.
I've been having some difficulty getting the drive shaft coupling on the pto shaft
I've noticed this with the 90 degree drive also
shaft is " crudless" and down to bare metal w/o any apparent burrs
anyone else had this problem???

H-
Wed Mar 09, 2011 10:02 am
Howard:
Sure looks like the RM-42. The manuals for the RM series are on the Serer.
Woods RM42CF-1
Woods RM42CF-1 for Cub and LoBoys
Could you post some more pics of your mower?
Wed Mar 09, 2011 10:17 am
Howard, check the splines real carefully again. On my buzzsaw extension, I found several little rounded (smashed) corners. Once I filled them straight, it slid right on. The first time I looked at the splines, they looked fine but it doesn't seem to take much to make it bind.

Bob
Wed Mar 09, 2011 7:57 pm
Not really sure what it looks like under the covers, but this was the
RM42
I spotted at Boss Hog's last spring:
It appears to be different than yours.
This is why I assumed it was 'adapted' from a 3 point version: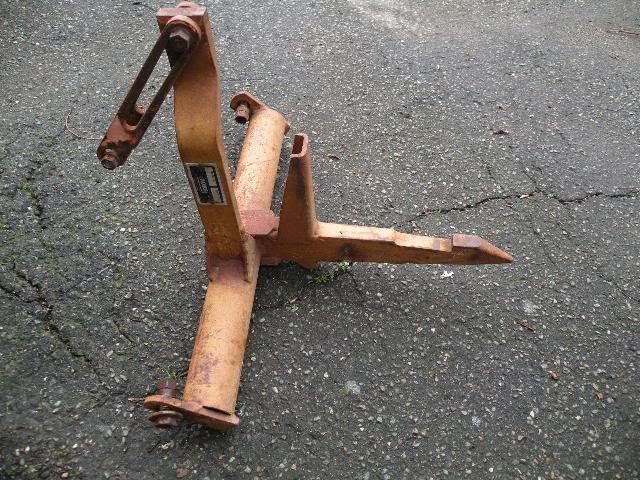 Wed Mar 09, 2011 9:47 pm
It seems like there are a few diferent mountings for the rear mounted mower
Bob
I will check the splines again
the coupling did go on about 1/2 an inch but got stuch after that
thanks guys
I'll report back when I can look into it a little further