Tue Aug 16, 2011 4:13 pm
WisconsinCubMan wrote:Nice job, Yogie! Couple questions for you though. Was that one box of baking soda enough to do the whole carb? Could a person set up a catch basin to catch some of the baking soda after it gets blasted, or does it pretty much all go into the air like a powder?

Mike in La Crosse, WI
Mike, I started playing a little inside the shop earlier in the day and it went everywhere. Outside later on the wet lot it covered a area about 3 feet. Guess you could catch it, this carb job took about 3/4 of a box at .75 cents a box.
Tue Aug 16, 2011 4:43 pm
i bought one of the soda blaster at a flea market new in the box for 35.00 never could get it to work right but all your rig is just a siphon system. could have saved my money
Tue Aug 16, 2011 9:37 pm
AL Farmall Boy wrote:I bet this would work GREAT for the hydraulic pumps when cleaning up before a rebuild, or just to clean one up.
It does not do well with grease
boss
Tue Aug 16, 2011 11:01 pm
Super A wrote:How would this work on regular ol' cast parts?

Al
It works pretty darn well. I had my entire tractor soda blasted while still assembled. It will not hurt wiring, rubber and will not etch or pit glass but it will remove paint and rust. You can use it on wood and fiberglass too.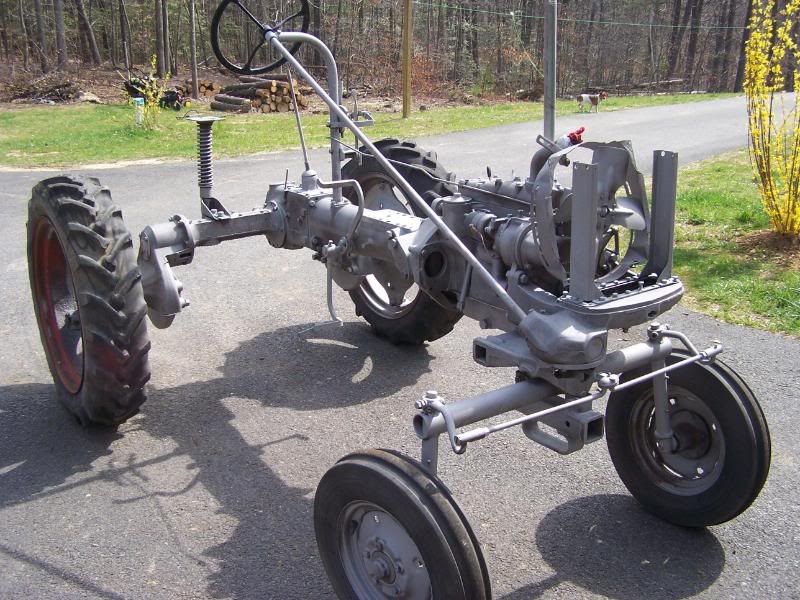 Wed Aug 17, 2011 8:36 am
Yogie wrote:

WisconsinCubMan wrote:Nice job, Yogie! Couple questions for you though. Was that one box of baking soda enough to do the whole carb? Could a person set up a catch basin to catch some of the baking soda after it gets blasted, or does it pretty much all go into the air like a powder?

Mike in La Crosse, WI

Mike, I started playing a little inside the shop earlier in the day and it went everywhere. Outside later on the wet lot it covered a area about 3 feet. Guess you could catch it, this carb job took about 3/4 of a box at .75 cents a box.
Thanks, Yogie! Even I am not THAT cheap! I didn't know how much it would take to do a carb or whatever to blast. Good to know...
Thanks for sharing...
Mike in La Crosse, WI
Wed Aug 17, 2011 9:51 am
I went and bought me one yesterday. $9.99 haha, if it works 3 or 4 times I've got my money back. Now, I wonder if it will handle media like sand or crushed walnuts?? If so, I wonder how long it would take me to do the Sheetmetal off a Cub, a Farmall 140, and a Ford 641?? I'm kinda scared to get it sandblasted with sand because everyone has been saying that the heat will probably dent and warp the metal.
Wed Aug 17, 2011 1:48 pm
Mine is the Red & Black one (Central Pneumatic) from Harbor Freight by the way
Wed Aug 17, 2011 4:29 pm
Hooked up that little feed line to a big bag of play sand this evening, I wanted to do the rusty section of a manifold before painting.
Worked slow but okay, boy did I ever get a bath in sand....
It was worth it for what little I needed done.
Sun Aug 21, 2011 6:49 pm
So, got to try the Mini-Blasting Gun earlier. I put a box of Baking Soda in it, and let her go (at a regulated 90 psi per the manual). I was going to try and clean the red paint off of a Cub serial number tag (and hopefully clean the original print off it too) to get it prepped for the new decal I ordered from TST. I wasn't pleased at the results because I didn't clean the first bit of paint off. I then switched the line to the unregulated side (about 160 psi) to see what the difference it made. The gun is only rated at 90 psi, but it was only $10.00; so what the heck. This time it actually worked at removing the paint, but it was VERY SLOW and messy. I didn't imagine that the soda would make that big of a mess for such little work it did. I took me the whole box of Baking Soda for the little serial tag. It only cleaned the red paint off, and didn't get the black print off like I had hoped. I've got a way to get that off too, but was hoping it would have been already done with the soda. I felt like (from an efficient standpoint), that the soda blasting gun wasn't efficient at all. I had to hold it close as possible and use a whole box to clean that little tag. I would hate to do a peice of sheetmetal, or a whole tractor like the post above. Haha. Anyways....just thought I'd post my results with it. The gun also says you can use glass beads in it. I will pick some up and see how they do at cleaning up small peices. I was gonna try a dirty carb body, but I ran out of soda. Maybe next time. Now its time for a bath, since I look like I've been in a giant jar of flour!! HAHA.

If you guys have any suggestions, or anything. Let me know. Maybe I was doing it wrong, or maybe that's the way it is. THANKS AGAIN!
Sun Aug 21, 2011 8:15 pm
Make sure you use sealed eye protection with glass beads outside of a cabinet, Also I would recommend a hood and a better breathing aperatous than the rubber band chep ones.
Tue Aug 23, 2011 6:54 pm
While I have not messed with soda blast yet I do a fair amount of sand blasting and have read up on soda blasting. My understanding is the parts should be degreased and then blasted. After blasting they must be cleaned very well before painting so you get good paint adhesion.