Fri Dec 23, 2011 11:30 am
Mr E wrote:

homstead wrote:My wife calls it an "industrial size dog house" I still can't figure out why

Brad,

I'm jealous. Very jealous!! And look at that clean floor!! Very nice setup. Nice tools. Love the vacuum system.

One day, maybe.
Mr. E - I assure you the floor and the rest are not always this clean, this photo was taken just after a five minute disagreement with the wife
followed by about a six hour clean-up party
I guess that's why she calls it what she does.
Fri Dec 23, 2011 12:05 pm
Nice.
Fri Dec 23, 2011 12:31 pm
Well looks like you won that fight. She did a nice job cleaning it up for you.
Fri Dec 23, 2011 5:17 pm
Brad my shop always starts out that way. Then while building something, i make as big of a mess i can. So i can as much "quiet oops i mean cleaning time" as i can when done.
Fri Dec 23, 2011 9:37 pm
Looking at all these pictures, some shops are big, some are small, but the common thread is guys who get out of the house and do things with their hands and minds. All my life I've had projects that kept me busy. When I talk to the people I work with, I find that they know all about movies and sports, but rarely do I meet people who do things with their hands and their mind. What they know about projects is mostly watching home-improvement shows on TV. I think people have become screen-oriented, by that I mean the movie screen, the TV screen, and the computer screen. Seems to me something's missing.
Sat Dec 24, 2011 3:12 am
I don't get to do much tractor work here any more since the mini farm's 40 miles away but here is where my tractors sleep during the winter. Bird house buildings are 16'x16' and 16'x 24' with the larger one having a concrete floor and plenty of cub storage room.
Larger tractors rest down back in the shed type building.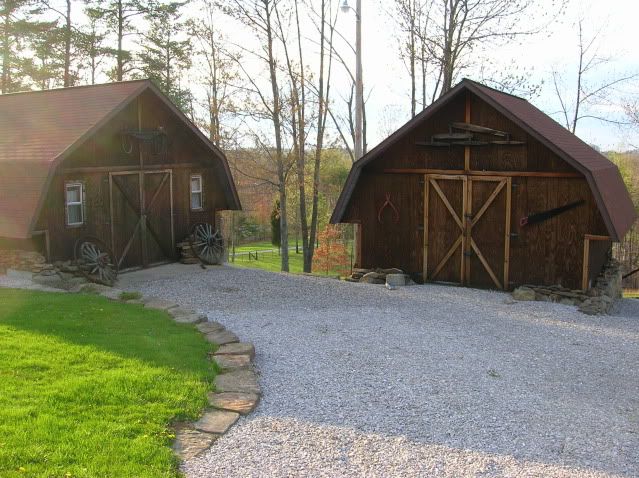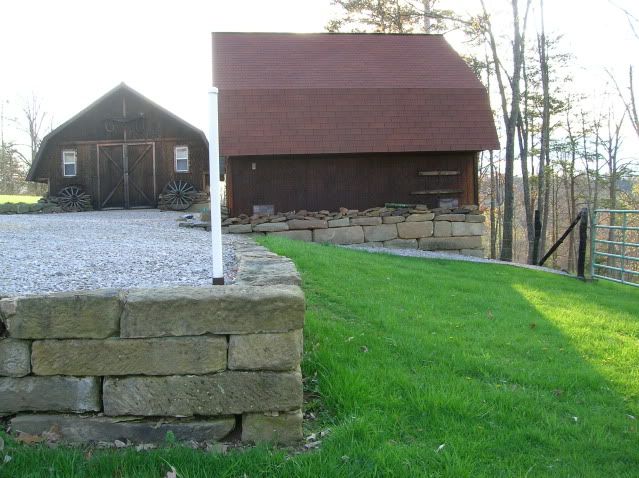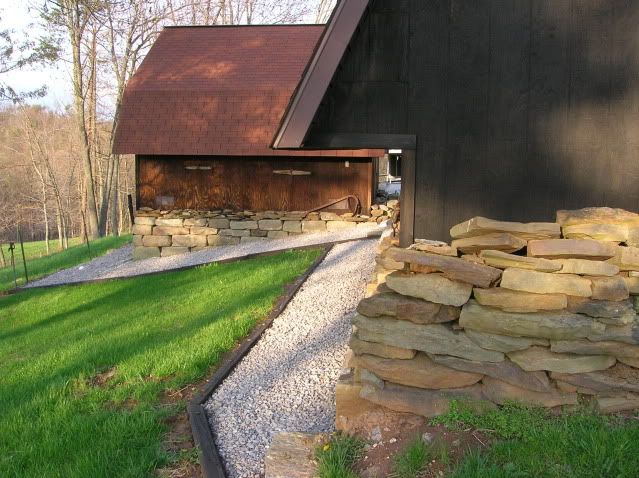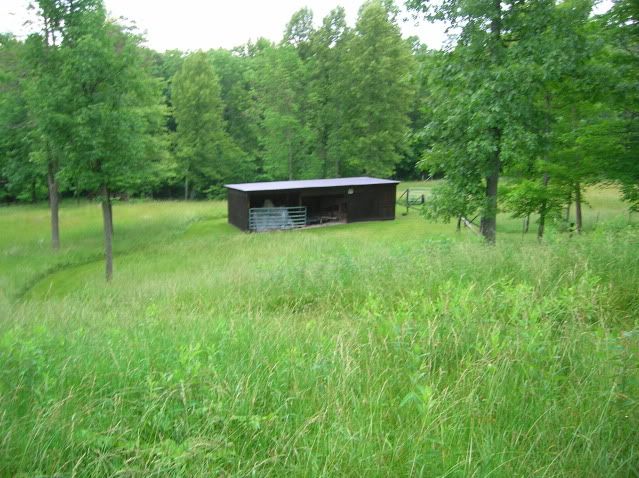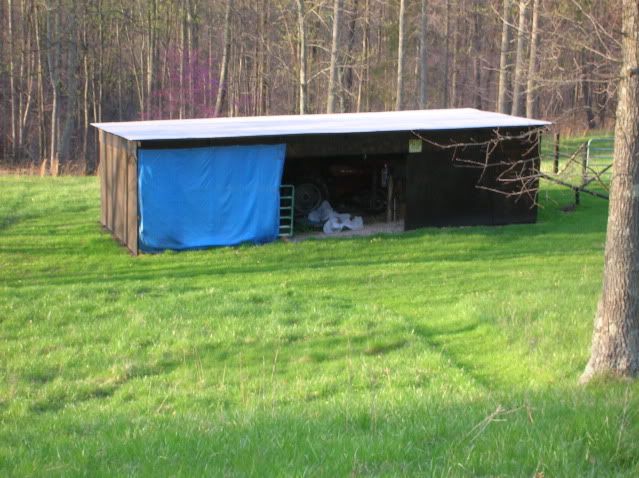 Sat Dec 24, 2011 7:18 am
bobperry wrote:the common thread is guys who get out of the house
homstead wrote:My wife calls it an "industrial size dog house" I still can't figure out why
I know one of the above statements is true. I suspect both are true.
What is the saying? When the going gets tough, the tough get going.
I think sometimes Billy Ray needs to get going just a wee bit quicker. Then his ears wouldn't ring as loud.
Sat Dec 24, 2011 10:58 am
Ok here are the award winners..........

Raymond Durban - best ventilation
Mr. E - nicest weather
Jim Becker - best "winter cub" photo
Barnyard - best shop upgrade
Dusti Snider - nicest color shop housing a John Deere
Bigdog / Goraidh - tied for most authentic shop setting
Oliver Douglas - nicest looking cub
Ricky Racer - best two wheeled toys
John*.?-!.*cub owner - best shop design
Rudi - worst weather, but most water tight
frederick - nicest entry doors to a shop
Videodoc - fastest contruction
bobperry - nicest roof
Mike in Louisiana - best tool display
Cubbrian / zim - tied for best use of space
RA551Cub - most in need of an addition
Boss Hog - best parts supply in and surrounding shop / and highest concentration of square noses
Yogie - best landscape and nicest views

and of course CapeCodCubs for best post of December!

Merry Christmas Everyone!!!!!
Sat Dec 24, 2011 11:31 am
Perrrrty good there homstead Brad !!!
Sat Dec 24, 2011 11:38 am
Yogie: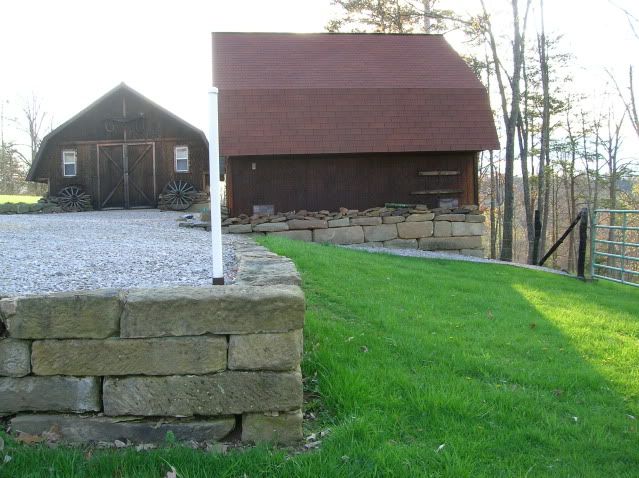 Very nice and I do mean very, very nice. These birdhouse barns are very reminiscent of some of the barns Em and I saw during our travels in Europe when I posted to CFB Lahr. I really love how you have built them, native stone for the foundations, the lovely wooden siding and of course the truly North American barn doors
Simply great
Thanks Brad
Sat Dec 24, 2011 12:10 pm
homstead wrote:Ok here are the award winners..........
. . .

Jim Becker - best "winter cub" photo
I am humbled by such a great honor. Here is a picture of the same tractor from a year earlier. In this case, the tractor was parked close to the position the other picture was taken from. Barnyard turned this picture into one of his famous jigsaw puzzles, for anyone up for a try at it. The tractor is now parked inside.
http://www.savethecub.com/cubpuzzles/texastreepuz.htm
Sat Dec 24, 2011 1:43 pm
Sat Dec 24, 2011 2:19 pm
My shop is still a work in progress it is located at the home where I grew up just across the field from my house. It is a 26x46 foot three car garage that was built in 1963 after our barn burned down. Right now it is heated by wood pellets but the plan is to switch to a wood stove due to my ample supply of red oak. I have upgraded the wiring and hope to insulate part of it this winter and then new siding next spring or summer. Many of my tools are split between the shop and the garage at my house, where in warm weather has been my shop. The small red shed holds one cub and most of my implements. It als doubles as a guest house for Ed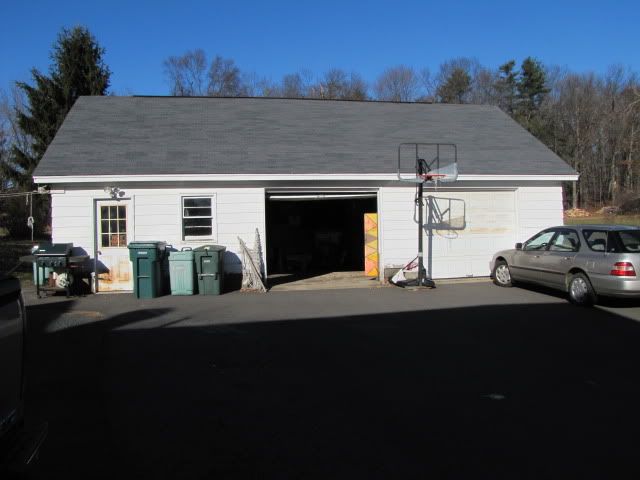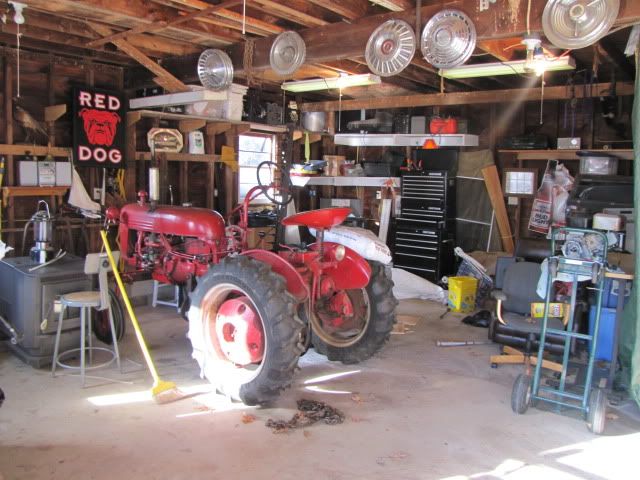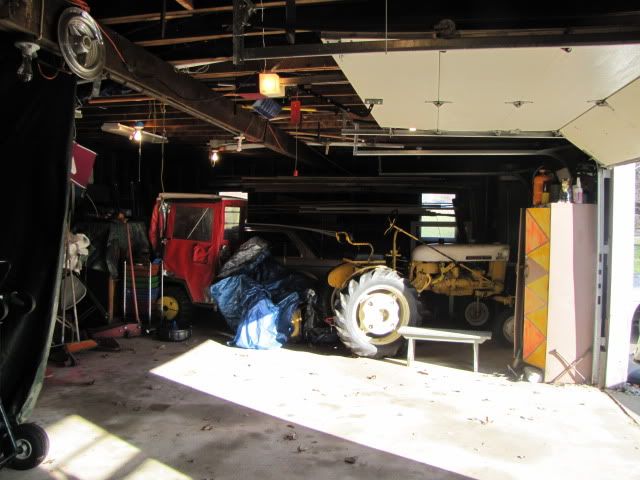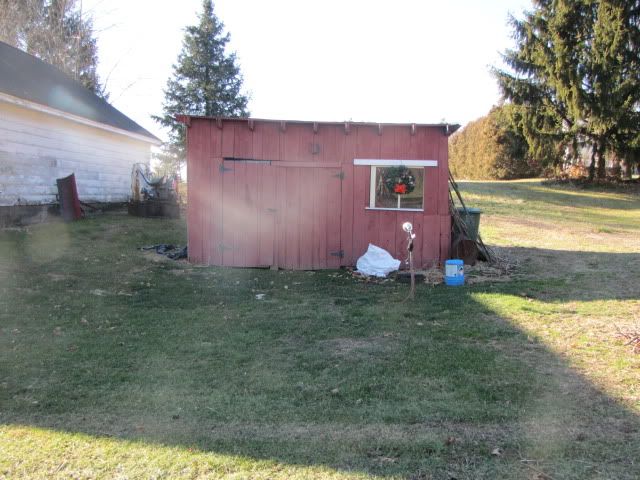 Sat Dec 24, 2011 2:41 pm
By day just a humble storage shed. But at night a tractor laboratory with unknown surgery using graveyard pieces...
Todd
You do not have the required permissions to view the files attached to this post.
Sat Dec 24, 2011 4:15 pm
I also am honored with the award.
When the addition is done I will post a picture and possibly receive the golden hammer award.
Until then I will cherrish this award and post a copy in my shop.