Sun Feb 27, 2005 9:56 pm
To All,
First I must express my deepest thanks and admiration to BIG DOG. (Even if my pics don't show up here). BD has patiently walked me thru the process of posting pictures. I hope I did it correctly.
Everyone says it but I'm gonna say it again anyway......this forum, without a doubt, is made of of some extraodinary people so willing to help one another out. Yall are truely the BEST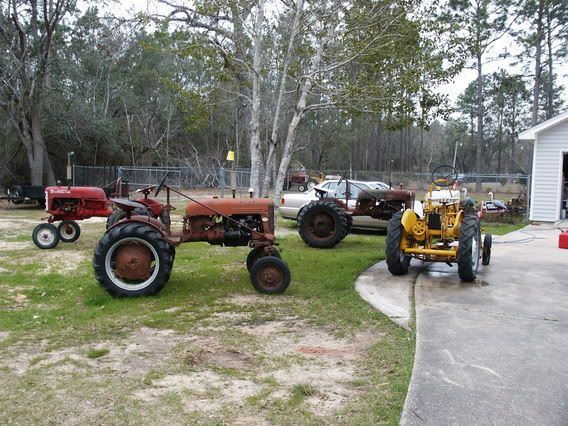 So, if it all worked, we should be looking at a bunch of Cubs. There's a couple more in the background, one in the rv barn and my original '49 is in the shop. I've sold one to my friend Roger who has already joined in on our forum. Then my neighbor may be purchasing one of my yellow cubs. Which brings me to my question.....and hopefully another pic: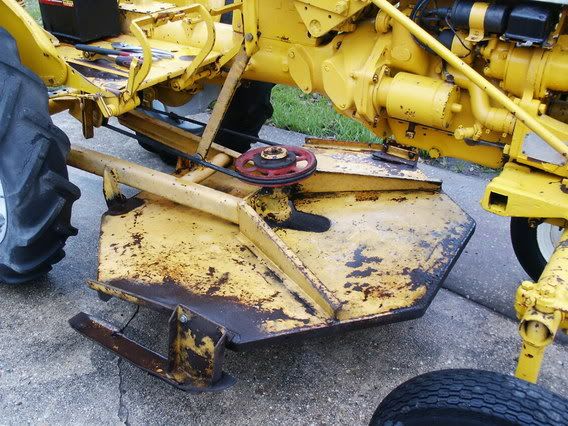 This deck needs bearings and I have never changed bearings on a deck before. Are there guidelines posted anywhere...or maybe a schematic or parts diagram that will help me with the procedure. And, where can the bearings be purchased? Are there any gaskets?
Sorry for all the questions but I''ve got 3 decks that I need to replace bearings on and don't know where to start.
Well, thanks again. And another big thx to BD for all your help.
[/img]
Sun Feb 27, 2005 10:00 pm
Great job Kirk!
Sun Feb 27, 2005 10:01 pm
Kirk,
Pictures cane out just great. My Dad replaced the bearing assy. on his 60 Low-Boy and I think he got it from IH. I'll have to ask him tomorrow if someone else dosen't get you the info in the mean time.
Sun Feb 27, 2005 11:13 pm
I am not too wise about mowers, but that is not the same as my IH single spindle (c-2?)
But I will tell you that when I priced bearings for the front hub that the IH kit with bearings, seals,etc was cheaper than I could get the just bearings and races from a bearing supply store. And they were Timken.

Rudi does have the IH mower manuals on the server.... try that.

Let us know how you make out.... I may be in the same circumstances soon.
Mon Feb 28, 2005 2:20 am
Hi Kirk, Glad everything worked out on the "Cub Deal Of The Year" That picture of the four Cubs is a classic. Hope you are having fun.

Mike
Mon Feb 28, 2005 1:54 pm
Thats a woods 42c mower deck youv'e got there... check Rudi's web site, I believe he's got the manuals for it..

David C.

Same one on my 49 Christmas cub...
Mon Feb 28, 2005 3:30 pm
Kirk,
I checked with my Dad today and he bought the parts from the local "Tractor Store" He said they weren't the IH dealer but handled several kinds of equipment. His is a Woods mower and the bearing had been badly abused, he had to replact the complete assy. which ran about $200. The housing had been ruined as well as the bearings etc. It looks like you can get parts fairly easy. He took the assy. apart and took them with him to the parts counter. As the other guys have said Check Rudi's manual server for exact details.
Mon Feb 28, 2005 4:17 pm
Kirk,

Don't be too worried about replacing the spindle bearings. It's a pretty straightforward job. If you're not good at rememberin' how things came apart, a digital camera and a notepad will come in handy
Mon Feb 28, 2005 10:42 pm
Thanks for the help guys....I appreciate it. I'll tear down one of them tomorrow and see what it looks like.

And thanks for identifying it, David.
Mon Feb 28, 2005 11:41 pm
Hey Kirk, Great job on the pics. That looks like Buckwheat on the far left!
By the way, I heard there's a fellow in Defuniak springs with 10-12 cubs he brought down from up north. Settle down Big Dog....I haven't found him(or the cubs) yet! I am hot on his trail though. Thanks Kirk for all the work you're doing on Buckwheat and the mower. I'll see ya soon...roger