Thu Feb 23, 2012 11:42 am
The nuts and bolts were the same type used on a mule drawn plow. I was raised on a one mule cotton farm here in the south. My grand father would put a loop on his plow stock to hold his hammer. With that type nut you could change your plows in the field with just a hammer and no wrench. One trick you had to learn was when you tightened the nut, the spur had to face up or down. If it was to the side it would stick out and make contact with the soil and wear off the spur. I've seen farmers tighten the nut then have to loosen it and take out the bolt and move it 90% and tighten again to get the spur in the right place. When your see a spur ground almost away you knew someone got in a hurry or just didn't know what they were doing.
Roy
Thu Feb 23, 2012 11:47 am
jamieei wrote:I thought that too... But these mount differently if you look close. there never was a cub on this farm either.
I saw that, and that is why I said "similar" to the pic that I posted. The prongs serve the same purpose and are used in the same manner, just from a different model unit.
Thu Feb 23, 2012 12:04 pm
sorry, the intent of posting was to ID the part. I'm familiar with it's purpose, just not its specific application thus my comment about building a seedbed preparation harrow out of them. I have so many because my wife's grandfather bought things like this to resell back in the 40's and 50's and apparently didn't sell nearly enough.
Thu Feb 23, 2012 1:18 pm
Item #4? never saw another toolbar like this... ideas?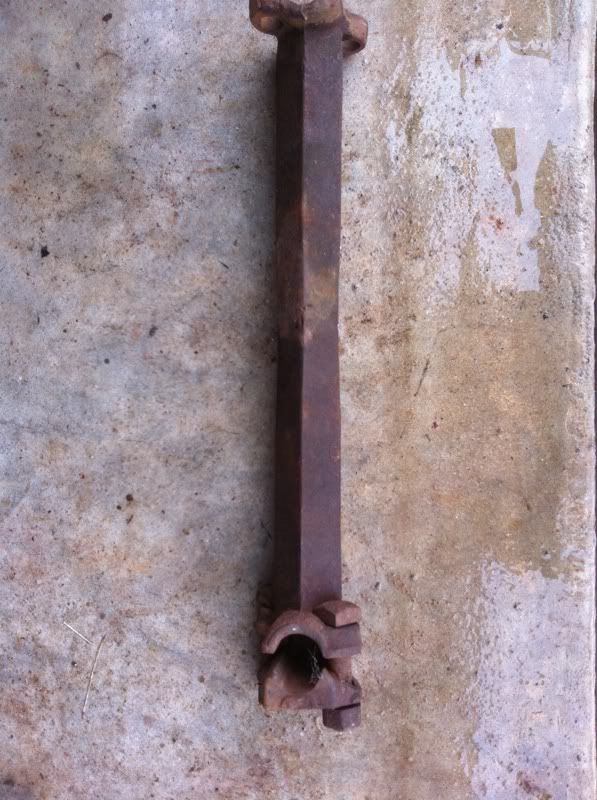 Yes, standard clamp on both ends.
Thu Feb 23, 2012 5:20 pm
The #2 item is a bolt that held buzzard wing or heel sweeps onto the horse/mule drawn plow stock. They also work on the CUB 144 cultivator feet. When my great uncle bought his CUB some 60 years ago he simply got the cultivator frame and moved the plow wings off his horse drawn plow stocks over to it. They stayed on it until last year when I began to dismantle to refurbish. You could use either a wrench or a hammer to loosen or tighten the nut.
Fri Feb 24, 2012 10:06 am
Item #2 is what Roy47 and Russ said they were. Around this part of the country, they were called heel bolts. I have some on my 144 cultivator feet, and one on my one wheel motorized plow. Works good.
Sat Feb 25, 2012 10:14 pm
any ideas on #4 anyone?
Sun Feb 26, 2012 1:42 pm
This post made my day! I've had a Cub Weeder Mulcher for 20 years and a Cub for one year.I bought it at an estate sale over 20 years ago,nobody including me new what it was.I gave seems like 20 dollars for it.I think I'll sand blast it and put some RED to it.
Wed May 09, 2012 7:54 am
#5
I know this isn't red... But anyone have an idea what its application is? I'm not at all familiar with JD cultivators.
Wed May 09, 2012 7:58 am
#6
More green... Sorry! This is all tied together... There's a pressure rod there so I'm assuming more cultivators?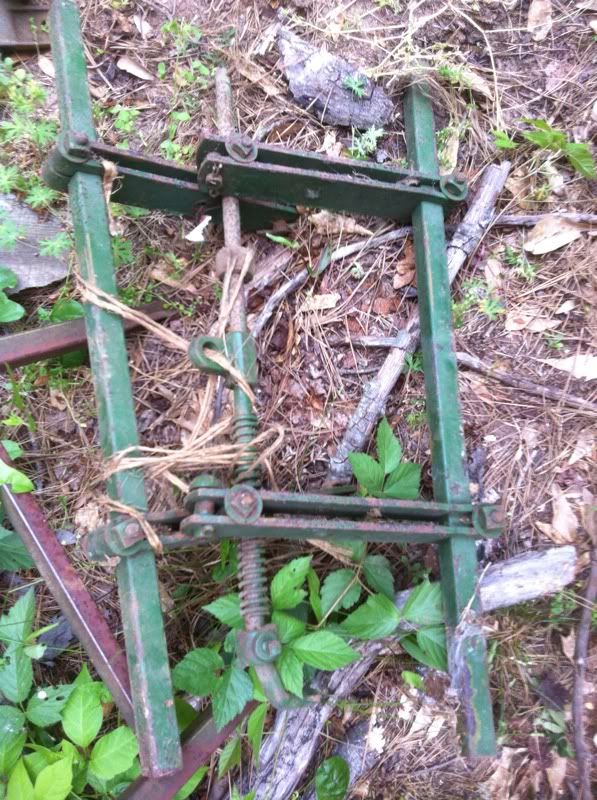 Wed May 09, 2012 1:50 pm
Those two bolts are heel bolts used to hold plow points on a georgia stock plow. They were used for other purposes, but origionally used to hold sweeps, etc. on a georgia stock.

Billy
Wed May 09, 2012 6:34 pm
Billy,
I am soooo glad
that used the term "Georgia Stock". I have not heard that term used in 40+ years since my great uncle stopped farming. I was thinking about some kind of "stock" just could not pull it out of ye ole memory banks.
Wed May 09, 2012 6:57 pm
jamieei wrote:Item #4? never saw another toolbar like this... ideas?

Yes, standard clamp on both ends.
Homemade welded together I am sure you can see the weld in the center
Boss
Wed May 09, 2012 7:42 pm
No welds... That's just worn in the middle with nicks in it. I just got up close and personal with it and see absolutely no seam. Somebody mounted a layoff plow on it... Like I'm doing now. Might have to put a wire wheel to it.
Thu May 10, 2012 8:08 am
Dad always called it (#38) a "Pig Tailed nut", he used it to hold the different plows (shovels) on the lay-off bar on the Cub. I still have it, cleaned up and painted in the garage (didn't work well with the new (FH) lay off plow).
Last edited by danovercash on Thu May 10, 2012 8:13 am, edited 1 time in total.