Sat Sep 22, 2012 8:04 pm
I finally got off my duff an plowed the spot for my garden. I got my old 52 cub named my by son redlight, and mounted the 151 disc plow on it because it looked right and it's easier to deal with that plow is a nice benefit.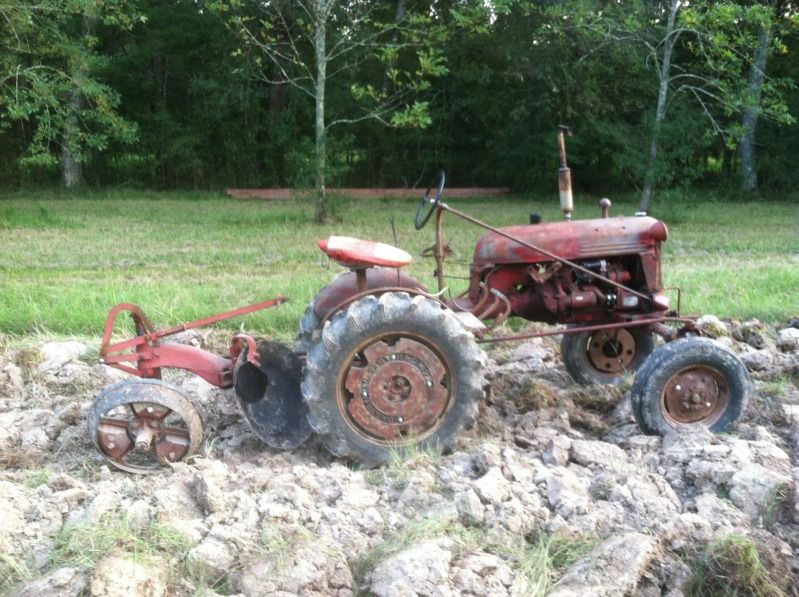 To say my ground was hard was an understatement. When I first tried a few days ago, the plow could only peel the grass off, it couldn't turn my clay at all. In fact I couldn't get a shovel or a pick to penetrate either. But we got some rain mid week, and it made the ground soft enough it would turn.
I know some if y'all are prolly laughing at my job of plowing. It I figure for a rookie with never turned over hard clay and exactly no experience plowing I did a pretty good job
Later
Hank
Sat Sep 22, 2012 8:14 pm
What kind of wheel weights do you have on that cub?
Sat Sep 22, 2012 8:14 pm
Hank:
I think you probably did pretty darn good for a first time plowing. My first wasn't so darn hot either as far as I was concerned, thought I didn't do it right. Dad said -- it got cut up and turned over so that is good. Now you are going to have more fun as you disc it and harrow it. Quality seat time in any case. Glad you had fun
Sat Sep 22, 2012 9:53 pm
Thomas, do a search on the site for W&N wheel weights. They were made for the early cubs on the west coast for IH by them in Fresno CA. They are a set I got on a circle cub I got from CA a few years ago. Walt and I went out and brought 3 cubs and a pile of implements back.
Sun Sep 23, 2012 6:40 am
Now, you need to work on making nice garden soil, out of the clay. Start gathering leaves, grass clippings, old hay, livestock manure, anything organic, to add to the clay. In a few years, the plow will sink in easily, and crops will do well. Garden crop roots will have a hard time, as the plow did, sinking into the clay. Ed
Sun Sep 23, 2012 11:47 am
to what Ed said. Work it with the disc harrow if you have one or even a spring tooth. It will help work the soil amendments into the ground. If you can get wood ash lay that on as well - keep the chunks of charcoal out. Clay requires ash - then nitrogen really is the only thing left to add. Along with the other items Ed mentioned this will bring your soil up to good workability. If you can afford it a truck load or two of top soil or loam wouldn't hurt either. The goal is to get soil that will crumble in your hand yet when slightly damp can be compressed into a ball -- not a hard ball, just a ball. When you got that all you have to do is ensure the proper elements are present and you will have a great garden. Keep adding soil amendments by the way of green manure/bio-mass etc., to the garden in the fall and work it in.
Sun Sep 23, 2012 6:56 pm
That's my plan of working in alot of organic material. I collected a large pile of bagged leaves last year thinking I was going to start it last year. It didn't happen, but I now have a nice pile of semi decomposed leaves. I spent the afternoon spreading them. I plan on getting several trailer loads of leaves again and mulching with them. Then I spring time ill see what I have an go from there. I might plant the whole bed in cow peas and plow them under for nitrogen. I might try some tillage radishes also to try and break up the soil.

Later

Hank
Sun Sep 23, 2012 11:47 pm
I'm not laughing, looks good so far!!!!!! At least you don't have rocks like we have in the northeast. Build up that soil with compost, sawdust, leaves and manure. It'll take time but you'll be grinning with pride in a couple of years. Green manure is a good idea, too. Nice looking Cub by the way. Chris
Mon Sep 24, 2012 9:46 am
not only will you have nice soil when your done adding, you will have a lot of fun getting seat time
Mon Sep 24, 2012 11:36 am
A disk plow leaves a rough field. But any plow is going to have a hard time on clay thats hard and hasn't been plowed in a log time.

Put rye and clover in with your peas and radish. That will really help add organic material. Rye can add 4 ton /acre of organics alone. I don't know how the ph is in your area. But in Michigan all the soil that hasn't been limed before needs at least 1000 lbs of lime /acre to bring up the ph to where plants will grow well. I've put down almost 17 tons of lime this year myself.

Billy
Tue Sep 25, 2012 8:43 pm
My land was cow pasture cleared in the 40's. So to say it hasnt seen any work is an understatment.

Well got my large pile of semi rotted leaves worked in. The garden is about 25'x40' and has a layer about 1' thick after I worked it in with my disc. The first passes felt Like I was driving over bowling balls hidden in the leaves. But it got better. A friend reminded me a coworker he deals with has horses an cows, and I can prolly get all the manure I want.

So that's my plan along with collecting all the bagged leaves I can get. Well see what spring brings.

Hank