Sun Oct 28, 2012 12:49 pm
Hello,
Thanks again for all the help. I've got the headlight housings and the trim rings, but it looks like the lenses, reflectors and bulbs are gone. They are the teardrop style. Here is a picture of the parts before paint. I've done some looking around at suppliers and it looks like I'll need the reflectors, lenses, gaskets etc. Is that correct? Are there sealed beam units available for the teardrop lights or just the flat back style?
Here is the picture:
http://s1241.beta.photobucket.com/user/ ... 6066386136
Thanks,
Kyle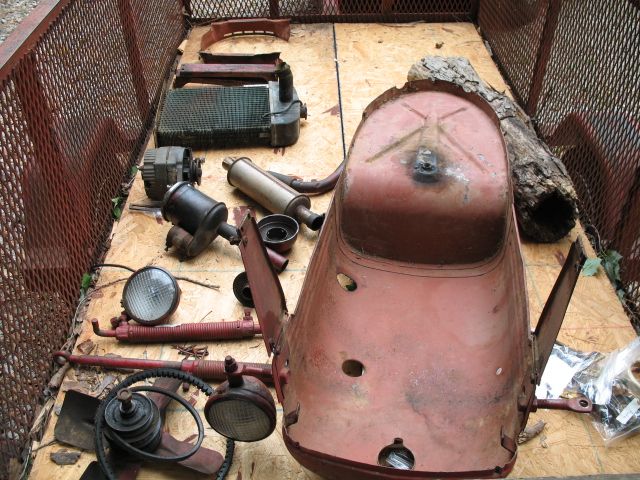 Sun Oct 28, 2012 1:10 pm
Kyle:
TM Tractor Parts is one of our site sponsors. You can get all the parts you need from Tom and Lynn. Here is the link to the
3rd page of the Electrical items
. If you don't want new parts suggest you try our other sponsors
JP Tractor Salvage
and maybe
Hamilton Bob
might have used parts.
Carter & Gruenwald Co, Inc.
another one of our sponsors and is a CaseIH dealer. There is also eBay -
Farmall Cub Lighting
, just be careful who you buy from as well as the prices.
Mon Oct 29, 2012 11:03 am
TM no longer stocks the headlight reflector but Steiner does - p/n ABC320, $10.90.
Mon Oct 29, 2012 2:23 pm
Why would you want a sealed beam in these? Sealed beam bulbs are ~$20 each, while the bayonet style are ~$2 each.
Mon Oct 29, 2012 7:19 pm
Hello,

Thanks for all the tips. I was not aware of Steiner Tractors. It looks like they have what I need.

Thanks again,

Kyle
Mon Oct 29, 2012 9:38 pm
am I missing something? your headlights look to be intact. reflectors may not be real bright, but unless you intend to work at night that is not a big deal. Your fan shroud has the bottom cut out of it, I would be more concerned with that.
Tue Oct 30, 2012 5:28 pm
Hello,

At that stage, the lights were intact. Now, however, I only have the housings and the trim rings. The pictures shown, are of the tractor parts when we took it down for painting back in 2007. My Dad had the tractor at his place, but he passed away early this year. I towed the tractor to my place and am in the process of putting it all back together. I did get it running over the weekend and it runs well despite it appearing to be out of time. I have another post regarding this. I just wished my Dad had seen it run again.

I'm afraid the internals for the lights are long gone so I've got a couple of options - buy new lights or buy the parts to complete the ones I have. I've seen lights like these for about $42 from Yesterday's Tractor. TM has them for a good bit more so it may be a difference of quality. I can buy the parts to finish out mine from Stiener.

Interesting observation on the cutout at the bottom of the fan shroud. I never noticed it. It's a little bent up so it may be something I replace in the near future. The entire light housing was painted silver so I want to return them to the correct color. Are they supposed to be black or red on a '49?

Kyle
Tue Oct 30, 2012 6:18 pm
Red.
Tue Oct 30, 2012 8:32 pm
I'll bet someone cut the fan shroud to quickly remove it without removing other ancillary parts first.
Tue Oct 30, 2012 8:42 pm
Kyle:

Suggest contact our site sponsor's such as JP Tractor Salvage. There are a few forum members who part out Cubs so I would suggest you post that want in the Cubs Wanted forum. I am sure that replacement originals will be available and are probably superior to Steiner. I don't much like reproductions except those from TM but that is just my own personal preference.