Mon Nov 12, 2012 8:57 pm
After rebuilding the steering on the 1975 Cub I decided to paint the lower housing before putting it back on the tractor since it is a tight spot to get to while painting the entire tractor with a spray gun. I would like to do the same with the front axle and tie rods since those are a pain to get to installed as well. My only problem is that I only had 1/2 a can of rattle can Federal Yellow in the shop. It was actually Valspar (from TSC) Cub Cadet Yellow color, and I didn't get to buy anymore before they got rid of it all. I really would like to get the axle painted tomorrow and re-installed so I can move the tractor out of the shop and get it ready for painting before it gets super cold and I can't paint it. I tried the Valspar 'Gold' from Lowe's and it is no where near a close match. Rustoleum's color was more far off than that! The local TSC that has Majic paint doesn't seem to have the Federal Yellow or CC Yellow either. Since TSC has switched paints (for the worse IMO), I really want to try out the CASE Iron Guard paints. BUT I need at least 1 yellow rattle can to use tomorrow. Where can it be found, or what would be a CLOSE match??
The part pictured was painted with the TSC Valspar Cub Cadet Yellow.
You do not have the required permissions to view the files attached to this post.
Mon Nov 12, 2012 9:04 pm
You have a Cub Cadet dealer about 11 miles from you:
HUEYTOWN MOWER, LLC
1931 27TH AVENUE NORTH
HUEYTOWN AL 35023
Phone: (205) 491-6666
11.4 miles

Another one about 20 miles away:
CUB CADET OF TUSCALOOSA
5401 SKYLAND BLVD.
COTTONDALE AL 35453
Phone: (205) 553-4888
22.7 miles

The Cub Cadet paint is the same as Iron Guard, and costs about the same. Make sure to tell them that you want the IH federal yellow, and NOT Cub Cadet yellow. They'll know what your talking about. You should plan to get enough to cover whatever you painted with the TSC paint, because it will NOT match..... trust me on this.

Unfortunately, the closest CaseIH dealer is over 60 miles from you:
1. Talladega Intl Trk 61.34 Miles
35450 Alabama Highway 21
Talladega, AL, 35160
tel: (256) 362-6113 - fax (256) 362-6551

Good luck!
Mon Nov 12, 2012 9:30 pm
Thank you! I didn't realize that the "New Cub Cadet" yellow would be the match that I needed and didn't realize that Cub Cadet Dealers carried the paint that would be what I needed. I only used the TSC CC Yellow for hard to reach places to "closely" match in case I didn't get it covered later with the spray gun. The other yellows are so far off that I am not going to use them at all.

Are you saying that the Cub Cadet dealer stocks IH Federal Yellow!? Would they have it in the quarts or gallons too? And are you saying its the same as the Iron Guard paint at the CASE/IH dealer?
Mon Nov 12, 2012 10:38 pm
I stopped in to our local Cub Cadet dealer to buy a can of yellow paint recently but they wanted $18 for the can. When I protested he dropped it to $15. I still couldn't bring myself to pay that much for a $7 can of paint.
Mon Nov 12, 2012 10:50 pm
WOW!! For a can of SPRAY PAINT!??? That is pure highway robbery! ha, I might have to just try and squeeze the old paint gun in those tight spaces after I order my IronGuard from a dealer who has it at a REASONABLE price. I've heard different dealers price it differently.....which makes NO SENSE to me at all. I guess I will just have to call around the country to find a good price......haha, at that rate, It'll get painted next year. And the reason for trying to save some $$$ on paint is cause I've got (3) more yellow/white Cubs to paint!!
Tue Nov 13, 2012 12:30 am
Chase:

Make it simple on yourself. If you have an automotive paint supply house in your area, go in visit, tell them what you want and they will mix it. Federal Yellow is a standard paint colour and almost every supply house -- NAPA's C-Max, Sherwin Williams, Glidden, Martin Seymour etc., all will mix up Fed Yellow in rattle cans and will supply you quarts/gallons. You can specify even the type of paint. Personally I have been using both Dupont's Centari and Nason mulit-parts, but you can get very close to Iron Guard from these places.

Since I no longer have a CaseIH dealer close to me, this is the route that I have to take .. and thankfully I had dealt with C-Max for over 20 years so it was a no-brainer for me.
Tue Nov 13, 2012 8:56 am
Too bad you aren't closer, I would give you a rattle can of Valspar.... I hate the stuff!
IronGuard is pretty pricey these days, but not when compared with quality auto paint. Yellow is more expensive now, must be something in the pigment? I have used the quart paint with a foam brush and had very good results.
C&G or any dealer will ship it, but it must go ground.
This foam brush job still looks pretty good, except for my 'experiment' with tube body putty.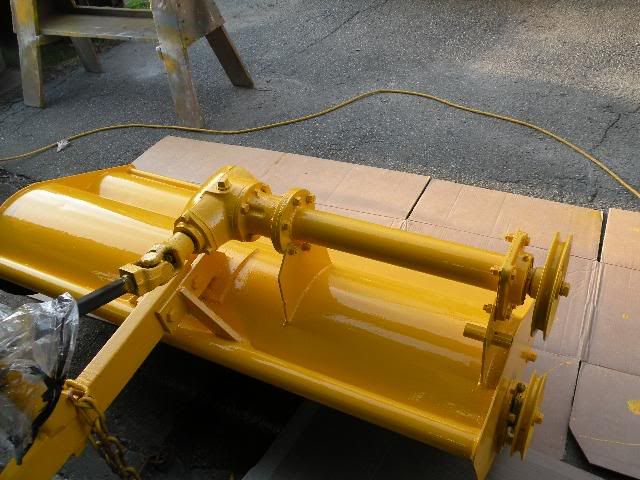 Tue Nov 13, 2012 9:34 am
You can order any of the valspar tractor paint that TSC sold through Lowes, you have to buy it by the case, gallons are 2 in a case, qts are 4 and rattle cans are 6
Tim
Tue Nov 13, 2012 10:07 am
Messick's has it.
Tue Nov 13, 2012 11:02 am
Thanks all. Yeah I have used the high end acrylic enamel in the past from the local auto paint store but I have grown a liking to the "cheaper" paint and when used with hardner it goes down well and seems to hold up ok.....well for 3 years so far. I had no idea that the psi t store could actually mix you a color of paint and put it in a spray can for you. Pretty neat. Thanks all!!
Tue Nov 13, 2012 7:20 pm
Well that is great news! The ACE paint color looks great to me....especially since I'll be following up with the Federal Yellow after it is all back together. I just wanted to clean up and paint the hard to get parts and they'll most likely be repainted later. If they don't get covered good, it'll be a close enough match! There is only 1 problem.....I sprang to the CC Dealer today to get a can of yellow since I was already out. They said on the phone that it was around $10 a can and I was like "sounds good to me from what I've heard". Got there and it was $17.00 a can, and I complained and the 2 counter guys talked a minute and said that it would be $14.62 a can and rang me up. ha! I didn't realize you could talk the retail guys down in price! Still ridiculous though! I have a good mind to take it back and just use the ACE paint.....bigger can too. Wonder if they'd take an unused can of paint back?
Fri Nov 16, 2012 9:49 am
Be careful as to what "cadet yellow' paint you buy. Cub Cadet has
AT LEAST 4 DIFFERENT
shades of "Cadet Yellow" paint, and YES you can tell the difference in them.
The spray can part number for the IH Cub yellow paint is 759-3258.
Fri Nov 16, 2012 9:57 am
AL Farmall Boy wrote:Wonder if they'd take an unused can of paint back?
As long as you kept your receipt and didn't use any of the paint, they should accept it for a refund, but depends on their store policy. Locally, my ACE Hardware store sells the larger 15 oz. cans of implement paint for $4.98/can. Not even a comparison, IMHO.
Wish you success in whatever you decide to do.