Thu Dec 13, 2012 7:06 pm
Sorry Al, no square nose hood Cubs for you..... Unless you find yourself a red and white one. Or a red one. Both are very rare and only a select few may possess one.
As for the yeller on that one... Yogi is right, the used a pretty sturdy yellow primer on Cubs for a long while. There is yellow behind the tool box and other places on my 77 red Cub. And there was a very tough layer under the yeller paint on the 71 too. Definitely not the same 'federal yellow' as the top coat on a Cub.
Tue Dec 18, 2012 2:07 pm
# 224457 J Has been added white hood red lower Has the original Dealer sticker
Tue Dec 18, 2012 2:45 pm
David:
I have been watching this thread with great interest. These are my favourite colour Cubs - I really like the white hood. I am hoping that you will get this into a database and I can add it to the databases already on the server. This one is generating quite a bit of interest
Thanks for doing a great job on it ,
, it may not have gotten done without your diligence
Thu Dec 20, 2012 10:26 pm
Yogie wrote:

Bill E Bob wrote:I take it that bit of yellow peeking through in various spots is the yellow(ish) primer used on the later models?

Yep, I looked it over good and that's primer Bill. The front wheels are painted the same color as the hood on the couple tractors that I've seen. A good friend told me where one was setting just across the Ohio river from me. I hope to see it sometime soon and get the serial numbers.
I called the dealer that had the 2 tone cub and he said he remembered it but it's sold and long gone now.
People in my area know I like cubs and ask me often about them usually sharing stories about when their family had one. I'll start asking them about this muti color 64 and see how many have seen them.
How many have been located so far Boss ?
Is it possible to get a picture of the cub with the original Dealer sticker on the hood ?
Thu Dec 20, 2012 11:06 pm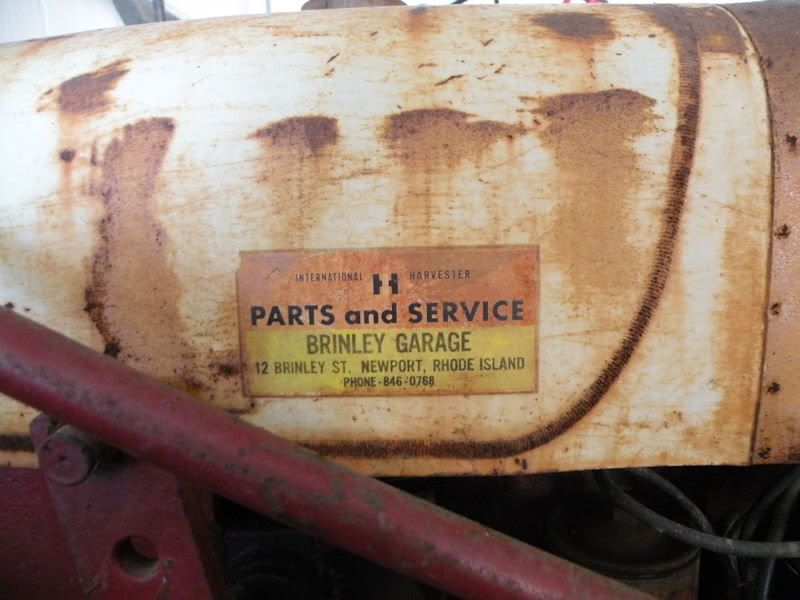 Mon Dec 24, 2012 1:20 am
There is a 1963 cub on tractor house. Serial number 223,264. It has the "Farmall Cub" decals. It's square nose and all red. No white hood. Maybe this is out of the range you're looking in, but wanted to post it in case it mattered. Looks to be original since dealer stickers are present.
Tue Dec 25, 2012 2:14 am
Looks like the all red ones are 6v (1963 - 1964). Still rare, being the last of the Farmall Cubs. The handful of red and white 12V Farmall's are the really rare ones. Seems like there is a small batch of them before they were yellow 'International Cub' later in 1964.
Mon Dec 31, 2012 6:54 pm
Just bringing this back , I still need all the Info I can get
Thanks Boss
Mon Dec 31, 2012 11:51 pm
Anyone have Ron Luebke's number ?
He has one that keeps popping up on the home site pictures. I sent him a PM about it but he's not been on the forum since around Thanksgiving.
Tue Jan 01, 2013 6:01 am
Hey Boss i did a little restoration to your 64 HaHa Gotta a New Seat cushion put a rest of the battery box on an painted the Hood
Here's the Link
http://sphotos-a.xx.fbcdn.net/hphotos-p ... 1992_n.jpg
Sat Jan 05, 2013 12:00 am
Brendan In NC wrote:Hey Boss i did a little restoration to your 64 HaHa Gotta a New Seat cushion put a rest of the battery box on an painted the Hood

Here's the Link

http://sphotos-a.xx.fbcdn.net/hphotos-p ... 1992_n.jpg
The link doesn't seem to work Brendan
Tue Jan 08, 2013 11:07 pm
Boss:
This was posted in the Cub Vine
Hey Boss, Here is a red with white hood
. So just in case you don't see it, here it is:
1968 International Harvester Cub Tractor

Tractor in great condition and engine runs good. Everything works. 12 volt. One point hook-up. Serial# 231348J. Original paint on this tractor. White paint on the hood instead of standard red tells that this tractor was a "showroom model" and was purchased off the showroom floor by the original owner. I am the second owner.
Mon Jan 28, 2013 10:01 am
I am bring this back to the top , we really need all the info we can get on these cubs
Mon Jan 28, 2013 4:41 pm
Very neat pictures Rudi, plus the info write up helps a lot.
Been a while and I'd not seen this at the end of the postings
Thanks
Mon Jan 28, 2013 5:27 pm
That tractor hardly looks original but it might have the cut fender.