Sat Dec 01, 2012 10:22 pm
NOT MY CUB, lol. my cub stays. i was wondering if i should sell some of the things that came with my cub that i might not ever use except for maybe a novelty item. i have one of the L shaped gear boxes and large belt pulley. i have 2 pullies for this setup. i know these were used by farmers to run corn grinders and buzz saws. i dont know if i will ever use this item. it is in excellent condition. i was wondering if i should sell it or keep it?? i also have a complete sickle bar mower and i dont know how much use that will get either. it is also in good condition. i bought my tractor to use it in my yard mowing, snow plowing, and hauling modest things around the yard. i have my blade, and i have a complete 60" danco c3 mower (thanks cubguy47) which will cover all things i currently want to use my cub for. i also might want to get back into gardening in the future so a single bottom plow might be in my tractor's future as well. i was wondering if i should hang onto this stuff that i dont use and see it as an investment that might grow in value or is this stuff worth what its worth and wont go up in value?
Sat Dec 01, 2012 10:47 pm
It will continue to grow in value keeping up with inflation better than a 401K, I like to invest in gold and silver and fill my yard with junk equipment
Sat Dec 01, 2012 11:13 pm
I got rid of my extra Cub equipment that I never used. Just because it was taking up space I could use for something else. Hung on to the implements I do use or have a future use for.

As far as near future value, probably not appreciate. Economy sucks and doesn't appear to be a turn around in the near future. So Gusbratz may be correct. However, if no one else in your area has available decretionary funds - then - - -.
Sat Dec 01, 2012 11:55 pm
I believe the universal answer to any question like this is one's financial bottom line. If It's bought and paid for and storage or liquidity isn't an issue, I would warehouse it, especially in this economy.

I don't sell anything because the moment I do, I'll need it and probably won't be able to replace it for what I let it go for.

I'd rather be looking at it than looking for it!
Sun Dec 02, 2012 7:18 am
I'm not sure others can answer that question for you! The factors mentioned above will come into play but ultimately, you should do what you feel you should.
Sun Dec 02, 2012 8:45 am
Get rid of stuff you won't use and get more stuff you will...
Sun Dec 02, 2012 9:36 am
I wouldnt sell any cub related stuff. Just my .02 cents.
Sun Dec 02, 2012 12:31 pm
I think Lazy Union Driver has got it spot on. Better to be looking at it than looking for it.
Donegal Cub.
Sun Dec 02, 2012 7:38 pm
consider it "rusty Gold" as the economy shrinks, folks will go back to gardening and the balus will go up.
Sun Dec 02, 2012 11:19 pm
ad356:
As we say, it is your Cub/Cub implements and you will do with them what you believe meets your needs.
However, there will come a time when you may regret selling some of the things you have. Belt Pulley is used for many things aside from grinding corn and such. Do a search for the Ice Cream Cub. Interesting use for a Belt Pulley
There are lots of uses for things you never think you will use. And in the case of the Cub-22, well who knows .. you may/may not have a use for it, but as some have said, it will never decrease in value - it will probably increase in value. Or you could hang on to it and swap it maybe for a nice Cub-193 moldboard plow. Always have options if you have it, less options if you don't ...
Again this JIMHO what ever that is worth.
Mon Dec 03, 2012 2:59 pm
Cool Video Rudy. It is amazing what we find that we can do with a tractor LOL On the spare parts question, I would keep as much as I could. I am running out of room at my house tho. Ha
Mon Dec 03, 2012 8:40 pm
Dealers must have been good at selling the belt pulley attachment, there are lots of them around. Mostly unused from what I can tell.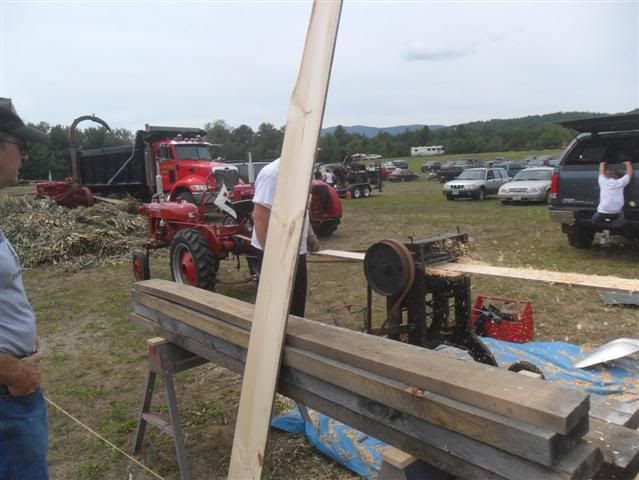 Mon Dec 03, 2012 8:54 pm
Larry:
Man would I like to have that planer
The shingle mill too would be nice and a great treat at tractor shows. That is what I want to do someday is take my herd to a show, set it all up ready to do what they do at home. Maybe split some wood, drill a hole or two and if I really get lucky and get some more of these neat old implements/tools/equipment (like a washin machine) it certainly would be fun
Wed Dec 05, 2012 3:38 am
I sure cant find a belt pulley unit around here and I need one to run my burr mill to grind feed for the chickens. thsnks; sonny
Wed Dec 05, 2012 6:25 am
Larry--In my (late 1950)dealer price book,belt pulley+pto is listed as one unit@ $37. Looks like you got the pulley and drive too even if you only wanted a pto,which was not standard equipment.
Also in the "attachments"column--Wide tread-increased clearance attachments--$44.
Mike