Wed Dec 05, 2012 9:02 am
It makes sense now Mike! After having split a couple apart (one back together) it is a fairly complex and well engineered piece. BTW, I have a small horde of the Hyatt (NHD) 1204T bearings now. Almost gave up on it, was ready to say there was one 'Cub' part I couldn't find.
Wed Dec 05, 2012 9:58 am
It seems unlikely they would have required the pulley attachment to go along with the PTO. My price book (1/2/52) shows pulley and PTO for $38 and PTO only for $12. By 11/30/53 they had gone to $40 and $12. I don't have any earlier price lists, except for an early hand written one that shows $31.50 and $10.
Wed Dec 05, 2012 5:57 pm
Jim-The date on this page(291) is "effective September 1 1950". I'll try to get a picture of it posted through Buzzard Wing.
Mike
Thu Dec 06, 2012 8:56 am
Hopefully Santa will bring you a camera for Christmas Mike. Even the inexpensive Samsung has a 'copy' option that works pretty well. At any rate this is the price list.
Some interesting numbers;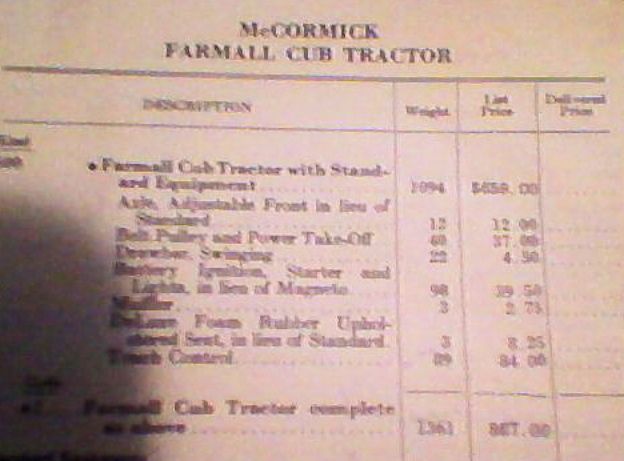 Cub $659
Adjustable axle 12
PTO AND pulley 37
Swinging drawbar 4.50
Distributor ignition, starter and lights 39.50
Muffler 2.75
Padded seat 3.25
Touch control 84
Total for a 'equipped Cub' $867
Someone should check my math.... (cause I didn't)
Thu Dec 06, 2012 9:26 am
We need to see the rest of the page. Options should be listed below what we can see.
Thu Dec 06, 2012 8:12 pm
Jim-I've sent a picture of the rest of the page to Larry,in case it's not legible--under "Attachments":
Axle,Adjustable front
Belt pulley and power take off equipment:
Belt Pulley and Power Take Off,351 233R91
Belt Pulley,351 441R91,for tractor already equipped with 351 234 R91 Power Take Off
Power Take Off, 351 234R91
Drawbar,Swinging,351 429R91 4.50
etc.,etc.
I tend to think some dealers chose the simple way to order a Cub--Code 1 in photo on top half of the page.This got you the more common extras like hydraulics,battery ignition,adjustable front axle and swinging drawbar,etc. I went to an old IH dealer auction in Brattleboro,VT in 1999 and there must have been 20 NOS swinging drawbars in a pile in the loft.
Mike
Fri Dec 07, 2012 4:47 am
SONNY wrote:I sure cant find a belt pulley unit around here and I need one to run my burr mill to grind feed for the chickens. thsnks; sonny
Handy to have around for cracking corn to make some scratch.
They don't take up a lot of space in the barn when not on the tractor. After you get rid of it you will probably come up with a use for it. Or you can try to trade it for something you could use, like the plow.