Fri Dec 14, 2012 7:17 pm
Hi everyone,

I have not been able to get my 1948 Cub started in some time now, so I took the time to really look it over and try and diagnose the issue. For starters, the last time i was able to get it running i had to run it on full choke the entire time. So being that i did not know when it was done last, I went and installed a basic carb kit from Steiner. I made sure all went back together nice and correctly. I checked for fuel flow and it seemed to be correct. I then checked for spark. All 4 cylinders had a good solid blue spark at the plug. When I go to start it I usually get one solid pop of the engine, just enough to disengage the starter and the engine stops. It will do this over and over again and never completely turn over. I checked and adjusted the needle valve on the carb as much as I could, still with no improvement. I am not sure where to go next with all this, I am thinking I should do a compression test and see what that tells me, but other than that I am not sure what to do. Any ideas or suggestions would be much appreciated.

Thanks,

A.J.
Fri Dec 14, 2012 7:23 pm
A compression test is a good place to start, It can tell you a lot
Tim
Fri Dec 14, 2012 7:40 pm
In addition to compression testing, I would static time the engine.
Fri Dec 14, 2012 9:02 pm
challenger wrote:In addition to compression testing, I would static time the engine.
Sat Dec 15, 2012 8:55 am
after timing and a compression test try spraying a lubricant in each cylinder. I had the same problem only because all the cylinders where dry after that the engine starts every time.
Sat Dec 15, 2012 9:04 pm
If the above steps don't work, try a new condenser. That was my problem - one pop would kick the starter out, time after time.
Sun Dec 16, 2012 11:54 am
I don't claim to know what I'm talking about but; try changing your coil. Just because you have spark when vied @ the plugs and the point doesn't mean that spark isn't going away when you try to start and get a pop. When my coil went bad I could run the tractor for 10-20 min and it shut off. Eventually I couldn't start the tractor (just get a pop and still show spark @ plugs). Coils are cheap $25-$35 from various web sites. I hope that I've been helpful as others have helped me on this site.
Sun Dec 16, 2012 1:30 pm
Do not replace what may be perfectly good parts in haphazard fashion, perform a tune up instead. Engines have multiple components that require routine adjustment and tweaking. Perform the ignition and timing checks first, check the compression in each cylinder as you're examining spark plugs, then measure and adjust valve lash and deal with the fuel system and carburetor adjustments last.

Something is restricting fuel flow if any choke is required after the engine runs for a few minutes. My guess is the entire fuel system needs a good cleaning. Even if the culprit resides within the carburetor, chances are it came from the fuel tank and more goobers are in there.
Mon Dec 17, 2012 12:31 pm
tst wrote:A compression test is a good place to start, It can tell you a lot
Tim
I had a difference in one cylinder (#4) from the others of about 25 psi. It backfired a little through the carb and had very little power, and of course was very hard to start. I had two issues - bad rings and a warped head. Not sure how common that is.
Mon Dec 17, 2012 6:10 pm
Thank you all for the replies. I borrowed a compression tester from and a friend and will be working on it soon. I will also check all the vital signs you guys have mentioned and be sure to return back with the results.

A.J.
Fri Dec 21, 2012 7:43 pm
worked on the cub today, retimed the engine. Did not have time to check compression yet but found another issue. While attemping to fire it up noticed fuel leaking from around the main metering jet. After looking at it found that the threads for ther main metering jet are striped out. My question is, can this be retapped and fixed. What are my options to fix this. If nothing else this cub is helping more learn some lessons the hard way. HA.

Thanks,
A.J.
Fri Dec 21, 2012 7:50 pm
A.J.:
Yes you can fix the threads - easiest way is a helicoil. This thread might be useful:
How To Decide Which Taps Are Needed For My 3/4" IH Carb
1/4-28 NF for the Main Metering Jet Part # 354 192 R91
So you need to find that set on
or locally.
Helicoil 5528-4 - Thread Repair Kit 1/4" - 28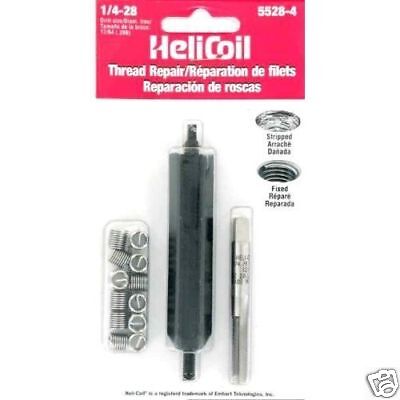 Fri Dec 21, 2012 8:14 pm
awesome, thank you
Fri Dec 21, 2012 11:24 pm
Does your main jet have the fiber gasket on it? I'd try and chase the threads first before inserting the helicoil. If you have to helicoil, you also have to drill a larger hole in the side of the carb where the main jet inserts in order to insert the larger drill for the helicoil.

Bob

Edit: that helicoil takes a G size drill (.26")
Sat Dec 22, 2012 9:26 am
Regarding the starter kicking out just as it catches - my '49 with magneto ignition will sometimes do the same thing. I have actually found that it will start easier on the crank for the first start of the day. I have wonderered if the impulse in the mag will make a stronger spark if cranked over slow vs. the higher revolutions of the starter. If yours is mag equipped it may be worth a try to see how it will do on the crank once your fuel issues are resolved.
FWIW,
Chad