Fri Jan 11, 2013 8:13 am
I picked up a 449A planter yesterday. It's missing some pieces but was wondering if anyone tried to adapt one or two units to run behind a cub.
Fri Jan 11, 2013 10:02 am
I don't see any reason you couldn't do it. However, that planter is driven by the transport wheels. Planters like the 184 are easier to adapt because they are driven by the press wheels. To make a row unit from the 449A operate, you will need to put together some type of drive mechanism. You can probably adapt a jackshaft that is currently on the planter and drive it from the seed plate drive on the Cub. You will need to pay attention to sprocket sizes to get the speed right.

An alternative might be to cut the machine down from 4 rows to 2 and leave it as a pull-behind. Hopefully the missing pieces are row-unit specific so you will have lots of spares.
Fri Jan 11, 2013 10:48 am
As Jim said, with the right fabrication it would certainly be doable. If all you have is what you show in the picture, it will require a good bit of fab work and engineering. If you have more than you show it could certainly help.
I have the one shown below. It began as a McCormick No. 44 four row planter from the mid '50's and driven by the transport wheels. When my dad retired from farming about 35 years ago, he just parked it in the back of the barn. After I bought my place he cut it down to a 2 row to use for the sweet corn patch. It can be pulled by anything, including my lawn & garden tractor.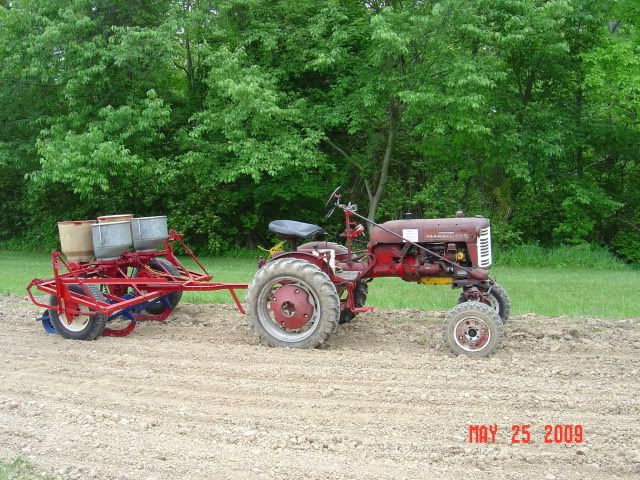 Fri Jan 11, 2013 10:59 am
Thanks for the info guys.
Denny any way you could send me or post some better closer pictures of the planter unit. I have more parts then what is shown in photo. I know I missing pieces for some of it.

Kirk
Fri Jan 11, 2013 3:51 pm
Comparing your planter unit to mine appears to be apples and oranges as yours is probably much newer and larger and beefier. Don't currently have much in pics & it's buried along the back wall of the barn. Here's another angle and closer up.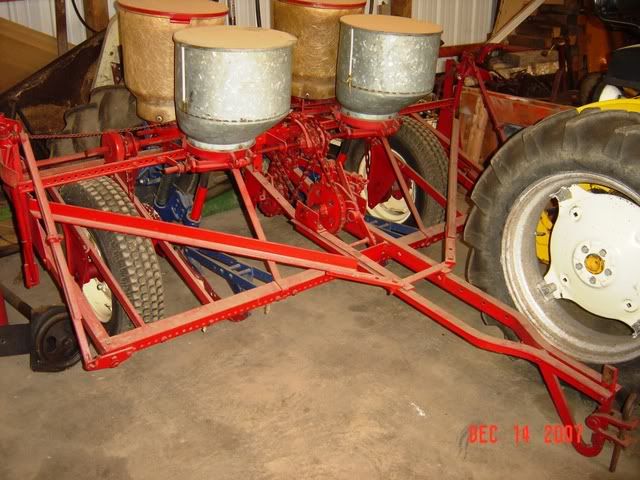 Sat Jan 12, 2013 4:20 am
Thanks for posting the photo. Your model is a little different then mine but somewhat similar. Looking at your drivetrain I don't know if mine has all the parts and pieces to put it back together. Would you know what size tires/rims are on your planter? Mine didn't come with any tires or rims or a hitch. I have what looks like 3 almost complete plater units and one for a spare. If I cut the frame down I might be able to make it a two unit planter.

Kirk