Sun Jan 13, 2013 11:49 am
In 4-6 weeks it will be time to plant some corn!!
As warm as it has been this week, it sure makes me want to smell some fresh plowed dirt.
Last edited by
Barnyard
on Sun Jan 13, 2013 12:46 pm, edited 1 time in total.
Reason:
Repair YouTube link.
Sun Jan 13, 2013 12:01 pm
I'm with you Tim, I can't wait for it to get here in Ohio. I put my plow on the circle Cub the other day so I am ready first chance I get.

Thanks for the video, see you soon.
Sun Jan 13, 2013 1:25 pm
We have 40+ mph winds, teens for temp, and sleet/frozen ground right now (the 13th) LOL!!! thanks; sonny
Sun Jan 13, 2013 1:44 pm
Should been with us yesterday, Tim. Went to a plow day in Cottondale. That fresh turned earth sure smells good.
Sun Jan 13, 2013 2:17 pm
very cold here
hey what going on every time i want to watch a video someone put up
i click to start it and the sound works but the screen stays white no pictures
48 barney
Sun Jan 13, 2013 2:49 pm
In 4 - 6 weeks the only thing I'll be plowing here is more snow.
Corn planting time is June 1 around these parts. I've had frost every month of the year except July (Not in the same year of course). This morning was a balmy 7 degrees. Montana has four distinct seasons: almost winter, winter, recovery from winter, and fire season. Still a nice place to live though.
Sun Jan 13, 2013 3:59 pm
52 degrees here, today, but it's just a tease! No corn planting, until late May. Cold front from Canada (Thanks, Rudi, NO donut for you!) coming end of next week. Wood stove hugging weather, again! Ed
Sun Jan 13, 2013 5:05 pm
In four weeks we're liable to have snow like pictured below. Mid April is
early
corn planting weather here.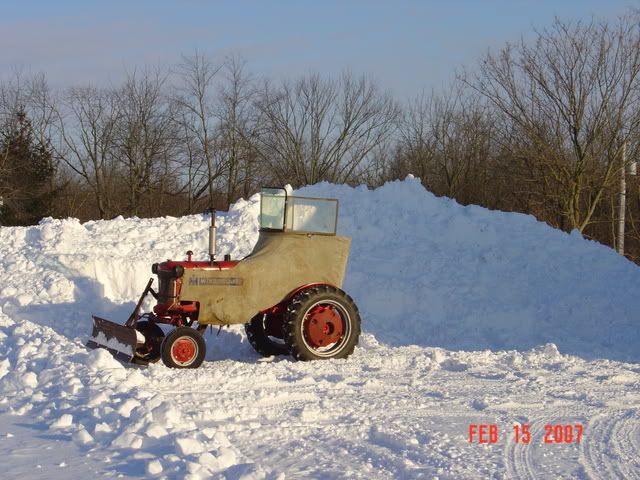 Sun Jan 13, 2013 5:37 pm
I was able to plow two gardens yesterday with this short warm weather. It was great to get on the Cub and turn some dirt at this time of year.
I came home from work Saturday and Candace had about 1/3 of the 22 x 22 garden turned by hand with the fork. She is pretty serious about next years garden.
I helped for a few minutes and then said that what we were doing was ridiculous, having a Cub in the barn with a set of plows already on.
I went down to the new barn, dropped the snow plow and chains off and came back and turned both gardens. The freeze and thaw will break those rows down real nice.
Temps dropping all day today, down to 43 now.
You southern guys just make us northerners green with garden envy.

Hope everyone brings in record crops, get it all canned up and stored away.

Thackery
Sun Jan 13, 2013 5:50 pm
Was tempted to plow today. Warm weather for sure! 54 and the ground is not frozen. Too much going on here...installing new windows, new lifetime roof shingles, solar panels. Got lots of help because they like corn! Nice garden Tim...thanks for posting. Spring in 65 days for us. Good luck with your growing season!
Sun Jan 13, 2013 6:27 pm
I hear ya - it's been in the upper 70s for days now. Putting some onions in next week.