Mon Jan 14, 2013 8:35 pm
Plp 3010 JD. 88 Oliver 1961 cub lo-boy with auburn utility trencher that does pretty good in a slow race.
Mon Jan 14, 2013 11:47 pm
G'day to you
Plp wrote:1961 cub lo-boy with auburn utility trencher that does pretty good in a slow race
to Farmallcub.com

Forum Family. And you have come to the right place for all things Cub related. If you click on the

Site Rules, Regulations, & Important Information

, it will point you to

the

Welcome Wagon

wherein you will find links to many useful sites and topics. One of which is the

Cub Manual Server

. Enjoy!.
Tue Jan 15, 2013 5:42 am
Welcome PIP....I'm sure you'll find this site great....I sure did....Dave
Sat Jan 19, 2013 11:26 am
I also found one of these animals, BUT<BUT<BUT---The guy wont sell it!!!LOL!!----I have a pic of it and me but its a danged phone pic in a barn and not very good!---AND I thought it would make me a great tractor to cultivate with!!!LOL!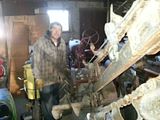 It probably would dig about 5 feet deep or so !---I had to get in the pic to prove I saw such a beast!!LOL---I had heard that there were a few of them set up as diggers, but had never seen one! I would hate to start digging in a 4" tile 5' deep and a mile long with 9hp but my Davis T66 crawler is only 12 hp and does fine so I am sure a cub would well with one LOL!Thanks; sonny
Sat Jan 19, 2013 10:46 pm
Sonny:
Nice pic. Got more
Sun Jan 20, 2013 6:45 am
PlP- welcome to the forum from Arkansas. Great place to hang out a while.
Rudi - thanks for enlarging the picture and thank you sonny for sharing the picture. Looks like a beast on the back of a cub.
Sun Jan 20, 2013 7:01 am
Sorry, this is the only pic I have. The tractor is buried in a barn full of Porsche Tractors. Must have a dozen Porches. The guy has one Porsche Tractor Model of only two known tractors of that model in the United States. Also has a couple of Holder 4-Wheel Drive garden tractors. Tried to get the Cub but he would not let me have it for any price, he bought it about 10 years ago and used it once, been in the barn every since. thanks;sonny
Sun Jan 20, 2013 12:20 pm
Slow race is right.... the guy near me has a nice one and an inch worm is almost faster
That Auburn gear box is surely unique. I think Rick Prentice has one or had one so there should be pictures around?
Here is the gear reduction on the trencher Lo Boy (the only round hood he has, and he has a lot of Cubs).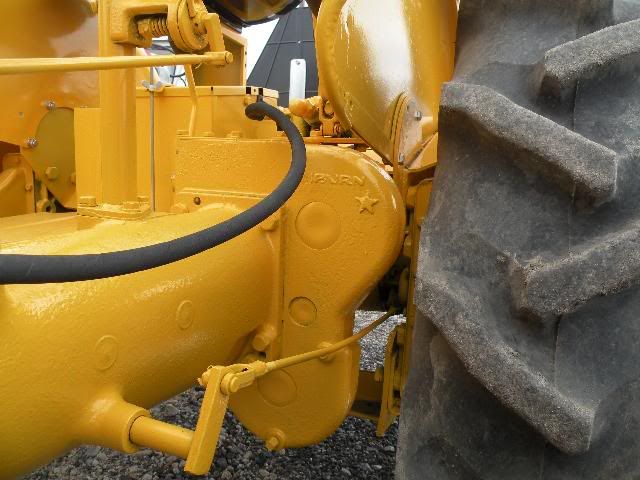 Welcome to the forum.