Forum rules
Notice: For sale and wanted posts are not allowed in this forum. Please use our free
classifieds
or one of our site sponsors for your tractor and parts needs.
Sun Jan 27, 2013 3:47 pm
I have a 67 loboy with the short stripe decal. I see all the cubs have a red back ground behinde the word International on the top part of the decal. Did the loboys have a white back ground or is mine faded? Are these easy to get a hold of? I have herd that the short stripe decals dont come in a kit and have to be pieced together. I was reading posts from 2007 so it may be different now.



Sun Jan 27, 2013 4:04 pm
Ya i saw that Rob, but the word international is red on TM's and black on my original decal. Whats correct?
Sun Jan 27, 2013 5:33 pm
They made them in white but no longer offer them, I am reproducing the ones in white and should have them done next week
Tim
Sun Feb 03, 2013 8:52 am
Hi All, I now have the decals for the square nose Cubs and Cub Loboys with the white background on them, I have had some requests for them, they were used from mid sixties to early seventies, the ones now sold as replacements all have the red background so I thought I would bring these back
Tim
Sun Feb 03, 2013 10:50 am
TM or a dealer would have them.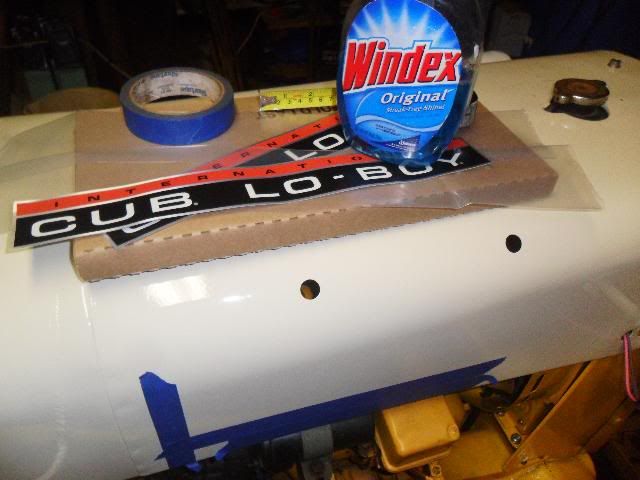 Sun Feb 03, 2013 4:28 pm
You are right Larry as long aas you want the red ones, they stopped the white background decals years ago
Tim
Sun Feb 03, 2013 5:45 pm
Tim, not sure when it changed, but the one picture shows the original decal. That tractor was never painted, it's a 65.
Sun Feb 03, 2013 6:43 pm
They used both Larry, the red is still sold today but the white was dropped, I have 2 myself with the white backgrounds and 3 others with the red
Tim
Mon Feb 04, 2013 10:29 am
Tim,
I'm not 100% certain on this, but I'm pretty sure that the ones with white at the top were originally red, and the red color just faded off of them.
The Cub Cadet tractors of that time (1965-1967) had the same decal, also with red on it, Cub Cadet 70 and 100.
Also, I've seen a lot of Cadets that I've restored where the colored portion of the hood decal has faded to white. In the 1970s, the 1x8/1x9 tractors had long black stripe decals with either green, red, orange, or blue stripes on them, and the orange and red were really bad about fading to white. The green and blue seemed to last longer. Not to be a pain in the arse, but just thought I would throw it out there.
Bill