Fri Feb 08, 2013 9:30 pm
Interesting drive home from my mother's just now. Visibility was so bad I drove right by my street and I had to turn around. Passable with 4WD only. Saw a few that had to learn the hard way.
Fri Feb 08, 2013 10:04 pm
Kirk, you need a front plow for that tractor! Saw one on a Ford @ Chinqua-Penn Plantation years ago.
Fri Feb 08, 2013 10:16 pm
Fri Feb 08, 2013 10:30 pm
Bob,
Looks just like that up in Stafford.
The boys were out trying to clear the driveway but finally gave it up (wouldn't listen to their old man).
The girls are looking out the window with excited expectation at sledding tomorrow.
...and I'll get some seat-time
Peter
Sat Feb 09, 2013 7:53 am
Looks like just over two feet here. Going to be a long slow clean up.
Sat Feb 09, 2013 8:05 am
Holy crap! Watching the weather channel. Hamden, CT got 34 inches of snow so far. The state is shut down
Buzzard Wing wrote:Northeast winds with snow are one of the things I have learned about over the years..... BIG snow and winds.
Bob, how are you guys doing up there? They say potentially another 8 inches in some areas later today, high winds and drifting throughout the day!
Sat Feb 09, 2013 8:29 am
Wow!

My daughter, son-in-law and grand kids live in Hamden. My son-in-law said he would send a picture of the cars, but you can't see them.

I offered him a snowblower a few years ago, but he said they don't get much snow. I bet he is rethinking that now.
Sat Feb 09, 2013 8:52 am
i just got in from plowing, hard to tell how much with the drifts but it 1 to 3 ft. its like plowing a big wave of powder. we're lucky its light.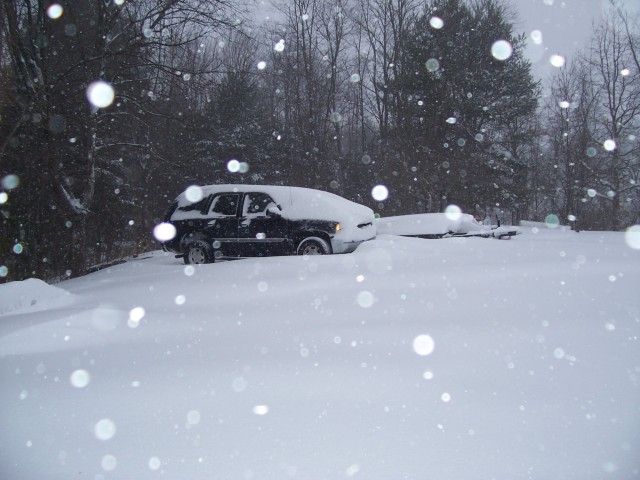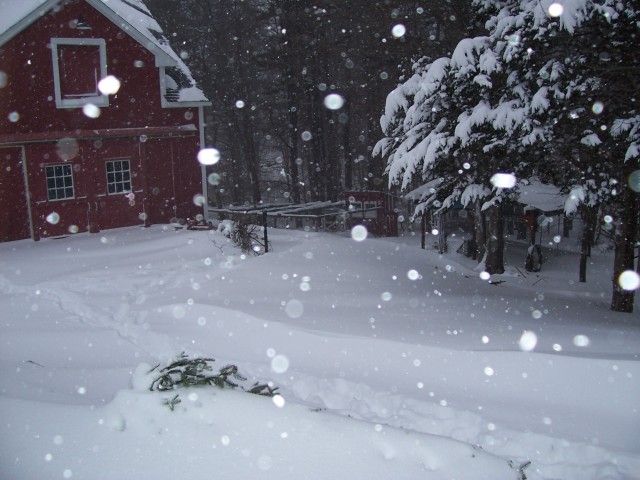 Last edited by Rob in NH on Sat Feb 09, 2013 9:28 am, edited 1 time in total.
Sat Feb 09, 2013 9:00 am
Just plowed here, we have 2 feet in NY
Tim
Sat Feb 09, 2013 9:09 am
Sure am glad we are down South for the month.
Sat Feb 09, 2013 11:10 am
I had a 48 inch drift in the driveway. Here is a picture of the first cut. In those boots, that is just shy of 30 inches. I had to go to my mother's last night. Couldn't be avoided. The visibility was so bad I drove right by my street and I was going pretty slow. The truck did fine in the snow. I checked the radar when I got home and the image over my area was bright red. Must have been close to 4 inches an hour right after I got home. From what they are saying, Connecticut and Maine are hitting the jackpot.
Last edited by
bob in CT
on Sat Feb 09, 2013 11:17 am, edited 1 time in total.
Sat Feb 09, 2013 11:13 am
Bob, Glad to see that you've still got power (even if it's the generator).

Bob
Sat Feb 09, 2013 11:40 am
Bob:
Looks like you got a nice winter snowfall. 30 inches is kinda nice. Make some great seat time.
Last night when we went to bed there was no snow falling at all. This morning got up it is -9 with -23C wind chills winds at well over 80-90kph with gusts 10-20kph hihger from the north east. A true Nor'Easter is upon us. We already have about 24 inches on the back of the deck - south side of the house. The front deck is pretty clear - course it is on the North East side of the house
Seems the storm from Ontario has merged with the Nor'Easter so it is going to be a big deal apparently. We are in for a nice winter storm. A perfect day for a blankie, a nice breakfast and park our tushes for the rest of the day.
Sat Feb 09, 2013 11:55 am
bob in CT wrote:
Bob - Is this your Gravely snow cannon in action? Having grown up with a L model, blade, and chains I always enjoyed seeing the folks down the road literally throw snow as high as their house. Don't forget some Cub action shots for us snow-starved NC Cubbers too
Chad
Sat Feb 09, 2013 12:03 pm
WOW! nice storm!
29 inches was the most consistent measurement in around my house. forget anything with a plow, you couldn't make the first pass, and it would have been useless to plow last night. the blowing snow simply would have filled everything back in. the snowblower was the ticket. there is 24 inches on my street, last plow was 9PM last night.
nice fire going in the shop, though. i had a nice picture, but cant seem to get it to upload, regardless of the size.