Sat May 11, 2013 3:47 pm
I have what I believe is a 59 inch Woods belly mower. It is on a 56 fast hitch Cub. The cub has a chain drive for the PTO that drives the mower. As many have said, if the grass is marginally tall the Cub can be pretty challenged by this load. Is this chain drive is necessary because of the fast hitch? Would a 42 inch Woods or IH mower deck work with the chain drive that is already on my Cub? I am thinking that the tractor will handle the kind of grass that grows around the farm if I put a smaller mower on it.
Sat May 11, 2013 3:55 pm
I've got a Woods 42 with the chain drive, works well in the heavy stuff.

Bill
Sat May 11, 2013 10:19 pm
Bill, It sounds like the same chain drive will work. Does your Cub have a fast hitch? If it does, can you send a picture of the rear brackets for your mower? Now I am trying to figure out if the 42 inch deck will fit onto the brackets that I have on my fast hitch equipped Cub for the 59 inch mower.
Sat May 11, 2013 10:34 pm
FH? Yes. Looks like I have a photo shoot for tomorrow. I'm fairly confident that the brackets that bolt to the final drives are the same for both the Woods 59 and 42. Stay tuned for the pics.

Bill
Sun May 12, 2013 5:56 am
Couple of thoughts for you... Woods 59 is a big mower and best for lawns and areas that are regularly mowed. Any belly mower may be in the way if you use the the fast hitch for other implements. Although hard to find, a fast hitch mower like a Woods 42F or RM-42 or C-2 would be ideal for what you want to do. I have mowed some tall stuff with a Fast Hitch Mott flail mower, but a rotary mower is probably better.
Sun May 12, 2013 6:31 pm
Buzzard Wing you are right about the fast hitch mowers being more convenient. I have seen very few fast hitch mowers for Cubs. If it were not for the counterclockwise odd RPM PTO, I would put a fast hitch point on a 3 point RM42. They are pretty common around here. I have found that mowing the several acres that I have been mowing every week this spring, that the Cub with the 59 inch mower just does not have enough power even in first gear. However it is much more nimble than my other tractors around the buildings and trees. I use a Farmall 460 diesel with a 6 foot (converted to fast hitch) King Kutter mower and an Allis 5020 diesel with a 5 foot belly mower to do most of the mowing. I have also thought that perhaps a #22 sickle bar mower would be pretty handy. After a lifetime of Farmall tractors, this is my first experience with the little Cub and so far I am finding all kinds of uses for the little guy.
Sun May 12, 2013 7:35 pm
As promised, here are pics of the mounting brackets for my Woods 42. Although not great pics, they should give you an idea of how they mount.
Bill
Sun May 12, 2013 8:50 pm
Thanks Bill, They do attach the same way as the brackets for the 59 inch mower.
Sun May 12, 2013 9:03 pm
Xperimental wrote:Thanks Bill, They do attach the same way as the brackets for the 59 inch mower.
Probably the same brackets.
Bill
Mon May 13, 2013 7:28 am
Be sure to set up any rotary mower with front side slightly lower than back. Takes much more power to run mower flat/level or low in back.
Mon May 13, 2013 8:12 am
Not certain what is different on a RM42 between the Cub and other (3 point) versions beyond the fast hitch point and PTO shaft. Could work out to be an 'even' trade for you, 59 CF is also in demand.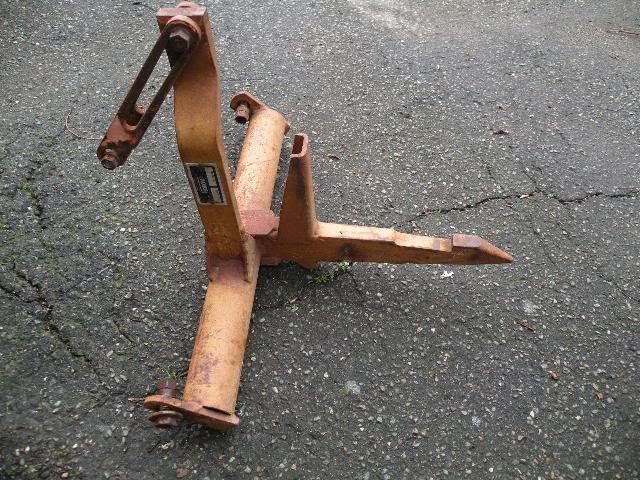 Mon May 13, 2013 11:27 am
Something to think about on a Cub mower(or any rotary mower), they should be set so that the front of the deck is slightly lower than the rear. That way the blades engage the grass with the leading edge while not using excessive power dragging the blades acrossed already cut grass or cutting it twice. I use a Woods 59 on my '48 F Cub and it works real well in high grass, it doesn't hurt to lug them down a bit.
Mon May 13, 2013 12:12 pm
The Cub's PTO shaft turns opposite and about 3X as fast as the standard PTO shaft, so it's not as simple as just bolting a fast hitch point to a Woods RM42 mower. If a Cub could even run it, the blades would be going at the speed of light, and trying to thrash the grass to death with the blunt back edge of the blade. Spinning that fast would take way more power than the Cub can produce.

Drive pulley ratios need to be changed to slow the deck down to normal speed. You'd also need the correct blades for the reverse rotation.

I know on Woods 59" mowers, some bolts are reverse thread for the Cub.
Mon May 13, 2013 6:02 pm
Yep Matt, that's what I was trying to say. What I did notice on the fast hitch one in the picture is a sticker regarding PTO speed. It doesn't mention the Cub, but I am pretty sure the one pictured is FOR a Cub. It had what looked like a Cub spline. Woods puts it SN tags in the oddest places, I will check that FH point and see what it says.
I ran my Woods 59 with an 'underpowered' 49 Cub and was very surprised at how well it did in the tall grass in a pasture/hay field at Cecil's a few years back. Possibly it was the new blades?? I sharpened the blades on my Mott and mowed some pretty tall stuff yesterday at Ft Adams, first mow of the year with some 'hay' crop thrown in on top of Boss Hog's recommended turf blend at the redoubt. Pretty hard to keep the RPMs up when there is 20' cliff or solid granite walls everywhere
I love that mower!