Moderator: Team Cub
Forum rules
Notice: For sale and wanted posts are not allowed in this forum. Please use our free
classifieds
or one of our site sponsors for your tractor and parts needs.
clodhopper

5+ Years

Posts: 793
Joined: Sat May 07, 2011 8:20 pm
Zip Code: 27526
Tractors Owned: 1950 Cub Demo
1978 Cub Cadet 1650
cub 193 plow
cub 174 planter
cub sidedresser
cub 144 cultivator
cadet 50C deck
Circle of Safety: Y
Place your meter on the battery at an angle you can read it and have your hands free. Make up a jumper wire about 4 feet long with alligator clips. Attach one end of the jumper to a good clean ground. Use the other end to jump out possible bad grounding connections (I would start with the VR case) and watch your meter for voltage changes. This should isolate the problem if it is a grounding issue. This is all done with the engine running, so SAFETY FIRST!
---
Gary Dotson

Team Cub Mentor

Posts: 3040
Joined: Thu Aug 03, 2006 6:20 am
Zip Code: 43358
Tractors Owned: 48 Cub Diesel (Cubota)
53 Cockshutt 20 restored (Shooter)
52 Cockshutt 20 unrestored
47 Leader "B" (Herckie)
49 Leader "D" (Princess)
49 Leader "D" very rough
48 Leader "D" unrestored
Kubota B6200E
Kubota B6200HST
Kubota B8200HST-D
Circle of Safety: Y
Location: OH West Mansfield
The 30+ volt reading is the result of using your digital meter. What you're reading is electrical noise. Your analog meter will tell a different story.
---
John *.?-!.* cub owner

Team Cub Guide

Posts: 22595
Joined: Sun Feb 02, 2003 2:09 pm
Zip Code: 63664
Tractors Owned: 47, 48, 49 cub plus Wagner loader & other attachments. 41 Farmall H.
Location: Mo, Potosi
Here is Farmall Bob's trouble shooting chart. There is a different one for cutout equipped generators.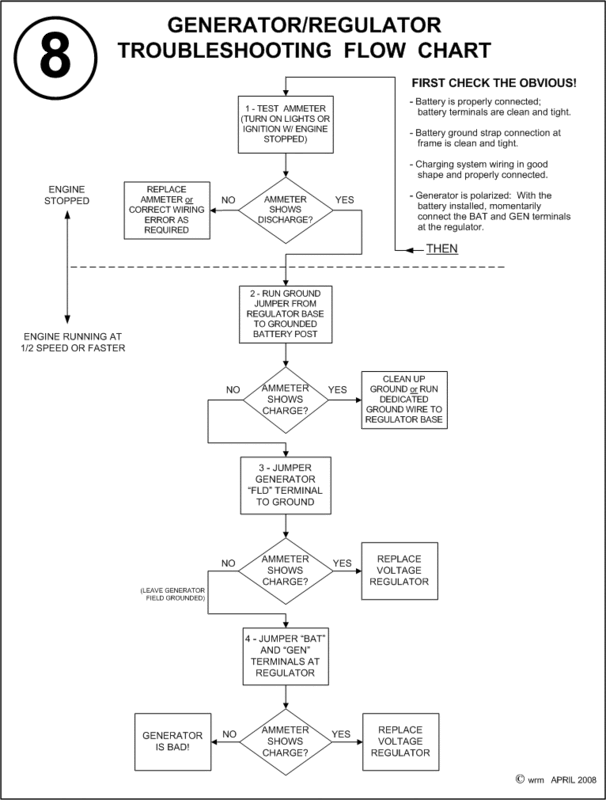 If you are not part of the solution,
you are part of the problem!!!
---
---
Who is online
Users browsing this forum: longcase47, Ray 59 and 4 guests