Thu May 23, 2013 8:32 am
Looking for suggestions for putting weight on a Fast Hitch York rake.
I have a section of the 'outer works' at Ft Adams that needs to be raked and seeded. I tried to level out the holes some 'treasure hunter' dug years ago with the Armor blade, not a whole lot of luck with that, although better than it was. Some volunteer labor will be available (with shovels, I hope) to knock down/fill what I couldn't get with the blade. I have a front wheel weight and some other things I could try. The area is essentially level, but I don't want to 'lock' the float on the 'new' fast hitch lift rod.
Just wondering if someone has any ideas?? Thanks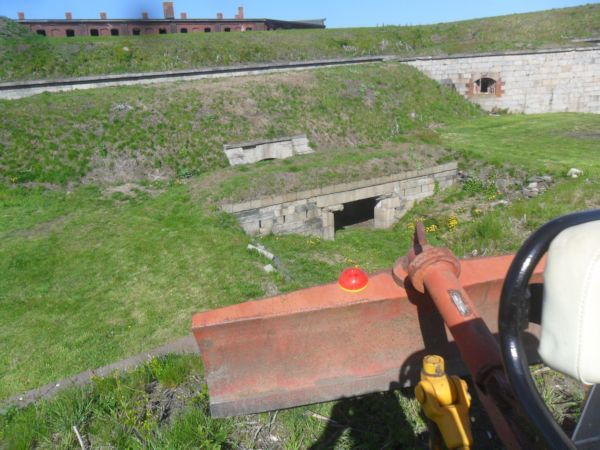 Thu May 23, 2013 9:28 am
If you have any piles of top soil in other areas you can borrow my Stockland dirt scoop if you want or my Leinbach Rake which might be heavier than you York Rake.
Thu May 23, 2013 10:48 am
Weight is weight. Bolt or clamp whatever you have on in any convenient way. But I wouldn't add a lot of weight, probably no more than 50-75 pounds. The rake really wasn't designed for digging up packed material. You don't want to end up with more dental work on the rake. If it is too hard, weighting the Armor blade is a safer bet. You can also angle the Armor blade to dig with one end to breakup hard material.

A friend of mine needed to do some grading in a back yard that was all grass/weeds and hadn't been disturbed in years. I took a Cub with a belly blade over for him to do the leveling. I also put the rear section of a 144 cultivator on. Whenever he hit dirt that was too hard for the blade, he used the cultivators to break things up so the blade could move it. It worked quite well, except for a little situation with the R-1 shifter fork. But that is another story.
Thu May 23, 2013 11:14 am
Small area, garden tiller, then level.

Large area, weighted disc harrow, with some sort of attached drag; chain link fence, peg toothed harrow, etc..
Thu May 23, 2013 11:38 am
My yard needed what you're doing. I plowed mine shallow with the 152, ran the 23A harrow over it, then finished off with the belly mounted blade. May be overkill, but it worked great
Thu May 23, 2013 1:30 pm
I wanted to add weight to a rake that I built.
I too had some wheel weights that I thought I'd use. To mount them I laid out the hole centers and drilled a couple of holes in the frame tube on the rake then welded a couple of 1/2-13 nuts over the holes. The holes were so the bolts didn't bottom in against the frame.
Then just bolted the wheel weight to the frame.
Thu May 23, 2013 2:02 pm
Another idea is I have a fast hitch 3 shank scarifer that I was using to break up high spots and level the back field where manure was piled. You are more than welcome to use that. I will post a picture later, but I am sure you saw a few weekends ago.
Thu May 23, 2013 7:05 pm
Larry, I'd tear it up, with a disk harrow, then level it, with the york rake. Ed
Thu May 23, 2013 7:39 pm
Haven't figured out how to size pix from I phone
. I picked up a piece of steel bar 16x16x2, had it quartered, 2 pieces on the f/h disc and 2 pieces on the back of the 100 blade. Made a world of difference. Metal was under the front corner of the Montgomery Ward building in Kannapolis. Weighted almost 200 lb. the steel on the other corner was some smaller, weighting about 90 lbs. I use that piece on my fh middle buster. Got 1 other piece, 24x24x2 1/2. Haven't figured that one out yet ( tractor/implement weights). They tore down a 5 story building to make a memorial park for the Dale Earnhardt statue. Got lots of great salvage from that building.
Thu May 23, 2013 8:25 pm
Been trying to call you Larry
Thu May 23, 2013 8:37 pm
Make a landscaping tool from I beam or flat stock. Mine (when finished) will have 19 spikes and a roller w/pins.
Thu May 23, 2013 10:47 pm
Thanks for the ideas and suggestions! Some great ones. Also talked to Boss, he knows I have a tool bar with 4 shovels and suggested that, real good idea.
A quirk in any plan didn't really dawn on me till I was explaining the earth topped outer works to Bob Perry on an 'inspection tour' this evening. Essentially everything at the fort is topped with 'earth', but 45 degree angles of 'earth' topping stone structures are still in place after 150 years, with no real signs of wear or erosion. Winter before last all the vegetation was cut by a contractor, first time in 60 or so years. Places that were leveled generations ago are still flat.
Those Army Engineers spent a lot of time thinking about and solving such things (I can only point to one place where the stonework is out of place, big tree on a wall, not a structure) How can I mow with a 1800# Cub a day after a rain and not rut the place up?? Special earth with quarry dust or something??
Working a plan, film at 11..!
Fri May 24, 2013 8:17 am
I have a York rake and it is pretty useless in this clay soil. Have you considered a box blade?
Mon May 27, 2013 9:09 pm
Turned out perfect! The results of the scraper blade were a bit better than I thought. This was a quick plan, bags of grass seed from the state of Rhode Island to sow for turf! I was stunned when I saw this area opened up the other year, all manner of stone work that was hidden before in a jungle. The guys that did the tree work were good, everything cut low. It is called the 'place of arms', it is the first in the set of earthworks to defend the fort on the coastal side. Should be able to mow it all in a year or so with the Lo Boy.
Had to do a bit of guessing, but a front wheel weight on the 2x2 receiver extension fit... barely. The other wheel weight would have been perfect, but would not fit. Scuffed up the paint, but it was locked in. Only 25# but made a difference.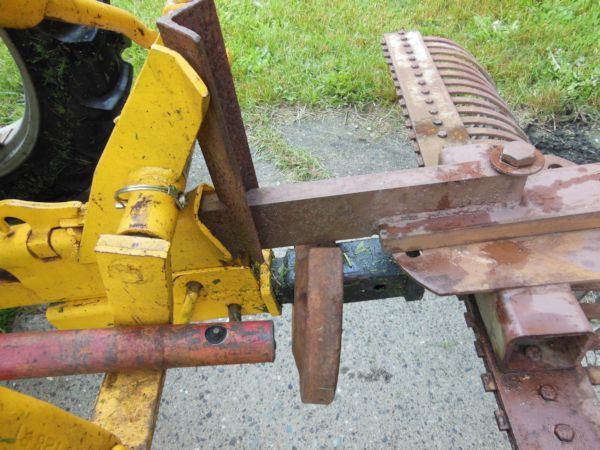 I hate getting on and off a Lo Boy, but do like the low center of gravity and tighter turning radius.
What it looked like at 9AM (drizzles), done at noon. Seeded before the sun went down.