Mon May 27, 2013 7:41 pm
Hello, after purchasing my first cub last fall I felt the need to add another one to my collection. This weekend I just added the second cub to my collection. I'm new to this great forum with great people and lots of help and advise I also posted a picture of my newest cub. This one came with a front plow and a 42 belly mower and it runs great!
Jason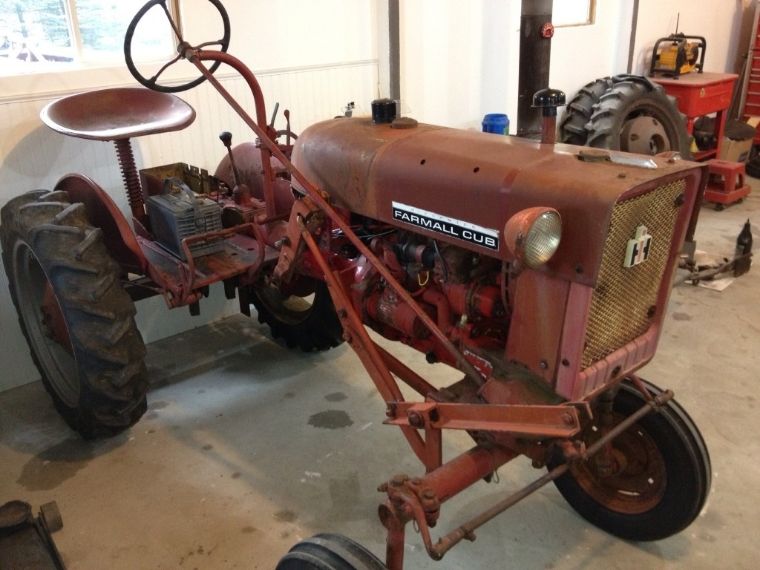 Mon May 27, 2013 8:33 pm
It looks good Jason. And you have the new gas cap and spare rear tires for it already!!

Todd
Mon May 27, 2013 11:57 pm
I think it is a Johnny Cash cub I am not sure that is a true square nose, breather is too tall , steering shaft too short.
Tue May 28, 2013 5:52 am
Congratulations on the second cub. I love it, it looks great. Welcome to the forum from Arkansas. My first cub that I still have some 17 years later is a "Johnny Cash" cub and is still the one I consider the best. I am not an eagle eye on what parts are right, I just like red. Have fun with it.
Tue May 28, 2013 6:16 am
Hey Jason, in case you're wondering what a "Johnny Cash" Cub is, Mr. Cash had a song years ago titled "One Piece at a Time", about working in the factory building Cadillacs. He proceeded to "borrow" parts over the years and build his own Cadillac... key phrase is "over the years" as it was a collection of multiple years and quite a masterpiece !

Just like you, he had great pride in his ride !

I'm happy for yah, don
Tue May 28, 2013 7:41 am
Serial number and a casting code or two and you should be able to tell the Cub's year.

Looks great the way it is! Enjoy it!
Tue May 28, 2013 5:03 pm
Casting codes and serial tag confirm that most of the tractor is a 1952, I think I'm going to keep the square hood on it as it seems to look nice with it on. Since I already have a 1953 they both won't be the same then.
Jason
Tue May 28, 2013 7:12 pm
Cash had one built. It passed me one morning as I was going to work. Quite a site. Your cub looks a whole lot better.
Tue May 28, 2013 8:28 pm
Also has an early grader blade frame and linkage on it. Pre-model-Cub54 if I'm not mistaken