Tue Jun 25, 2013 1:41 pm
well tractor supply stopped carrying the valspar that i liked. valspar was fairly inexpensive and put down pretty good results. i was happy with valspar. so for a while i went to a local hardware store that was a valspar dealier, sadly they recently went out of buisness; after being in buisness for fourty years!!! it was warsaw hardware, it great little store that was packed with everything imaginable. tractor supply carries majic now, which i personally cant stand. there is always case/ih iron guard but it's not inexpensive. my tractor is not a trailer queen, it is not a parade tractor and is not going to live a retired life. my tractor is going to be working (mowing 2 acres a week and plowing snow in the winter). i want a durable paint that is easy to work with and is reasonable in price. i used iron guard on some cub cadet stuff a while ago and while it is not bad paint, it is expensive. i want to paint the sheet metal on my cub. now i dont know what to use. i am not using that majic product, its garbage
Tue Jun 25, 2013 1:42 pm
thumbs down to tractor supply for not carrying the valspar product line anymore. it was far superior to the junk that they now carry
Tue Jun 25, 2013 2:25 pm
I'm wondering whether Valspar is either going out of business or whether there is some kind of government regulation that has made them have to pull this product from store shelves. I have not personally used Majic Paint on anything of my own, but others have had very similar reviews to yours with regard to the product. I used to use Valspar's "restoration series" paint, and it really worked great on Merlin (my 1949 Cub).

Wonder what is going on?
Tue Jun 25, 2013 2:38 pm
smells like to much government regulation. as a result of these regulations we end up with garbage paint that doesnt dry properly, gas that ruins engines, ect. i used some of that majic on my beater winter car. it took over a day for it to dry. i came back over a day later and it wasnt fully cured. i was annoyed and glad i didnt use it on something i really care about... my tractor
Tue Jun 25, 2013 4:11 pm
Have not ordered any yet, but my local Lowes checked and found out that they can order a case of six (I believe) of regular Valspar Tractor and Implement paint for a little more than $4 a can.
They cannot get "RESTORATION".
You might want to check your Lowes.
Tue Jun 25, 2013 4:18 pm
I agree wholeheartedly with your assessment of Majic paint. Our local Lowes carries Velspar paint.
Tue Jun 25, 2013 4:51 pm
Strangely I just bought some Valspar paint on sale at Lowes....Attention Vets...You have a 10 % discount at Lowes....Don't use it on sale items...I realized after getting home I used my Vet discount and they accepted it but did not give the sale price....When I called they told me because I showed my VA card they charged full price minus 10%....Not the sale price...Lost money on that gig....Dave
Tue Jun 25, 2013 5:22 pm
My local Farm and Fleet has the Valspar. I have to drive an hour to get it but it is worth it. I don't like Majic paints either. I repainted some implements because I was not happy with it.
Wed Jun 26, 2013 8:44 pm
I've been very happy with the Case IH Iron Guard I've been using. It's 31 miles one-way to get it at the IH dealer, but it's worth it. BTW - it's made by Valspar.
Forewarned is forearmed - Expect a LOT of replies to your post. About the same as posting about Dodge vs. Ford Pick-up trucks.
Wed Jun 26, 2013 9:12 pm
dont forget chevy, lol. im a chevy man but i own chevy cars, they are almost as old as my tractor. just kidding. i have 2 1991 chevy cavaliers, one's a beater car one is a creampuff 1991 chevy cavalier 3.1 convertible RS. i just like old stuff, i can work on them myself.
anyways back on topic. i ended up buying the iron guard paint. i called lowes they do not stock tractor and impliment paints and they can't get them either for some reason. you can get it online at amazon but its $13 plus $8 shipping. i drove 3 doors down to the case/ih dealer and bough the iron guard. i bought a quart of red primer and a quart of IH red paint. it cost me $40. i shoot it with an HVLP gun and while i am not as good as a profesional i usually can get pretty good results with my el' cheapo harbor frieght gun. i only use rattle cans on small jobs. i dont feel they are cost effective. 2 or 3 cans cost almost as much as a quart, we all know that 2 or 3 rattle cans do not equal a quart. besides a gun has much better volume and control. i can lay down paint allot faster with a gun.
what i'm doing is a sheet metal restoration. im not completely tearing the tractor down and i actually hope to have it back together in a couple of days. i already removed the fenders and operators platform. i used my Dual action sander on them, cleaned them up and primed them. i am waiting for the primer to dry. i did all of that in about 3 or 4 hours of work. after it's all painted i will put the fenders and operators platform back on the tractor and get it back together to mow the lawn. after the lawn is mowed the next step is going be the hood and grill. i want to spruce my tractor up a little without spending ALLOT of money and not having too much downtime. this tractor is my "lawn mower" so i have to have a fast turn around. do half this week and the other half after the lawn is mowed.
Last edited by ad356 on Wed Jun 26, 2013 9:29 pm, edited 2 times in total.
Wed Jun 26, 2013 9:25 pm
Just bought two cans of IronGuard at Bull International in Washington PA today while I was on a parts run. Whew! You're right... It's expensive! $10 a can! They must put gold in the paint!

Mike
Wed Jun 26, 2013 9:35 pm
rattle cans are joke 2 of those is no where near a quart of pain. you can have a quart for $20. use that for small parts and buy a gun, use quarts in the future. harbor freight has guns that work acceptably for cheap. if you dont have a compressor consider in investing in one, they make life so much easier. if you buy a compressor buy a good one with a belt driven cast iron pump. those direct drive oil free things are loud and they are junk. i have had the same compressor since 2007 i havent had to fix it once, it has been used heavily. sandblasting, dual action sander, it does pretty much everything i need to do. it was a $500 unit, a 60 gallon cast iron pump unit.

well thats just some buying advice on compressors. the more you spend the better the unit you will get, but minimum of $350
Thu Jun 27, 2013 4:51 am
Amazon carries Valspar spray paint by the can or by the case, price is right, shipped to your door.
Thu Jun 27, 2013 8:10 am
No experience with Valspar in a quart, but surely don't like their rattle can paint, at least the yeller I used.
In my opinion IronGard is worth the price. No dealer nearby so I get it shipped from C&G or another dealer.
All paints have been reformulated for VOC content.
Painted the mower with a foam brush 4 years ago and it still looks good. Front wheels are IronGard too.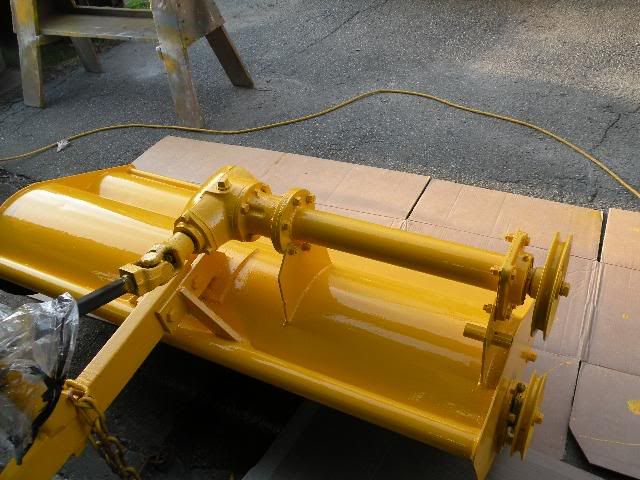 It's your time, $$ and tractor, just my opinion.
Thu Jun 27, 2013 8:16 am
Valspar no longer makes the "Restoration" line of paint per their customer service department. My local hardware carries the rattle cans and can order the gallons.