Tue Jul 09, 2013 9:02 pm
I done it again, I found a 2 way plow in my area I think? I just had a guy call me and tell me he found one with super chief bottoms on it. So I have not even paid any attention to what they are bringing these days? So can folks out there give me some insight on what is to high and about right?
All I know it is unrestored and in good shape, ready to use. That is what my source claims.
Hope to look at it in the morning
Thanks a bunch.
Last edited by Jason (IL) on Sat Jul 13, 2013 8:48 pm, edited 1 time in total.
Wed Jul 10, 2013 5:36 am
Everything there $300-$450. Missing parts $200 plus. I have been involved purchase of two different 189's in the last six months both bought in Illinois. I had searched for 3 years prior all I looked at out of state some were cheaper but I would have spent the same with freight or gas for pick up. Its like anything how bad you want and what are you willing to give based on condition and location to you.

Chris
Wed Jul 10, 2013 5:57 am
What parts are commonly missing that I should look for?
Wed Jul 10, 2013 6:21 am
Often the latch gate and depth lever ... they stayed on the Cub. The latch bars are sometimes removed from the plows.

Bill
Wed Jul 10, 2013 6:55 am
I would suggest a quick look at the parts breakdown on the cub manual server for the 189 before you go take a look at the plows. I wish I had done that before I bought mine might of gave a little less missing the the latch gate and depth lever. Thanks to Tim and Bill via cub express I got the parts I needed. Good luck, hope it what you are looking for and can get it bought for the price range you want to spend. Keep us posted!

Chris
Wed Jul 10, 2013 7:03 am
Jason:
Up here they are worth twice what a 193 is worth. So that would make $350.00 to $500.00 about average for a complete unit. For one missing parts - since the main ones missing can cost almost as much as the whole unit, then an incomplete one would be in my mind worth about $75.00 to $125.00 max. Take a copy of the manual with you to ensure you get everything.
Cub-189 Moldboard Plow 11-30-50
Wed Jul 10, 2013 9:17 pm
Turns out this is a 2 way one point plow. F 11 and it is a nice one. Hope to see it and get it home on Friday morning?
Wed Jul 10, 2013 10:19 pm
Jason:
An F-11 .. excellent
You know
Fri Jul 12, 2013 4:55 pm
Jason:
If it matches this,
Cub-F 11 Two-Way Moldboard Plow 6-7-55
, then it would probably fit the Cub. The parts breakdown is here -
Cub-F 11 Two-Way Moldboard Plow
That is a fair chunk of change .. but since the F-11 isn't that common .. might be worth it, if it indeed fits the Cub.
Sat Jul 13, 2013 9:04 pm
I hauled my tractor into the show today, bought the plow with some trade, put it on my tractor and headed for the field to try it out. It was rusty, the ground was moist and rich black dirt. Had a hard time polishing up the moldboard but I was able to make several furrows with the big boys. I held my own ground against them fellows.
Thanks the Steve B for helping me get it fixed up right so it would plow nice and easy. I could have stayed out there all afternoon and evening if they wouldn't have shut me down. It was my first time plowing at a show of any kind and I tell you I will be back. The plow turned many heads as did the old little Cub.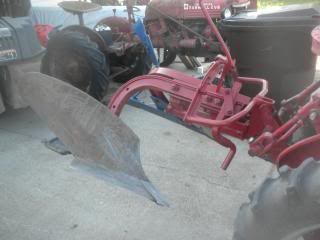 I followed Bob most of the time. I didn't want to get run over.
Sat Jul 13, 2013 9:30 pm
Jason:
Glad that you got the plow and had some fun playing with it. That's what it is about... enjoying our Cubs as much as we can
Wed Jul 17, 2013 6:35 pm
Jason:

Glad you got the plow and then got to use it. Nothing like the feeling when you have been looking for a part or implement and finally locate it and make the purchase. Was that at the Historic Farm Days Show in Penfield, IL that you tried out your new plow? My wife and I were over there on Sunday. It was our first time at the show and really enjoyed it plan to come back next year earlier in the week. Looking forward to the Half Century of Progress Show in Rantoul in a few weeks.

Chris
Wed Jul 17, 2013 9:15 pm
Jason (IL) wrote:Turns out this is a 2 way one point plow. F 11 and it is a nice one. Hope to see it and get it home on Friday morning?
Bought and F11 in good shape from TST in April. Here's a short video of using it - it was too wet we could plow both directions because of tires and traction. THis is my 94 year old father on our 1955 Cub. We have a few setup issues yet and I have to get the 9 inch tires - wheel weights are coming Cub Express from Ohio.
Enjoy your purchase
Wed Jul 17, 2013 9:55 pm
Ken,
Your plow is complete, mine is missing the coulters but I do have both mounting bars. Nice plow I thought. It plowed nice and easy.

Chris,
That is Penfield, and it is a fun show. This is the first year I have taken something to use so it made it a lot more fun. I was surprised by the low turn out, or at least I thought it was low for sat. I have never been there on a Sunday, I always go Friday and Saturday. More going on those 2 days. I always rent a golf cart too, more for the wife so she isn't so cranky.

Hope to see you in Rantoul, I will be there Friday evening when school lets out and Saturday afternoon. I hope to get a few Cubs there but with school starting that week it may be tough.