Moderator: Team Cub
Forum rules
Notice: For sale and wanted posts are not allowed in this forum. Please use our free
classifieds
or one of our site sponsors for your tractor and parts needs.
hurleyjd

5+ Years

Posts: 150
Joined: Mon Mar 02, 2009 10:57 pm
Zip Code: 75497
Messicks shows two different starter switches, one with a case-ih number and another after market switch. The case -ih is about twice the cost. Are they the same and is one better than the other. Bought one from TM about a year ago. the insulting material has deteriorated to the point it does not insulate and shorts out.
---
ScottyD'sdad

Cub Pro

Posts: 6617
Joined: Thu Aug 31, 2006 7:00 pm
Zip Code: 02769
Tractors Owned: 6"F" cubs
5 lo-boys
1 154
1 184
1 IH444
1 Oliver OC3 crawler
1 AC D10
1 IH 100 manure spreader
1 IH model B corn grinder
3 power units
cub demonstrator
Circle of Safety: Y
Location: Ma. Rehoboth
Sounds like reason enough, to go with the CaseIH one!
Ed
---
Rudi

Cub Pro

Posts: 28706
Joined: Sun Feb 02, 2003 8:37 pm
Zip Code: E1A7J3
Skype Name: R.H. "Rudi" Saueracker, SSM
Tractors Owned: 1947 Cub "Granny"
1948 Cub "Ellie-Mae"
1968 Cub Lo-Boy
Dad's Putt-Putt
IH 129 CC
McCormick 100 Manure Spreader
McCormick 100-H Manure Spreader
Post Hole Digger
M-H #1 Potato Digger
Circle of Safety: Y
Twitter ID: Rudi Saueracker, SSM
Location: NB Dieppe, Canada
jd:
Hi there ole friend, how you been
Hope all has been well.
Messicks is priced with a premium and the original switch is NLA. The aftermarket switch is the same switch available on
-
Farmall John Deere Oliver Moline Allis Chalmers Switch Starter Button 593292c1
. At US $9.99, seems a fair price. I would probably get 2 .. make it worth the shipping.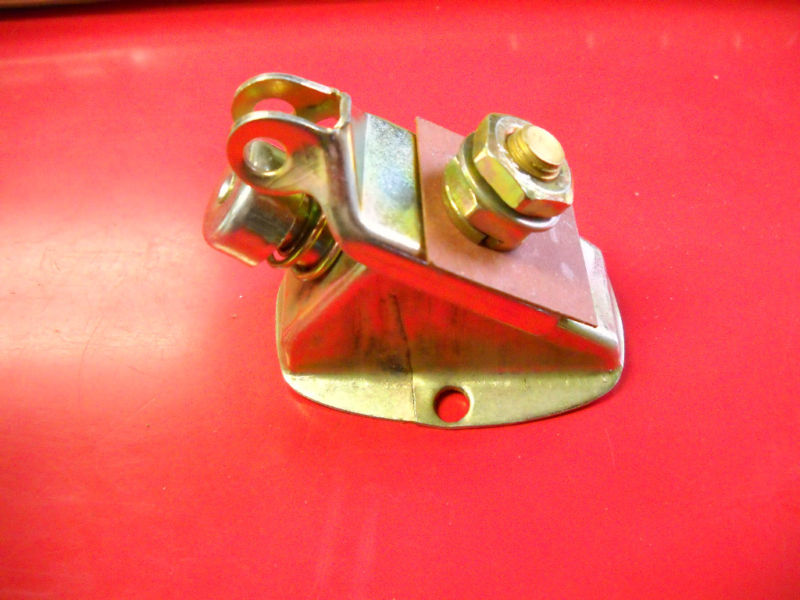 I have an aftermarket switch on one starter .. seems ok for what it is. Not much different than the one on Ellie except for the copper lug. The aftermarket switch appears to use a brass ?? lug
Confusion breeds Discussion which breeds Knowledge which breeds Confidence which breeds Friendship


---
Barnyard

Team Cub

Posts: 21002
Joined: Tue Aug 07, 2007 3:39 pm
Zip Code: 45030
Tractors Owned: At This Time
40 Farmall Cubs (Round Hood)
2 Farmall Cub (Square Hood)
2 IH Cubs (Square Hood)
5 Lo-Boys (Round Hood)
2 Lo-Boys (Square Hood)
2 Farmall 404's
1 Farmall H
1 Ferguson 20
1 Cub Cadet 125
1 Kubota B-7100
Circle of Safety: Y
Location: OH, New Haven (Hamilton County)
If the switch is okay and just the insulators are bad you can make new ones by cutting them out of heavy plastic like an antifreeze jug or a Clorox bottle. It has worked for me.
It is common sense to take a method and try it. If it fails, admit it frankly and try another. But above all, try something.
- Franklin D. Roosevelt -

---
Boss Hog

Cub Pro

Posts: 10239
Joined: Mon Oct 24, 2005 8:35 pm
Zip Code: 23962
eBay ID: dmb2613
Circle of Safety: Y
Location: VA. Randolph
IN GOD WE TRUST
All others pay cash
Boss Hog
Power corrupts; absolute power corrupts absolutely
byJohn Emerich Edward Dalberg
---
tmays

5+ Years

Posts: 2470
Joined: Wed May 11, 2011 8:59 pm
Zip Code: 39180
Tractors Owned: 1948 Allis Chalmers G
1947 Cub
1952 Cub

154 Cub LoBoy
Location: Vicksburg, MS
Boss Hog wrote:http://www.ebay.com/itm/Farmall-John-Deere-Oliver-Moline-Allis-Chalmers-Switch-Starter-Button-593292c1-/130592918054?pt=BI_Heavy_Equipment_Parts&hash=item1e67f1ca26

I deal with this guy a lot no problems , it is a cheap switch, the delco is better but much higher
Even cheaper now. I just got a notice he has decreased the price 50 cents
Thomas
---
---
Similar Topics

Replies
Views

Last post
Who is online
Users browsing this forum: No registered users and 3 guests