Tue Sep 24, 2013 8:58 pm
I set the plow up on my cub for the first time last week and plowed the garden. Boy was that fun. My 6 year old came out and sat on the sideline and watched the dirt flip over but mom refused to come out and share our excitement. Watching the dirt flip is sort of mesmerizing. It didn't look like it was going in super deep, maybe 4-6". A few times the tractor got hung up and I realized the drawbar was digging into the ground. I thought it would plow deeper with the drawbar that far down. After I got done I thought I could have bolted the plow to the bottom of the drawbar to get a little more ground clearance under the drawbar. Is the drawbar digging in normal? Thanks.
Tue Sep 24, 2013 9:21 pm
Here is how your set up should look. Your depth control lever should keep the drawbar from digging in.
Image from TM Tractor Parts
Tue Sep 24, 2013 9:22 pm
Does this help?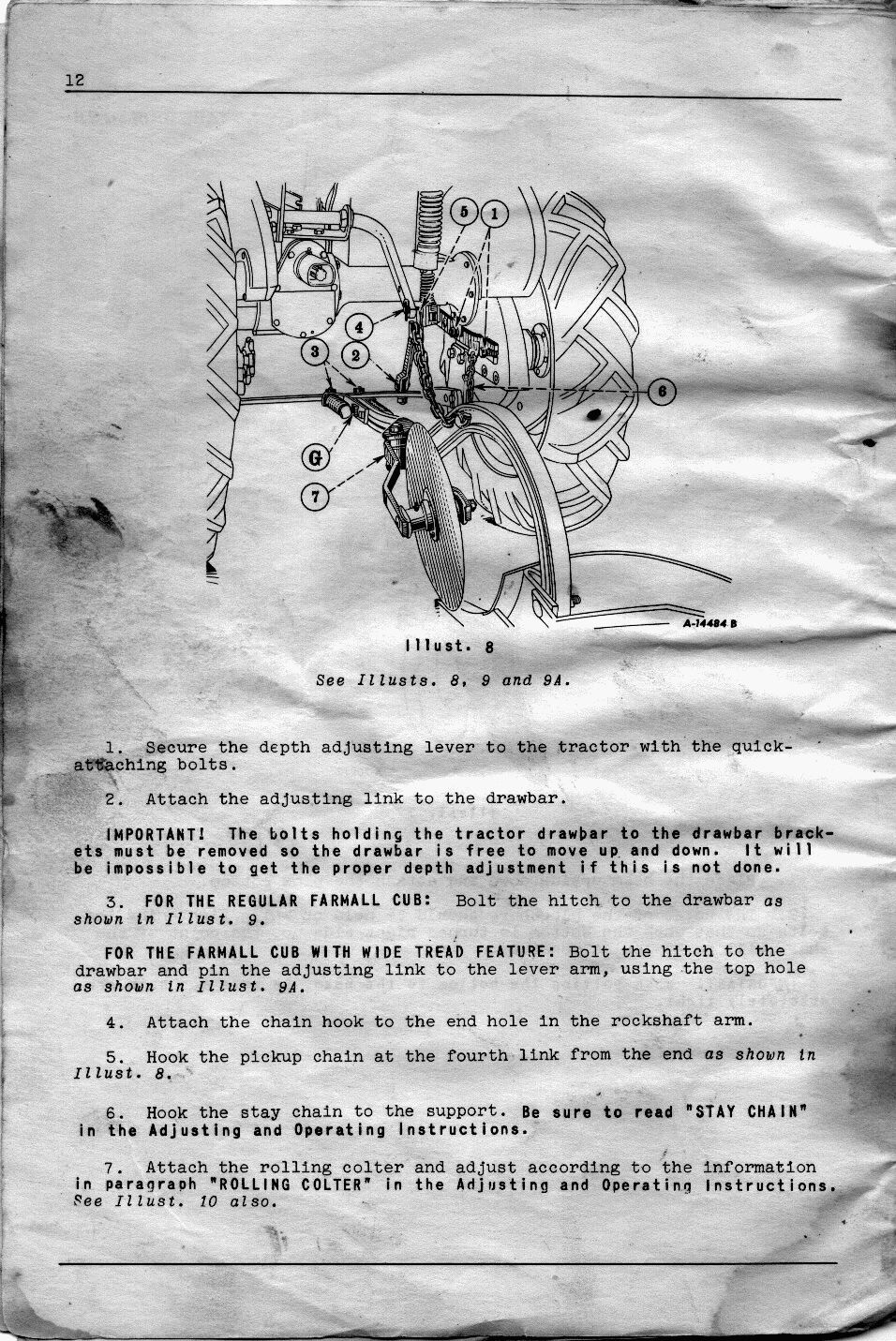 Tue Sep 24, 2013 9:45 pm
As has been posted, the plow goes on the bottom of the drawbar, plus your point may be worn, requiring you to set the lever deeper than normal to get it in the ground. Can you post a picture of the point?
Wed Sep 25, 2013 9:00 am
Your plow appears to be the left half of a 189, 2 way plow. It needs to be mounted on the left side of the drawbar so the left wheel runs in the furrow. which it appears you have.

A big part of you problem appears to be that the point is pretty badly worn. Sharpening it is more than just taking a grinder to it. If you are lucky enough to have a real blacksmith in your area, he can heat it and draw out the point, maybe even weld a new point to it. the point with it's length and angle, should "suck" the plow into the ground. Except fot when opening the first furrow, normally the depth lever will only be half way or less down.
Wed Sep 25, 2013 11:14 am
I had the share off and is says "cast steel" on the back. maybe I will try preheating it and building it up with some stainless rod sometime.