Mon Dec 23, 2013 6:45 pm
i just got this today, motor has been rebuilt about 15 years ago and hardly used. it doesn't have spark so that is the first thing i have to check. how many were considered circle cubs ?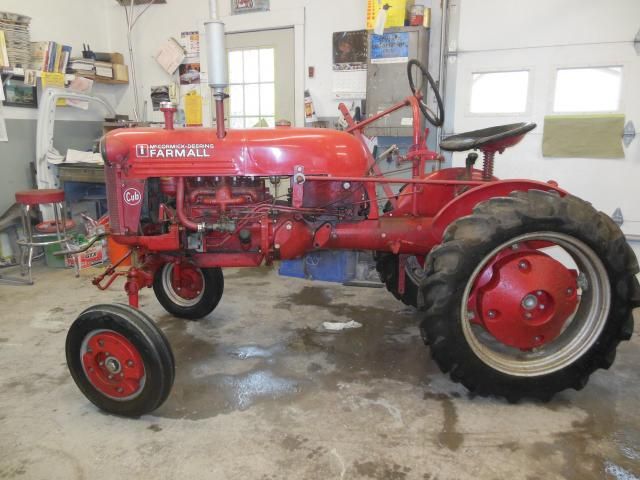 Last edited by Rob in NH on Wed Dec 25, 2013 8:58 am, edited 1 time in total.
Mon Dec 23, 2013 7:06 pm
Nice looking Cub Rob. How low is the SN? Did you get your wife something equally nice for Christmas?
Bob
Mon Dec 23, 2013 7:09 pm
the serial # is 34xx and i did get her a nice gift
Mon Dec 23, 2013 7:38 pm
Nice early one Rob
Tim
Mon Dec 23, 2013 7:48 pm
Nice find.
Tue Dec 24, 2013 5:12 am
Hi Rob,
Did you buy the Cub in Salisbury, Ma ? If so, it looks a lot better in your garage than it did in that shed!
smars
Tue Dec 24, 2013 5:28 am
Happy Holidays to all,
smars
You do not have the required permissions to view the files attached to this post.
I bought this Cub about 3 weeks ago... 1956 Lo-Boy. Really excited to have it, runs great but 2nd gear a little noisy. Came with a sickle bar mower that I plan on using, but other than that just enjoy looking at it! This truly is a great forum with an unbelievable amount of info and help. Will be looking for the correct grill for it, seems to need very little else for now.
Tue Dec 24, 2013 9:45 am
it is the salisbury cub, hoping to start it saturday.
Tue Dec 24, 2013 11:15 am
Nice to see it go to a good home
Looked at it about 6 weeks ago but I'm new to Cubbing and it not running scared me. Every time I drove my that shed I thought of it just sitting there.. Best of luck with it, looks much happier already!
smars
Wed Dec 25, 2013 9:23 pm
just out of curiosity, how many circle cubs were built?
Wed Dec 25, 2013 10:13 pm
Pretty good discussion on the matter of circle cubs.
viewtopic.php?f=1&t=43433
Wed Dec 25, 2013 10:46 pm
thanks hoyt, lots of good info on that thread
Fri Dec 27, 2013 12:28 pm
i was able to get it running this morning, motor is very quiet. very happy
Fri Dec 27, 2013 3:58 pm
Nice one, Rob!
Ed