Hello all...
Its been years since I have been here, and as I said a couple months ago in a post on flail mowers I had to create a new log in ID...
Anyway that being said, "Merry Christmas" to all of you! Hope everyone has been safe and enjoying the season!
Last Friday evening where I live in northern, VT we got started getting hit with ice...lasted through Sunday, knocking power out, many trees, and lots of branches...can only do so much to clean up now with snow already on the ground, but getting the big stuff off the ground is a start.
A couple years ago I built with my dad a carry-all frame, nothing pretty...but it was from some scrap iron we had laying around.
I painted it and put it in the barn until yesterday....dragged it out and screwed some plywood to it. I thought it would come in handy to move the brush from the yard out back to the burn pile.
Here are a few pics of the ice storm, as well of the cub in action...couple videos my wife took using my iPhone. We had some warmer temps on Sunday and light rain, so it was easy in some spots to scrape off the driveway...the rest of the driveway is still under 3-4" of frozen ice and snow.
Hope you enjoy the pics and hope the video works! First time posting a video.
The finishing touches to the carry-all with my son Andrew helping
And it at work hauling brush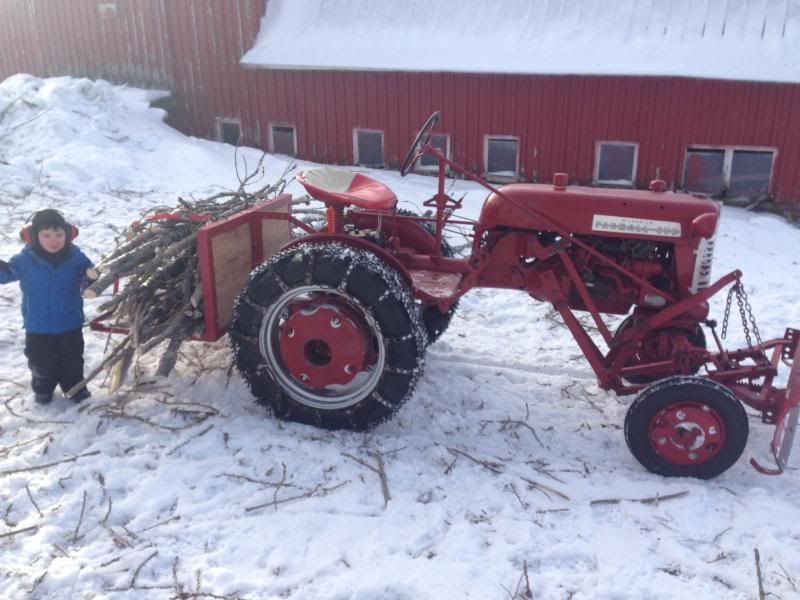 A video of the cub scraping/plowing ice