Fri Feb 07, 2014 9:41 am
I thought that I'd never say this, but I'm ready for the summer heat! Every year I wait and hope for a cold winter with lots of snow, but this year is just crazy! I believe that we just hit the 100" mark for the year, and we still have another month and a half at least. I live in a semi-remote area, surrounded by corn fields, and the drifting is unbelievable. Every day for the past 2 weeks I have had to clear snow, there is just no getting around it. last week I went to get the cub out, and the drifts in front of the barn were so deep they were over the plow with it all the way raised up. Needless to say I didn't make it very far with the cub and ended up having to snow blow the area out
. My yard has a deep ditch out front which means that my house sits 5-6 feet lower than the road. As the snow sits right now, you can't even see the ditch. It is just a level plane of snow from the snow bank on the side of the road to my house. I almost guarantee it would be over my head if I stepped in it, and I'm 6'-1". On top of all the snow it's been so darn cold that I've already gone through a tank and a half of fuel oil. I'm sure all of you guys who heat with oil know it's not cheap!
I'm ready for summer! I'm ready to put the belly mower back on the cub and forget about the snowplow!
Fri Feb 07, 2014 10:16 am
Unusual winter weather here also, but very little snow, and only on the mountains. BTW, as a matter of interest what sort of price is your central heating oil in your area?? In Ireland we are paying around 850 - 880 Euro per 1000 litres, you can convert to dollars, for your own discernment.
Bernard,
Donegal Cub.
Fri Feb 07, 2014 10:37 am
Donnegal,

When I do the conversion it seems you pay about $4.35 per gallon. I had my 350 gallon tank filled filled 2 weeks ago for $1,225, which works out to $3.50 per gallon. It seems my area is a bit cheaper than yours.

Scott
Fri Feb 07, 2014 10:40 am
Fri Feb 07, 2014 10:43 am
Your oil price, given what I found for a Euro to Dollar exchange rate, looks to me like about $4.45 per gallon. The most recent average US price is quoted at $4.25, so not much different than yours. Price has been on a bit of an upswing. It might cost motoscott909 a bit more to refill today than it did 2 weeks ago.

Don't ask about propane!
Fri Feb 07, 2014 11:33 am
Im just hoping i dont have to fill up again this year!
Fri Feb 07, 2014 12:20 pm
I don't think your the only one waiting for warmer weather? We in the Chicago area are on our 4th worst winter for snow at just under 60" of it. The cold added to it just makes it feel worse. Cabin Fever is killing me, even though I have a heated shop, I still like to be outside a little bit in the winter.
We are suppose to get 2" tonight so we'll see and maybe another significant snow next week. BLA
Fri Feb 07, 2014 12:21 pm
I paid $3.84, COD price, 2 weeks ago. 69 gallon "fill up". I love wood heat! Would have been 200 gallons, without it. 1 tank full nearly pays for a tri axle load of logs, more than one winter's heat! $4.15 was the last oil price I heard, for area "average"
Ed
Fri Feb 07, 2014 9:30 pm
Scott, maybe you should upgrade some of the other equipment in your shop to help move the snow and get you thinking even more about spring....
Just a thought....
Sat Feb 08, 2014 6:05 am
I locked in my oil with a price last September for this winter at $3.65 per gallon. I buy 900 gallons at a time delivered as needed throughout the season. Every time we've done this pre buy we've beaten the market price over the heating season. Had oil delivered to another property we own in town and the "spot" price was $4.09. We've been burning more than usual since it's been colder than normal. This is up here in the Northeast. Expensive area for sure!
Sat Feb 08, 2014 12:25 pm
I miss our wood stove for heat. Our old house gas/electric was $65-80 in the winter. New house is $350ish. So rough.
Sun Feb 09, 2014 5:16 am
Luckly I heat the house with an outdoor wood burner. I wouldn't want to be paying the oil man this winter. My wood shed should be empty by the end of the season.
Kirk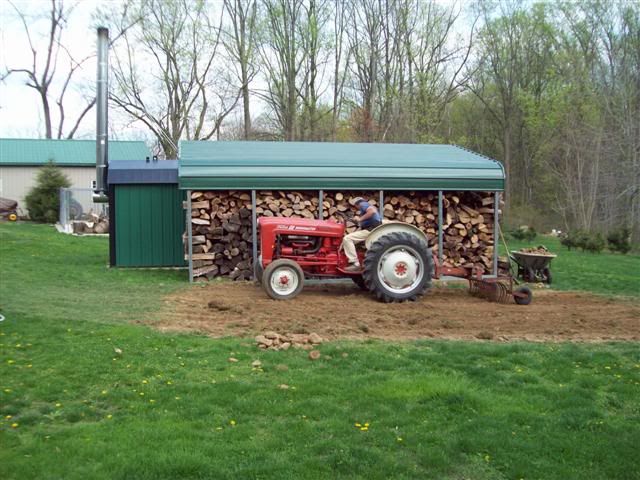 Mon Feb 10, 2014 10:26 am
I would love to have an outdoor woodstove! My neighbor has one and loves it..... Maybe Someday.
Mon Feb 10, 2014 10:38 am
You might not love slogging through the snow to keep it fed, though.
Mon Feb 10, 2014 11:07 am
Don McCombs wrote:You might not love slogging through the snow to keep it fed, though.
Good point! Still might be worth it though, as i could heat my shop with it also
Right now i heat the shop with a small woostove and its only heated when i go out there.