Wed Jun 11, 2014 8:03 pm
Interested in anouther cub;serial 226222J .Should be a 1965 model ,decaled as a Farmall ,likly should be International .It is red [now anyway] Could red be correct rather than yellow? Don't see any hyd in the [only fair] pictures .That would be odd at that time too.Don't have a red sq front yet so may go for it.Too bad it's not a red and white
Wed Jun 11, 2014 8:20 pm
The "standard" color for a 65 cub would have been yellow/white, as mine pictured below, however, lots of them were painted all red from the factory. Dealers could have ordered them either way. Municipalities also could have ordered them all yellow, orange, red, grey, etc. So, it's really up to you. If it looks good, leave it.
Sat Jun 14, 2014 11:51 pm
The decals on it are for a Farmall cub;not an international .Would a red 1965 use the same short stripe International decals as the yellow and white?
Sun Jun 15, 2014 6:14 am
I'd guess that someone put the older decal on yours at some point when it was repainted. This decal stopped being used at serial number 224703, several thousand cubs before yours.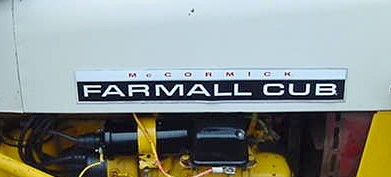 If you really like the red and that decal, then I'd stick with it. If you want to get the tractor to "period correct" condition, then the colors and decals I showed in the previous post are correct. It's your tractor, so do what you want with it. Even in mine, which is pretty darn close to factory correct, I went with the yellow breather ven and gas tank cap, just because I liked it that way. Everyone typically does something to make it thier own, so definitely don't feel like you have to do something just because that's the way it came from the factory. Do it how you like it!!!
Bill
Sun Jun 15, 2014 11:31 am
I have not bought it yet and it is a long drive just to look for any old yellow .I do want a red sq front and already have a short stripe yellow and white. The no hyd at that age is a bit of a red flag.It could be a Johny Cash one piece at a time cub jockey asembly
Sun Jun 15, 2014 4:58 pm
Yea could be a piecemeal machine. Do some research and take the date code chart with you to check the castings.

A couple of things to look for though. If it was originally ordered by a municipality for utility service, they may have ordered a solid color tractor without hydraulics (not sure why in the world they would, but it's possible). Some things to look for is the foot gas pedal, horn, or hour meter, as these were common options for municipality machines. The foot gas pedal is a little round lever to the right of the brake pedals, only sticking an inch or two off the floor, and is a really rare item. Also look closely at where the hydraulic pump should be, as there should be a plate covering the hole in the block. It would be REALLY rare and nearly impossible to find that plate to install if someone took the hydraulics off of the tractor, and it most cases it would be left open if parts were removed.

Let us know what you find out!
Thu Jun 19, 2014 7:55 am
The last 'farmalls' were the red and white ones. After that, as GI says were yeller and white unless special order. I have a late 64 yeller/white with a Farmall SN tag but IH on the hood. If you care, the correct decals are available from a dealer or TM. Funny that the Farmall decals are about twice the money of the IH ones.
65 Lo Boy getting 'stuck':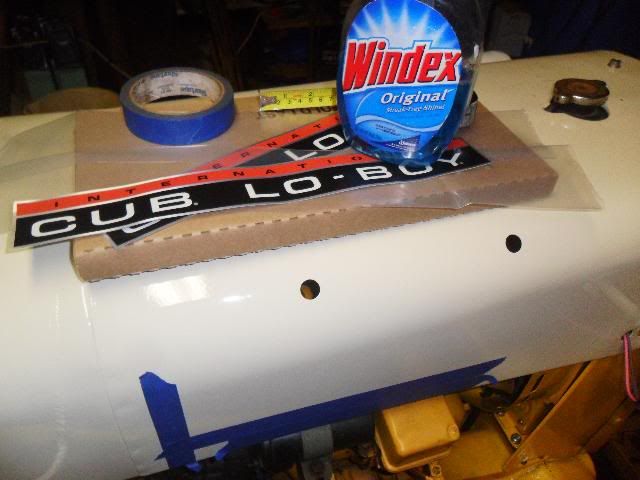 Wed Jul 09, 2014 11:43 pm
Update on the cub. I did not go for it;Just too long a trip with too many blured pictures and vage answers.Picked up a 140 with some implements closer to home that i'm happy with.Still would like a sq front red or better yet a red and white some day though [and a high clearance too] Just keep looking .Thanks for and advice