Thu Jul 03, 2014 9:55 pm
What Rick said. Mower set up is more important than most people think. Thick/tall grass can be a problem.
Mower condition - unbelievable what a proper mower set-up can do for performance. Make sure blades are sharp, and that front of mower deck is about 1/2 " below rear. Belt is tight, spindles are lubed, should be good to go.
Last edited by danovercash on Fri Jul 04, 2014 11:48 am, edited 1 time in total.
Thu Jul 03, 2014 10:43 pm
Thanks for all your help guys and giving me new ideas.
I haven't had time to take it anywhere. I lack the ability to with no truck and no trailer. Usually I have to try to borrow a family members but haven't been able to.

When it comes to cutting the grass. The grass is not very tall. I mow my grass pretty short due to the fact that I try to keep the snakes away from the areas my kids play. So what I have done is usually the day before I use my cub cadet mower I get the Cub out and take it for a spin and then I usually drop the deck and try to mow. On the cub cadet mower I usually mow it at a 1 or a 2 on the deck height. So height of grass is not very tall.

When I put the tractor in 3rd gear it takes off by itself and has no problem doing so.

I am wanting to solve the stalling problem first.
It seems like the electrical (regulator will be easy to replace)
Fri Jul 04, 2014 5:07 am
Grass height and condition is not a problem since you can cut it with a Cadet.

Investigate the condition of the mower deck spindles, idlers, deck adjustment.

Which mower do you have mounted on the Cub?
Fri Jul 04, 2014 12:11 pm
I took a little video of me driving it this morning.
It is not the greatest video but I am going to try to get it uploaded so you guys can see it.
Fri Jul 04, 2014 12:58 pm
Mowers take a good bit of power to run, especially to get the blades up to speed. As Rick said make sure everything in the mower driveline spins free. A bad bearing in a pulley or spindle increases the load by a lot.

Also, if it's a belly mounted mower the belt should be taut (NOT tight) when lowered to mowing position. Raising the deck slacks the belt some (but it should still run). Also, if the belt is too tight it will pull down on the PTO shaft/bearing (there is a grease fitting on the PTO bearing, top left). The adjustment is the idler pulleys on the back of the tractor with the deck lowered. The belt should leave the pulleys at about the same line as the spindle pulley.

Watch out for the cheap regulators.... get the better one. Also an easy way to polarize the generator is the the center connector to the one on the other side, just be careful not to short anything else.

73 is a nice yeller version.... great vintage!
Fri Jul 04, 2014 11:19 pm
I have the video of the cub running.
I can't get it to load on photobucket and for some reason youtube won't let me load it to my account
Is there anybody who would want me to try to e-mail it to them so they could possibly post the video or just look at the video?
Sat Jul 05, 2014 9:10 am
Buzzard Wing wrote:Mowers take a good bit of power to run, especially to get the blades up to speed. As Rick said make sure everything in the mower driveline spins free. A bad bearing in a pulley or spindle increases the load by a lot.
Brutalfly wrote:When I put the tractor in 3rd gear it takes off by itself and has no problem doing so.
As the others have said your problem could be one of several or a combination of things. I suspect fuel flow as a problem in that running a mower, especially a 5 foot deck takes a lot of power which requires significantly more fuel than just driving in 3rd gear. Since it does run well in third it seems the ignition and governor are working alright. If, and I stress IF, the fuel flow is up to par then I would suspect the plugs are failing under load. With higher cylinder pressures marginal plugs will tend to misfire causing loss of power and the engine to stall.
If the deck isn't running optimally (or when trying to cut tall grass/weeds) the engine will also stall, simply not enough power, again, especially with a 5 foot deck. To expand on what Rick and Buzzard Wing said, even an over tensioned belt will rob power.
Sat Jul 05, 2014 10:40 am
After lots of trouble with youtube I finally got a video.
My e-mail would not allow me to e-mail it for some reason
Here is a video of me driving it.
Feel free to critique or give advice and tell me what I am doing right or wrong
I want to make sure this tractor lives for a long time and is kept in good shape
Last edited by
Barnyard
on Sat Jul 05, 2014 11:17 am, edited 1 time in total.
Reason:
Repair YouTube link.
Sat Jul 05, 2014 10:54 am
At about 1 minute 30 seconds in the video is a shot of the mower deck. The pulleys are barely turning. The pulleys should be at much higher RPMs.

Check the condition of the spindles and idler pulleys.

Also, tractor started out great in 3rd gear, engine power is not the problem.

Edit. Again at 3.36 minutes in the video, mower deck pulleys not turning.
Sat Jul 05, 2014 11:29 am
Eugene wrote:The pulleys are barely turning.
I have noticed in some videos that spinning objects appear to not be turning fast. That might be what we are seeing here.
The funny thing is that it only stalls when the PTO is in gear.
I only think of two questions:
1 - Is the underside of the mower clear with nothing in the way that may lock up the blades?
2 - Have you tried to run it with the PTO in gear and the mower belt disconnected?
Sat Jul 05, 2014 9:38 pm
Sounds to me like the governor isn't kicking in.
Sat Jul 05, 2014 9:42 pm
Couple of things..... one is that Cub doesn't sound 'right', way too loud and I can't guess what it is, but someone else could??
I nearly always mow in 1st, but that is more due to the difficult terrain that I mow.
That is NOT a 'standard' Cub woods 59, there are no tensioner pulleys on a 59 C-2. There are a lot of variations of Woods 59 mowers and I could not guess what it belongs on. From the factory a white deck is an L59 (spins left instead of right) but could have just been painted that way after?? This is one installed: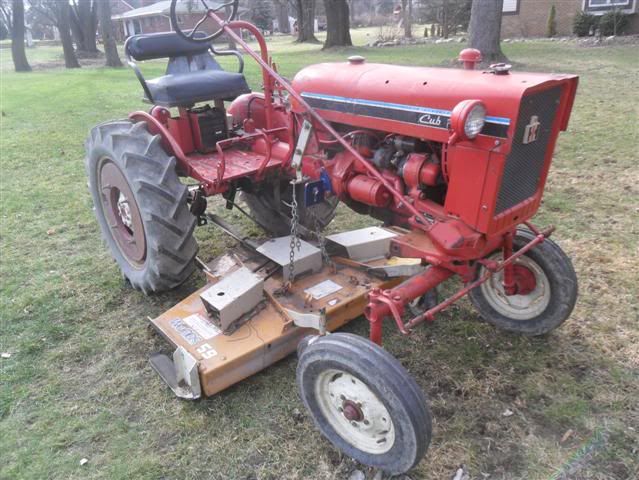 And a different one without the guards: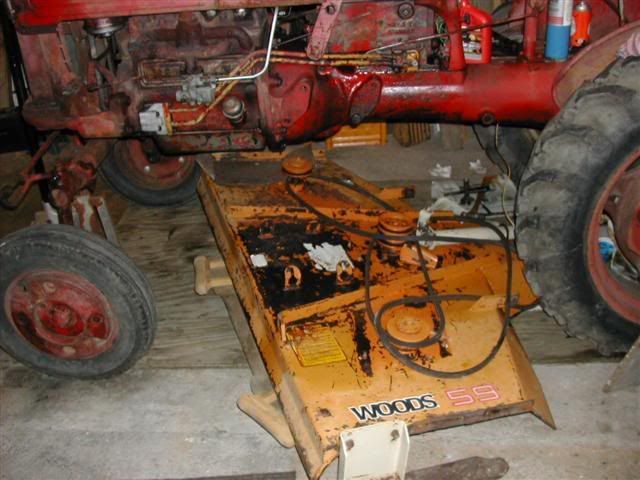 The direction of the spindle which is the blade cutting edge and thread of the nut for the blade is stamped on the spindle shaft top:

Not to say it won't work, just that it was not intended for a Cub originally.
Sun Jul 06, 2014 6:27 am
Have you tried leaving the mower in the up position to see if you get the same results.

Because this is a nonlive pto system I always begin mowing in the up position then lower after tractor and mower are up to speed.
Mon Jul 07, 2014 3:10 am
After watching the video, I'm with Eugene. I'm inclined to think there is something wrong with the mower spindles or idler pulleys. I'd take the belt off and see if I can easily turn each one by hand.

Forget about the battery charging system. That would be the absolute LAST thing I'd worry about. Fix that LAST. Other than that, lets back up. Its all been said previously but I'll reiterate because these things are very important and you don't want to gloss over them.

1. Do a complete ignition tune up. Replace distributor cap, rotor, points, condenser, plug wires, and spark plugs.
2. Set the timing perfectly.
3. Check valve tappet clearances.

After these things, we can move on. Seriously, do these things. Even if not truly needed, I do them every time I'm on a 'new to me' tractor. They are the basics and are the main things you'll want to teach the boys anyhow.
Mon Jul 07, 2014 5:45 am
There arrears to be a screech after the mower is engaged. Mower deck been greased?

I would do as others suggested. Remove the belt and investigate for the binding source.