I'm about to finish the rebuild/brake replacement of the right final on my '56 Cub, BOB. The Rear Axle Oil Seal with Retainer was badly damaged and the seal itself was falling apart. I think someone at some time tried to remove the retainer without using a bearing splitter to get the bearing off first.
In any case, I chose to replace the retainer with the new seal, available as a unit from TM Tractors:
http://www.tmtractor.com/new/fr/393fp.htm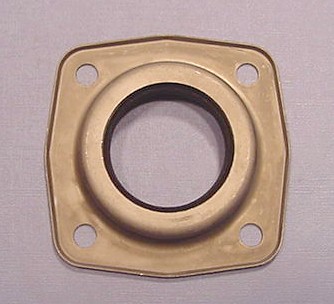 The installation went fine, but as I was reinstalling the axle with a new gasket, I remembered that there is an oil hole at the bottom of the casting (right side of the photo) where the seal sits:
And here is a photo of another one I rebuilt:
The old retainer had a "divot" in it to allow oil to pass through to lubricate (I think) the bearing. You can see it in the picture of the old retainer:
There were "divots" on each of 4 sides, so that there would be one over the hole no matter what direction the retainer was installed. (These were not the "stakes" that held the seal in. You can see one of those just above the "divot")
My question is,
with no "divot" in the new retainer, will there be proper lubrication?