Forum rules
All photos must be your personal photos (no copyrighted material).
FarmallCub.Com forum upload attachment requirements:
Maximum attached file size:
512kb
Maximum dimension:
Unlimited
(as long as the file is less than 512kb)
Preferred photo attachments are via direct upload in post, and/or the CubFest Photo Server.
Commercial Photo hosting services will work, however, if the image links become broken due to discontinued service or deletion of the images, the posting will be marked for removal.
Sat Feb 26, 2011 1:22 pm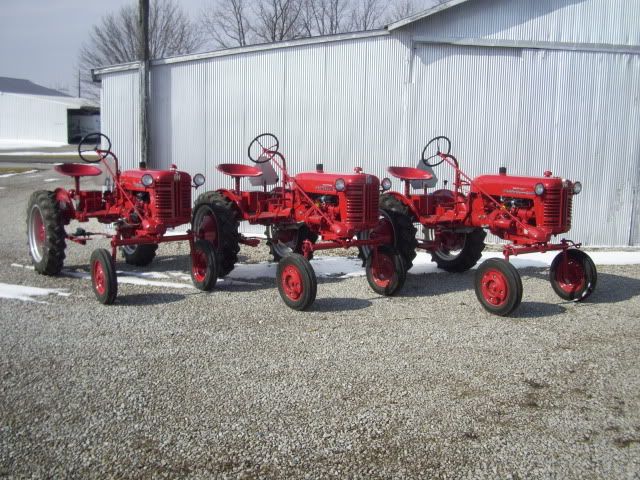 Sat Feb 26, 2011 1:52 pm
Beautiful tractors, Bear. Although they all look great, my favorite has to be the '55.
Mon Feb 28, 2011 9:27 am
I like the multi bar grills and the chrome IH on the hood. Nice tractors!!
Mon Feb 28, 2011 7:55 pm
The 55's are probably my favorite year model. Very,very,very nice Cubs.
Mon Feb 28, 2011 11:08 pm
Very nice Bear !
Look at the serial numbers boys, if we could just get the forth one that's missing. Then the 5th, 6th and 7th
Fri Jan 27, 2012 12:43 am
AWWWWWWW i wish these were mine all whit a fast hitch 1. 194 plow 2. L38 disk 3. 184 planter very nice tractor my favorite year too very Sharpe
Fri Jan 27, 2012 8:51 am
Nice line up Bear!
Fri Jan 27, 2012 10:44 am
Wow! You should be very proud to be the owner of those - thanks for the pics