Forum rules
All photos must be your personal photos (no copyrighted material).
FarmallCub.Com forum upload attachment requirements:
Maximum attached file size:
512kb
Maximum dimension:
Unlimited
(as long as the file is less than 512kb)
Preferred photo attachments are via direct upload in post, and/or the CubFest Photo Server.
Commercial Photo hosting services will work, however, if the image links become broken due to discontinued service or deletion of the images, the posting will be marked for removal.
Sat Dec 03, 2011 11:33 am
This project has taken me almost every spare minute of my time over the last 3-1/2 months. This 1958 cub was purchased brand new by my grandfather in April of 1958. My father got it shipped from NY to ME in the early 80's and did a full overhaul of the tractor and we had used it a lot for the next 20 years. The Cub was handed down to me about 10 years ago and I used it very little do to having a larger new tractor at the time. I always knew that I would someday bring it back to life. That day finely came today when I left the garage after the restoration with the grill and emblems on.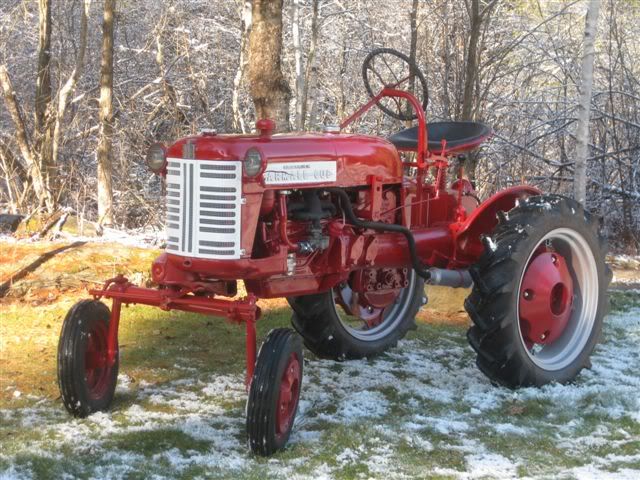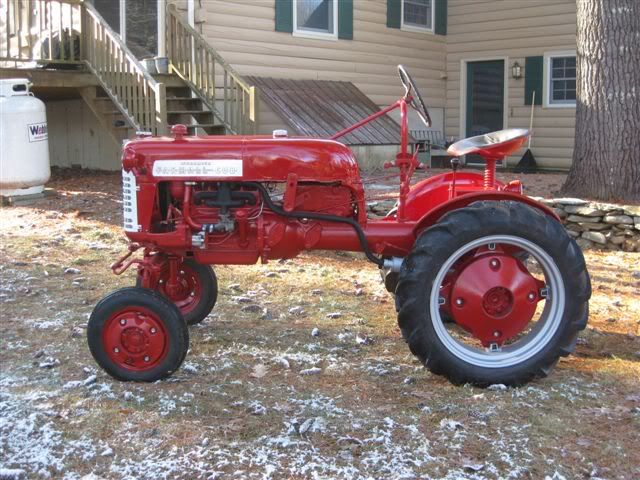 Sat Dec 03, 2011 11:36 am
Very nice, you did a great job on it!
Sat Dec 03, 2011 11:41 am
Sure looks good. Nice to preserve a piece of family history.

Bill
Sat Dec 03, 2011 11:47 am
Beautiful restoration, looks great. Whats that white stuff you're driving in?

Tom
Sat Dec 03, 2011 11:56 am
Very nice looking Cub! You should be proud of your efforts on getting this one back to this beautiful, shining example. One thing I notice, you may want to change out the gas cap to the free replacement safety cap. Thanks for posting the pictures of your Cub.
Sat Dec 03, 2011 11:59 am
Beautiful tractor!! Great job!!
Sat Dec 03, 2011 1:02 pm
Wonderful job to a nice piece of family history!

Thanks for sharing,
Sat Dec 03, 2011 3:40 pm
WOW!! Awesome job!! Great looking tractor and great story. Your Grandpa would be proud!!
Sat Dec 03, 2011 4:15 pm
Great Job! My favorite style.
Sat Dec 03, 2011 8:14 pm
that is wicked nice
Sat Dec 03, 2011 10:23 pm
Beautiful!
I hope to have my '57 looking like that someday.
Peter
Sat Dec 03, 2011 11:07 pm
I could only hope my '56 turns out as nice as yours.
Well done!
I'm working on a '56 that I could only hope that it looks as nice as yours.
Sun Dec 04, 2011 9:06 am
Thank you all for the great comments. I just found another picture of my dad on the Cub in 1968 working the family garden for my Grandmother. The next thing to get restored is the fast hitch and the meny implements
Sun Dec 04, 2011 9:15 am
Beautiful! Love the look. Reminds me of my youth, through the 50's and 60's our "big tractor" on the farm was the 450, same style. You did a fine job!
Sat Dec 10, 2011 4:01 pm
Fantastic story, really like the restoration, Grampa would be really proud of you and the tractor.

Bruce T.