Forum rules
All photos must be your personal photos (no copyrighted material).
FarmallCub.Com forum upload attachment requirements:
Maximum attached file size:
512kb
Maximum dimension:
Unlimited
(as long as the file is less than 512kb)
Preferred photo attachments are via direct upload in post, and/or the CubFest Photo Server.
Commercial Photo hosting services will work, however, if the image links become broken due to discontinued service or deletion of the images, the posting will be marked for removal.
Sat Mar 05, 2011 11:00 pm
Just got this the first of the week and hope to use it to move my homemade dirt from the other place to the gardens here.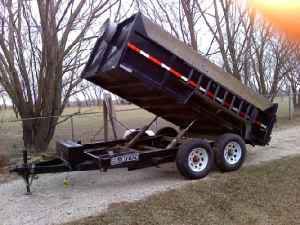 Had to make a 100 mile road trip to get it and I am still down from the trip,---ole body not been good all winter,----down most of the time. thanks; sonny
Sat Mar 05, 2011 11:25 pm
Very nice, we have one at the shop.
I was going to use it as a seating area to watch a parade one day. As I started letting the trailer down on my hitch it kept going and going until the jack ran out and my truck couldn't come near handling the weight...
Takes a good size truck to tote one of those...
Sun Mar 06, 2011 12:55 pm
I have the 94 GMC 1-ton dual wheel truck to pull this one with and it will easily pull/haul/dump 5.5 ton loads and never break a sweat. ---It is ultra light empty, giving a good payload. thanks; sonny
Sun Mar 06, 2011 2:46 pm
Looks like one heavy duty trailer. Looks good.
Fri Mar 11, 2011 11:20 pm
Nice trailer. I give up, Whats the thing on the front? Silver lookin thing. Grump
Tue Mar 15, 2011 8:02 pm
Grumpy!!!---That silver lookin thing on the front is the spare rim,---former owner never did have a tire put on it!---I will take it off,--dont need to haul the extra weight around!---the loading ramps will also be left in the shed unless I need them,--they too are kinda heavy,--used them last night to load tractors with and these things are heavy!!!!---They have a rack on each side to ride in! thanks; sonny