Mon Aug 13, 2007 8:53 pm
I found a 39 Farmall A around the corner from my house the other day and really cant decide whether or not to buy it...
The old girl has been sitting in a barn for long, long time as the story goes. The motor is stuck, Plus missing a fender, seat and lord knows what else.. OK guys let me have it, What do you guys think..
The only purpose for it would be Wagon puller or Parades
Thanks for your input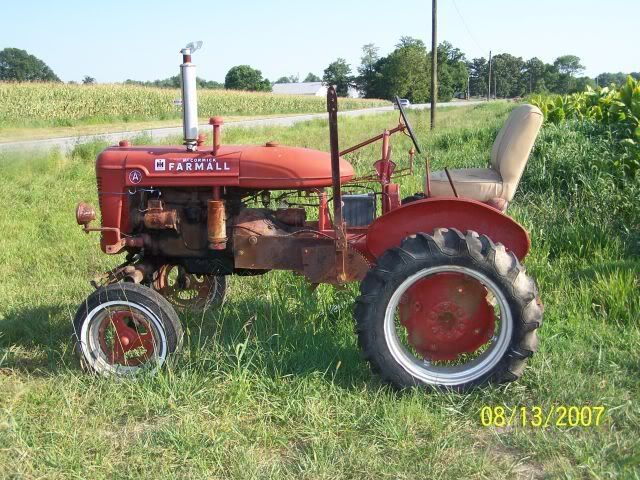 More detailed pics can be found at my photobucket here:
http://s5.photobucket.com/albums/y163/49FCUBBER/Farmall%20A/
David C
Mon Aug 13, 2007 8:56 pm
That would depend on the price David!
Mon Aug 13, 2007 9:00 pm
Is that's a "2" in front of those zero's? Would hate to get into and realize that you've got a lot more to buy before she runs. But on the other hand, there's just something about things being close to home that makes me want to buy 'em!! And could be something simple to fix, but that ain't my luck!!
Mon Aug 13, 2007 9:16 pm
She looks very clean, and if the motor is stuck she will be very quiet around the barn
love the white wall tires
Last edited by Guest on Tue Aug 14, 2007 9:21 am, edited 1 time in total.
Mon Aug 13, 2007 9:16 pm
The sign has a sloppy dollar sign and he posted $1000
I called them and they sounded HIGHLY MOTIVATED to sell, I just wonder how motivated????
Thinking about offering 400 for it and see how they react
David C
Mon Aug 13, 2007 9:21 pm
My sentiments exatly she is nice
Mon Aug 13, 2007 9:28 pm
Ya gotta start somewhere
Whats the worst thay say 'no' or they give a lower than asking price #. Then you decide. Go for it!!!The White walls have got to go though
Mon Aug 13, 2007 9:54 pm
$1000 would go a long way towards a Super A (hydraulics!!). I would probably make him the offer and see what he says. It wouldn't hurt it to sit there for a while which I'm sure it will at a grand. Then I'd go back in a couple months and see what he says, if he turns down the $400. Couldn't hurt!
Tue Aug 14, 2007 7:19 am
I'm with Trent on this one !! A sincere offer of $4-500 made using the phrase " It's worth xxxx to me" in a very casual manner might get it bought. The key is always to convey the message to the seller that it "matters not" if you own it or not. Also, it's not an open-ended offer so it's "take it or leave it" as far as you're concerned. The tin appears straight and the motor issue may be solved with a quart or two of Kroil etc etc. If it were down the road from me, I'd make a run at it, but I'm O/C about this stuff. Craig
Tue Aug 14, 2007 9:16 am
That fancy left side headlight bracket, is used with tractors that have original exhaust lift (before hydraulics) it should have the exhaust valve manifold on it, below the muffler there should be a big cast piece underhood that looks like a spark arrestor. Brandon.
Tue Aug 14, 2007 11:38 am
The way I have done deals like this in the past is to low-ball 'em a bit. If you are willing to part with $500 then offer $400 and see if they bite. I seriously doubt that it will sell for $1000 with a frozen engine. I only paid $1500 for my 100 and it came with a woods belly mower. $400 is a deal and $500 if I wanted it.
Max
Tue Aug 14, 2007 1:05 pm
BUt doesnt that "deluxe" seat add some value to it ??
Do what you feel is right!
Tue Aug 14, 2007 1:12 pm
I bought a complete Super A a few years ago for $750, and it started and ran just fine. some of the sheet metal was a little dinged up, but it was complete, and even had the original seat that was not rusted through. All it needed was a cosmetic go through, and it turned into a trailer queen.

I would say $400 is about all I would offer on this one.

Bill
Tue Aug 14, 2007 3:31 pm
Thanks for your input guys, I'm gonna let it sit for a couple more days before I go back and talk to him about it (been busy at work). Plus the matter is I have a "HONEY-Do" list already a mile tall
So I'm really in no big rush to buy it. And if someone else gets it first " Oh-well" I'll still keep lookin
David C
Tue Aug 14, 2007 6:41 pm
David, I don't mean top rain on your parade, but I don't think that is a '39. The '39s didn't have a starter, nor a hole in the clutch housing to put one, though an upgrade kit was availlable from IH after the starters became availlable. Also, until early 1940 the serial number tag was on the tin cover under the foot board that covers the brake shaft. 1939 serial numbers only went to 6743. I beleive I saw 5 digits evident on the tag.