Sun Apr 27, 2008 12:07 am
Hi All
Would anyone have torque specs for a Super A? The neighbor was asking today and I told him I would post the question here.
Brian
Sun Apr 27, 2008 9:51 am
Rod nuts locked with cotter pin 40 - 45 ft lb.
Rod nuts self locking 43 - 49 ft lbs.
Main bearings 75 ft lbs.
Head 65 ft lbs.

Reference I&T, IH-8
Sun Apr 27, 2008 8:22 pm
Thanks Eugene. I'll pass that along.
Sun Apr 27, 2008 10:46 pm
Brian:
You might want to have a look on the server.. not a lot, but some stuff for the
Super A, AV
, but might be enough.
Fri May 02, 2008 9:04 am
I found this on farmallcub.info from the Blue Ribbon specs manual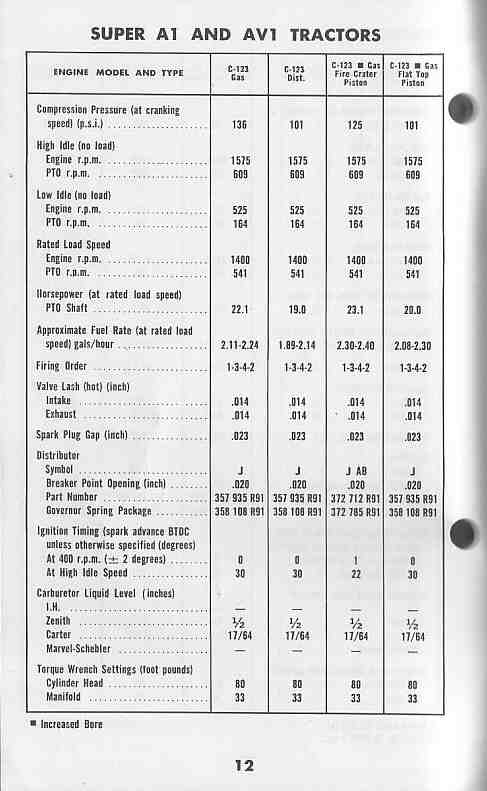 It states 80 ft/lb for head torque. Why would the I & T spec 65 ft/lb and the blue ribbon says 80 ft/ lbs. Which is correct? What would you fellas suggest?
Brian
Fri May 02, 2008 3:41 pm
I may depend on the material of the head gasket. The old ones were asbestos and you had to crush them to seal it. The newer ones are coated steel. May not take as much torque. Check what the head gasket says.