Thu Mar 11, 2010 8:49 pm
Does anyone know about this
kit
, good or bad?
thanks, Gerry
Thu Mar 11, 2010 11:10 pm
this one is cheaper
http://farmallparts.com/products/?view= ... t_id=24371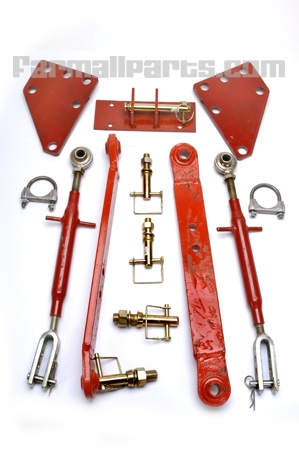 Fri Mar 12, 2010 2:43 pm
Do you have an opinion on which one is best?
Gerry
Fri Mar 12, 2010 3:04 pm
No idea but I'm getting the cheaper one for two reasons. 1) the price 2) it's not on ebay
Fri Mar 12, 2010 5:30 pm
On a second look of the ebay kit only one arm is adjustable and they are flat iron. The kit I posted has both arms with the screw adjusts.

The ebay kit is also very much like the home made one mine has, which I do not like. The way it handles when attached to something is not too stiff and allows for a lot of sway.
Fri Mar 12, 2010 7:21 pm
I notice the one on ebay has an adjusting handle that looks like you can turn from the seat. Is that a good feature? The other one looks like each lift has an adjustment.
Fri Mar 12, 2010 7:28 pm
Adjustment on both arms is redundant. It is only needed on one side to facilitate level adjustment or offset. The one in the drawing is hard to judge. I would much rather see a picture of it but it looks like it should do the job and be easy to adjust.
Fri Mar 12, 2010 8:24 pm
The one in the line drawing is a Worksaver.
Sat Mar 13, 2010 12:44 am
I like the redundancy. A few times I had a 3 point hitch in a position I needed an adjustment on both sides. It's a needed feature for some situations. Mine has a crank and that thing has gouged me to the point it has broke skin. It will get me from behind when driving the tractor and has made me bleed a couple times on my right back side. I do not like that crank at all.
I also like the angled ends of the arms that the other one lacks.
Sat Apr 17, 2010 8:38 pm
Another question on the SA 3 pt. conversion: With the offset PTO, is there any problem using 3 pt. equipment? Seems like the PTO shaft might interfere with the lift brackets on the equipment.
Gerry
Sun Apr 18, 2010 5:43 am
The only implement problem is if it is PTO driven. I found out the hard way.
Sun Apr 18, 2010 8:10 am
What happened?
Mon Apr 19, 2010 5:47 am
PTO driven tiller. The angle of the drive-shaft is to steep. It does work but has excessive vibration. Something is going to break soon.
Mon Apr 19, 2010 8:03 am
Dan,
have you ever tied to use another 3 pt. attachment like a post hole digger or shredder?
Gerry
Mon Apr 19, 2010 8:03 am
I had no issue with a bush hog