Forum rules
Notice: For sale and wanted posts are not allowed in this forum. Please use our free
classifieds
or one of our site sponsors for your tractor and parts needs.
Wed May 30, 2012 1:47 pm
I know this topic has been coming up a lot lately. But i have another question. I am planning ahead on getting paint for the 51 super A that i am going through. My future father in law is going to helping paint the tractor and we are trying to decide what we should paint it with. when he painted tc's cub he used case paint and a ppg clear. The clear costed him an arm in a leg especially since it has like five coats on the hood. Very shiny!
I am trying to find a cheaper way to paint this one. What all paints are out there that match the IH paint. Also i would like to clear the tractor but the ppg cost so much. what are some cheaper clears.
I have heard of crossfire that Napa sells. Is their clear any good?
Thanks
Josh
Thu May 31, 2012 6:11 am
I have been told by the pros that IH enamel is not compatible with clear coat. I had a tank painted with IH by a pro and he used acetone instead of hardener and it looked like clear coat. Napa has a two part paint that does not use a clear coat. I think it looks great.
Thu May 31, 2012 10:08 am
I use the Valspar Restoration Series IH red from Tractor Supply. It's a thick paint, so I use it with a tad bit extra thinner and hardener than it calls for. For the money you just can't beat it in my opinion. I've never put clear on top of it though. Once it's wet sanded and buffed I think it looks great...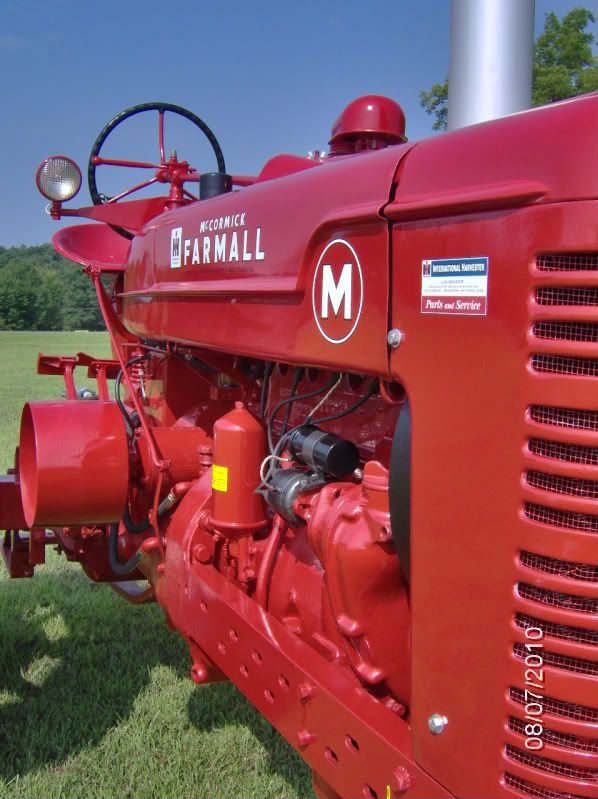 Thu May 31, 2012 3:32 pm
I use both Dupont's Centari line and Nason line. Their clear coat is not very expensive and produces excellent results. Try you local Automotive Finishes outlet -- and if you know anyone in the autobody business you can probably get it at their cost
Thu May 31, 2012 5:08 pm
I used Case IH Iron Gaurd paint with a hardener, wet sanding in between coats.