Thu Dec 27, 2012 10:16 am
Does the steering wheel have a keyed shaft or a splined one? From the picture, it looks like a 140 steering wheel (which is splined). It is supposed to have a keyed shaft to be correct for a Super A. Could have been changed over the years....or just the wrong steering wheel.
Wed Jan 02, 2013 4:30 pm
It has the wrong steering wheel and no nut holding it on!--I think the tractor got hit by a Mack at some point!LOL!!---It is also missing a voltage regulator, and has the wrong generator on it! thanks; sonny
Sun Jan 13, 2013 1:42 pm
Got the sa started yesterday, and runs great ,EXCEPT it dont have a front oil seal in it!!! LOL! ---yup, that sucker is totally gone!---that means taking the whole front end off just to put new one in!---no biggie, will also take pan off and check rod and mains,---It does peg the 80 pound oil gauge but has a 3 time knock upon starting when cold.---sounds like a low end area, so need to look around in there while its apart! thanks; sonny
Mon Jan 14, 2013 1:06 pm
As per request,---here be the lever pics.! LOL!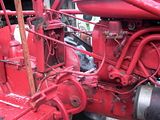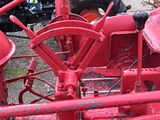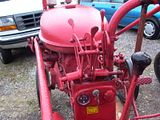 Here are 4 different shots of my SA lever locations!---note in one pic that one lever has a missing clevis pin!--also you can see where the steering post was broke off and welded at, and angle iron added!
If other views or different angle pics. are needed,--just say so! thanks; sonny
Mon Jan 14, 2013 3:16 pm
Thank you, just what I needed, I am missing the steering support on mine the PO has sub the early style so no place for me to mount the TC levers
Tue Jan 15, 2013 4:08 pm
Sonny,

The reason (most likely) the TC linkage is unhooked is because the PO changed the battery and forgot to put it back. Most commonly people put a small bolt in the place of the lost pin. To remove the battery, you have to unhook the linkage and depress the clutch. Also looks like someone converted the factory "pull start" over to key start like on a later model 140. Nothing wrong with that. If the steering support isn't strong at all, I'd replace it. If it seems to be welded good and is holding fine, then I wouldn't worry with it unless you just ran across a good replacement. A complete battery box would help hold things in place also, and the welded post might prevent a battery box from being installed. Those battery boxes aren't cheap, and I have some well made replacements out of some heavy gauge steel if you'd be intrested. I don't have the lids, but have the sides and that's really all you need. PM me if you're intrested.

Hope this helps.
Tue Feb 26, 2013 1:36 pm
Not much time to work on the SA, BUT have the front rim off and have some patches slobbered over the ate out place for temp fix so I can put tire back on and do test drive and see what all else has to be fixed!
Whole front end gotta come off to put in new crank seal, governor has to come out to see whats up with it, and might as well take oil pan off and check rod/mains while I am in there!----old pig needs lotta work but I think its gonna make a great tractor when I am done!
Also have to make a 3-point for it like I did for the cubs! thanks; sonny