Sun Jul 03, 2005 8:07 am
Hi Everyone,
I'm new to tractors. I am looking at a Farmall Super A as a potential first tractor. I found one that I think I can get for a reasonable price. I am having trouble finding information on this model such as Nebraska Test data. Any information would help.
Thanks,
Painless
Sun Jul 03, 2005 9:18 am
If it's been taken care fo they are good tracotrs. Live hydralics, but the pto runs off the transmision. A number of implements are available, though loaders are pretty rare.
Sun Jul 03, 2005 3:46 pm
Thanks for the replies! The link gave me the information I was looking for. If the PTO runs off of the transmission, would you advise using an overrunning clutch? Also, does that mean that the PTO would stop if the tractor is out of gear? If the tractor has to be in gear to run the PTO than how would you run a post hole digger or any implement that you would use with the tractor stationary?
Sun Jul 03, 2005 3:50 pm
Painless, an over-running clutch is always a good idea. As far as the pto goes, it will run with the transmission in neutral. It will, however, stop whenever the clutch is depressed.
Mon Jul 04, 2005 10:37 pm
I am just wondering does the same loader fit a cub as an A or super A
thanks
Kevin
Tue Jul 05, 2005 7:02 am
Yes and no. Th IH 1000 loader fits both if you have the right mounting brackets. Of course, to find the right mounting brackets you have to find another loader.

As far as I know, the other brand loaders that fit the Cub were specific to the Cub.
Thu Jul 07, 2005 10:56 pm
I have been eagerly awaiting this evening. The auction, on ebay, for the Super A that I was bidding on ended. I was looking forward to announcing that I was now a tractor owner. But I was out bid.
The search continues. My wife and I took a drive after work today, to survey the local flooding caused by 7 1/2 inches of rain in the past 12 hours. I noticed a rusty Farmall A or Super A in an old barn on a back road. Maybe that is to be my tractor. I know that my tractor is out there somewhere.
Fri Jul 08, 2005 7:44 am
Good Luck. Hopefully you can find one soon.
Sun Jul 10, 2005 7:06 pm
Thanks Scotty.
That's a nice picture of you on your cub. It's a beauty!
To Everyone,
I had someone try to scam me through ebay. Two days after the auction ended, I got a message in the My Messages section stating that the winning bidder was not able to complete the transaction and that since I was the second place bidder the seller agreed th sell the tractor to me for my final bid. The message said not to reply to the message, but to contact the seller through an e-mail address which was listed. I thought it was odd that I wasn't supposed to just reply to the message, so I called the seller on the phone. Luckily the seller had listed his number in the add and I had called him with questions before bidding. The seller told me that the sale of the tractor had gone fine and he did not send me the message and had never heard of the e-mail address listed.
I am relaying this story in hopes that it will prevent any of you from getting scammed.
Painless
Sun Jul 10, 2005 7:22 pm
Forward the message to
spoof@ebay.com
Bill
Sun Jul 10, 2005 8:35 pm
Had the same thing happen on a cub I sold aobut 3 months ago, and I had put a contact phone muber on the bid. Prospective sucker had received the same type offer. When he called me, I was in route to deliver the cub. Gave him the same instructions.
Sun Jul 10, 2005 9:20 pm
Painless,
Thank you for your compliments I worked very hard on her. Now Ive got her little brother to attend to....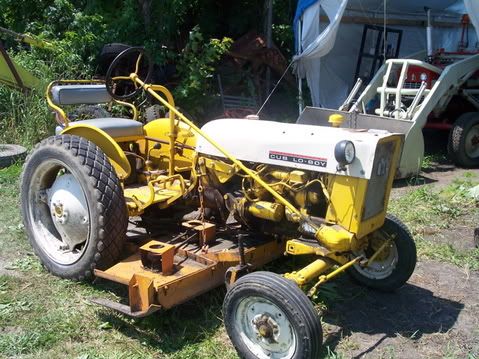 Thats their big brother in the backround
Sun Jul 10, 2005 11:16 pm
Thanks for the address to report the spoof. I did report it. Would you believe that when I went to my e-mail there were 2 other similar spoofs, from other addresses, along with a coppy of the one that was in My Messages. Between what John said and what I have encountered, I guess this is getting prevelent. I don't bid on that many ebay items. This is the first I've heard of this happening.

Scotty,
That must be Manny. He looks to be in good shape. Do you use him to cut much grass, or is he going to be a show tractor like Riley? What is their big brother? I think I see an IH on his nose.

Painless
Mon Jul 11, 2005 10:51 am
Such problems as that are the reason that on the last cub I put on Ebay the last line of the description read "I will not be making any last chance offers. If you get one please report it to
SPOOF@EBAY.COM
"