Fri Sep 16, 2011 5:27 pm
Looked at a 1968 140 today. The owner wasn't there so all I could do was look. Seemed to be all there but the hitch. Had a home made three point. The front axle is square, the steering was lose, had about an 1/8 turn. No free travel on the clutch. One rear tire looks new the rest a little weather checked. Any of this tractor the same as an A? Trying to find more out about this tractor.
Ron in Mid Missouri
Sat Sep 17, 2011 6:03 am
The 140 is the latest version of the A. They are great tractors and hold value well. The square front axle indicates it was an industrial version.
Sun Sep 18, 2011 8:28 am
Hi Ron

It is more comparable to a Super A. As it is the last in the SA 100, 130 line. It has more power than the A. And being a industrial it should have a foot throttle as well as the hand throttle. I find the foot throttle on my 130 industrial quite handy around the yard as I can run around at 1/2 throttle come to a hill and just step on the foot throttle to climb up it.

Billy
Sun Sep 18, 2011 7:44 pm
Here it is.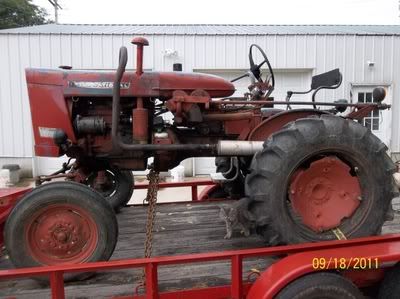 Got it home yesterday. The price was right and close to home. If it hadn't been rain would have made it better. The University of Missouri had owned this tractor from new until Jan. 2002 and sold again April 2011 and now I have it. Looks like it was yellow and then painted army green then red.
Ron in Mid Missouri
Mon Sep 19, 2011 12:09 pm
Nice find, Ron. Way to go.
Now...where are you gonna put it????
That's some kind of exhaust system she's got...