Fri Jul 19, 2013 10:20 am
Rudi wrote:Denny:
I am really curious about the Post Hole Digger. It looks very much like the one I got from Bill last year, right down to the frame and the brackets to mount to the finals. The head seems different but we have seen a few others similar to this one as well. Possible to post more detailed pics of the Digger as well as any makers identification etc.?
Here's some pics, Rudi. Got it hanging from the shop crane, don't know where else to put it!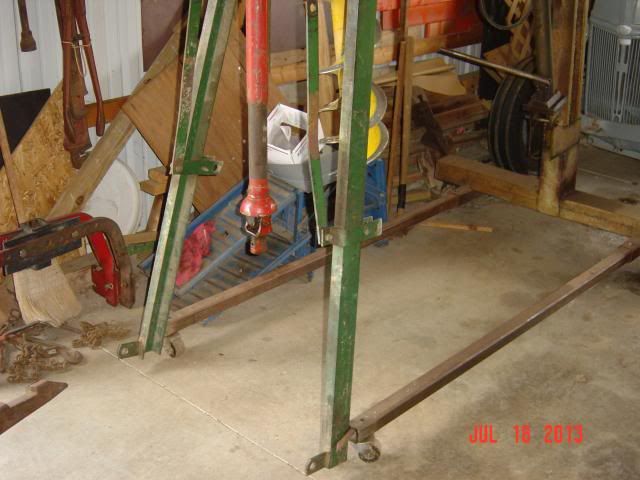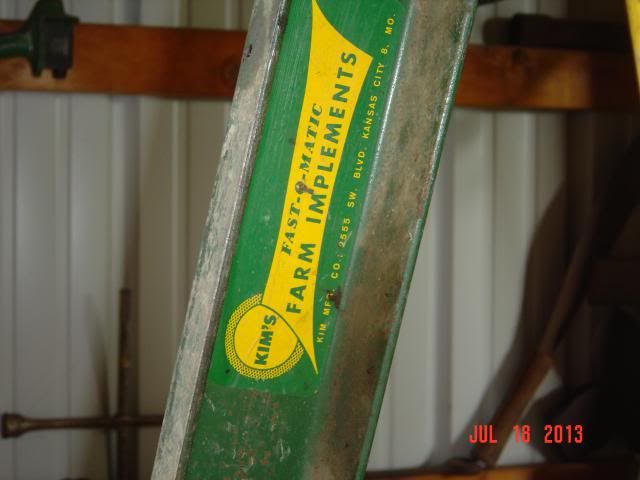 Super A wrote:Denny if you don't mind, when you take more photos could you get a good clear shot of the decals on the back? Mine are non-existent. I think I know where they go but I'd like to have another unit to go by.

Al
Here's your pic, Al.
Sun Jul 21, 2013 5:58 pm
Denny:
Thanks for the pics of the PHD. You have yours hanging about the same as mine -- mine is hanging from the overhead trolley .. This one really looks a lot like the one I have. Some minor differences. I guess a side by side comparison would be ideal .. but I don't think that is about to happen anytime soon.
A very nice PHD and glad it went to a really good home
Tue Jul 23, 2013 3:18 pm
Very nice equipment indeed. Agree with everyone else. Couldn't have went to a more deserving home.

Al, I am pretty sure that model disk is older than the set you got from us. I think the set you got from us was the heavy duty angle frame introduced in the early 70's (1972 I think). The model 120 disk Denny pictured was the set before that one came out......but please correct me if I am wrong because that info just came from some brochures I've seen.
Tue Jul 23, 2013 10:13 pm
Mine is a 120, the angle frame model is the 122. From what I have been able to piece together mine is a '66 model. It has ball bearings but they are non-greasable and have a round flange they only used on the early models. The bigger 120 my dad has for the 424 is a '67. It has the grey iron bearings like Denny's.

Al
Fri Oct 18, 2013 8:05 am
Wow Denny, That is a NICE haul! Somehow I missed all this when it went down. Great looking tractor and implements, all look nearly new. Bill made a nice catch on this one!