Moderator: Team Cub
Forum rules
Notice: For sale and wanted posts are not allowed in this forum. Please use our free
classifieds
or one of our site sponsors for your tractor and parts needs.
SONNY

10+ Years

Posts: 3003
Joined: Thu Nov 09, 2006 11:26 pm
Zip Code: 61722
Rudi!! Ya like dozers?------here are my 2!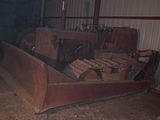 My TD-9------and MOOSE!----250-c-series 2!!! thanks; sonny
---
jostev

10+ Years

Posts: 1254
Joined: Wed Aug 31, 2005 5:10 pm
Zip Code: 03574
eBay ID: farmallkid48
Skype Name: farmall_kid
Tractors Owned: 41 B
48 H
49 C
50 red demo Cub
51 C
52 Cub
54 Super C
61 and 63 Cub Cadet Originals
78 Cub Cadet 1450
73 154 lo-boy
Location: NH, Bethlehem
those are some nice looking dozers sonny, i like the 250... kinda like my t340a that's hopefully gettin delivered this weekend... but just ALOT bigger
Johnny
---
SONNY

10+ Years

Posts: 3003
Joined: Thu Nov 09, 2006 11:26 pm
Zip Code: 61722
The little 340's will fit in the bucket and MOOSE can easily lift them!-----Went to buy a 340, and came home with MOOSE instead!---that was almost 20 years ago!!! thanks; sonny
---
VinceD

10+ Years

Posts: 4584
Joined: Mon Apr 17, 2006 9:17 pm
Zip Code: 65626
Tractors Owned: 1949 Cub "Frodo"
1949 Cub "Sam" (future Project)
1965 Lo-Boy "Pippin"
1940 H "Walter"
1953 SC "Gimli"
Cub Cadet HDS 2155
Circle of Safety: Y
Location: MO, Bakersfield, (South - Central)
What I know about dozers you could put in the scoop and still have room for a full load of rock, but they look cool. Wish I knew how to operate one.
Vince
High atop Hummingbird Hill
In the Missouri Ozarks
---
Rudi

Cub Pro

Posts: 28706
Joined: Sun Feb 02, 2003 8:37 pm
Zip Code: E1A7J3
Skype Name: R.H. "Rudi" Saueracker, SSM
Tractors Owned: 1947 Cub "Granny"
1948 Cub "Ellie-Mae"
1968 Cub Lo-Boy
Dad's Putt-Putt
IH 129 CC
McCormick 100 Manure Spreader
McCormick 100-H Manure Spreader
Post Hole Digger
M-H #1 Potato Digger
Circle of Safety: Y
Twitter ID: Rudi Saueracker, SSM
Location: NB Dieppe, Canada
Sonny:
The TD-9 is a pretty big rig by itself, and Moose.. well that sucker is humongeous. Hmmm... I was just thinking what could I do with Moose??..... A heck of a lot more than with the JD-644E that I currently run in the summer. And I bet you could probably put two of my favourite little landscaping dozers in the bucket.. TD7/8's are nice.. but but different league.
Yeah, I like your dozers
Johnny.. congrats on the 340 series... send PICS
Confusion breeds Discussion which breeds Knowledge which breeds Confidence which breeds Friendship


---
---
Similar Topics

Replies
Views

Last post
Return to "Farmall / IH / CASE"
Who is online
Users browsing this forum: No registered users and 0 guests