Forum rules
Notice: For sale and wanted posts are not allowed in this forum. Please use our free
classifieds
or one of our site sponsors for your tractor and parts needs.
Thu Sep 29, 2011 12:58 am
My good friend has this dozer. He really knows nothing of it's particulars, and is wanting to sell it for $3500. He bought it and did what he wanted with it and now has no use for it and wants to buy a skid loader of some sort.

The track tread plates are worn plum out. Some of them are loose- I see it is some sort of bolts that hold them to what I think is called the "rail"- isn't that what you call the part of the "Chain" that the sprockets engage? The track is loose and I don't really know how much more adjustment is left. Possibly you can take links out of it_ I have no clue. Had thoughts of making new treads.....

He says it starts easily in even the coldest weather, and I believe him. It's a 4 cylinder gas engine. International is stamped prominently in the radiator grille and on the cast iron weight hanging off the rear end. Looks like any other tractor engine I have ever seen. Looks like tractor underbelly, too, except for the final drive where the axles that power the sprockets are located. It has provision for a drawbar, which is missing. I think I have something off of a big tractor that would just fit, with a little riggin'....

Haven't heard it run, yet. Just went and looked at it tonite cause I sure would like to play with it. Mostly to shove brush when I am cutting wood and things like that. No dirt work in my future.

No hydraulic leaks. I know he had the clutches worked on by a local, reputable heavy equipment guy who he is friends with. I will talk to that guy and see what he thinks about the machine.

It has a 6 way blade. All hydraulic. Blade cutting edge leaves a little to be desired. As you can see by the photos, no roll cage.

Anyone have a guess as to what this particular model is called or how old it is. Looks old to me, but the "all hydraulic" makes me unsure of exactly how old. There are some hardware store stick-on mailbox sized letters stuck to the hood that say "T-350" that someone put on the thing.

I have searched Youtube and find nothing to do with that model designation. What do you think it is, and what should I be leery of if I was to think of buying it.... besides I have no trailer to haul it on~~~
Thu Sep 29, 2011 6:46 am
Looks like an IH T 340. Made from 1959 to 1965.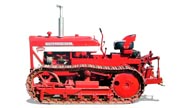 http://www.tractordata.com/farm-tractor ... t-340.html
Thu Sep 29, 2011 6:56 am
Get a price on replacing the undercarriage before you buy it. Those tracks are not cheap to replace and removing one link will make it too short. Have they been fully adjusted out?
Thu Sep 29, 2011 7:55 am
Yeah, maybe it was 340- I am starting to doubt my memory now. I can't see the detail in the photos good enough to tell, but you are probably right.

I will try to find out about any available replacement parts. I bet with the high price of scrap, these things are scarce as hens' teeth!

I appreciate the replies........
Thu Sep 29, 2011 8:00 am
This site may have some helpful information
https://sites.google.com/site/t340crawler/home
. Lots of links at the bottom of the page.
Bill
Thu Sep 29, 2011 9:48 am
go to redpowermagazine.com, they have a construction equipment section there. the guys on it can answer all your questions.
Thu Sep 29, 2011 9:50 am
I cut my dozer teeth on an IH TD-7/8 and am absolutely enthralled by IH dozers and I want one real bad. Why I am not sure as most of my major construction projects are done. Something like that would be the ticket for me.. I like the gassers as well and the 340 is about the right size for a small farm/woodlot operation. That is where it would be useful. I know that they can be expensive to purchase and very expensive to repair. I would be looking at
where a search for
IH T-340
returned some real good info. These would be useful to buy if you decide to buy this dozer.

IH INTERNATIONAL HARVESTER T-340 TD-340 CRAWLER TRACTOR PARTS CATALOG

IH INTERNATIONAL HARVESTER T-340 CRAWLER TRACTOR SERVICE CATALOG
And as much as I dislike ebay reprints this is probably a good deal

NTERNATIONAL FARMALL T-340 Crawler Operators Manual IH
Seems the disc brakes are reasonably priced though.
Thu Sep 29, 2011 10:03 pm
The six way blade is a definite plus. The pads are easily tightened or replaced as they just bolt on to the rail. The undercarriage is the big ticket item if work needs to be done. Inspect the sprocket, idler, and rollers for wear. Check the pins that hold the links of the rail together for flat spots (wear), one side is ok as they can be turned, but if both sides show wear they have already been turned so the next step is replacement, which gets expensive quick. Check to see if dry or wet steering (if available for that year), and manual vs. hydraulic clutches, again if available and if it has a reverser. Operation without a ROPS is a definite minus. I know you said that you have no intention to be used to push dirt, but it prob will happen. A wayward tree that gets caught up and falls back or snaps back on you will ruin your day. Having the cage over you makes you feel much better when running up and down slopes or along side them. Drive the dozer around around. Pay attention to how difficult it is to steer in both directions, and how well the foot brakes hold. Put it under a load to access the engine and all three clutches. Normal wear parts should be readily available, in the engine, hydraulics, and the undercarriage should they need it.
There is a colossal difference in price between a good, sound dozer ready for work and one that has been completely used up and now requires an overhaul!!
Thu Sep 29, 2011 10:26 pm
Yes, I should ask the guys who worked on it what they did and what kind of clutch mechanisms it has.

I've about got myself talked out of it at the price he's asking. If the price was cheap, you could afford to spend some time and money. Of course, if it was cheap someone else would jump on it first.

A friend I was telling this story to told me "don't waste your money of that P.O.S., buy a good skid loader and don't look back." He's probably right. He owns a nice Case skid loader with a glassed in cab and he uses it for everything. He treats it well and it looks it. Nice and quiet and powerful. Bucket, forks, 2 sizes of snow plows, brush grapple~ all quik-attach-- he has all the bases covered.
Mon Oct 03, 2011 12:16 pm
The cheapest part about owning a tracked tractor is buying it.

Upkeep and repairs are expensive. The pads look to be in good shape, high grousers although the bolts may be loose holding the pads to the chain. The chain is worn, you can remove one link although the pitch is already too great since the adjusters are already at the end of the travel. For limited use, there is nothing wrong with removing one link. The front idlers will wear with the idler wheels twisting side to side or the ridge will wear such that the ridge is sloped rather than square. This will allow the track to climb the idler and come off.

This should be a direct drive crawler with hand clutch, 2 steering clutches, no fancy hydro drive. DO several pivot turns in each direction to see if the tracks stay on, flat and sloped ground.

This is a small light crawler but may be the size you need but don't expect alot of heavy pushing, it is too small.

$3500 seems high but that may be a good price for your area. The old IHC crawlers are sometimes hard to find parts for, a CAT or JD may be easier.

I have had 3 crawlers, IHC TD-9, CAT D-2, and a JD 420 Crawler-loader. Useful but expensive upkeep. The left steering clutch for my D-2 cost me over $800 to fix ( due to mice damage) and that was for used parts. The final weighs around 600 lbs and you need lots of 3/4 inch drive sockets to work on a dozer.

Something to think about.
Tue Oct 04, 2011 7:33 am
So, you can remove a link to tighten things up? I'd been told you couldn't.

I went back and looked at it the other day. I can see that the idler is as far forward as it would go.

I haven't checked into it, but is there a special hydraulic press to get those pins out of the tracks?
Tue Oct 04, 2011 9:12 am
You can remove one or more links without problems. A track press is needed to remove the pins, A Harbor Freight 20 ton press is not going to do it. Another way is to hollow out the pin ends with a torch and the pins can then be pounded out with a sledge hammer. Thats how I did it.

The need to remove a track section is a indication that the chain is worn and that changes the pitch somewhat. For occasional use removing a section will work, for heavy use then rotate the pins or new pins.

The dozer looks to be in good shape but you really need to drive it to check the tracks, idlers, and steering clutches. Check the finals for cracks. In my area I would easily give $2500. $3500 seems high but again that may be good for you and your area.