Tue Oct 20, 2009 11:19 pm
Really don't know what I need with another tractor but mom says I can keep it.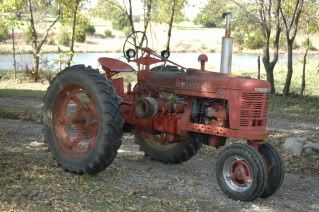 Seriously, If anyone wants it It'd be for sale.
Wed Oct 21, 2009 7:12 am
Looks like a nice, honest tractor. Enjoy it.
Wed Oct 21, 2009 11:05 am
You are tempting me, and I do have a soft spot for those Hs, but I honestly do need another one so I'll pretend I never saw this.
Wed Oct 21, 2009 2:44 pm
When I bought mine, my uncle told me ... "Everybody oughta have an H!"
Wed Oct 21, 2009 3:44 pm
If anybody else is looking for an H, there's one for sale in Hammond, LA !!
Wed Oct 21, 2009 9:07 pm
Thu Oct 22, 2009 6:16 am
if your not careful them strays will follow you home every time
your lucky you were aloud to keep it you can't help but love your mums soft spot
Sat Oct 24, 2009 1:29 pm
I love my H!!!! It does the big jobs the cubs can't handle!!!! Kevin Nice tractor!!!!!
Sat Oct 24, 2009 11:27 pm
that is the handiest tractor there ever was...