Forum rules
Notice: For sale and wanted posts are not allowed in this forum. Please use our free
classifieds
or one of our site sponsors for your tractor and parts needs.
Wed Dec 23, 2009 10:56 am
Original battery was group 3H: 11 3/4 long, 7 1/8 wide, 9 3/8 high (compared to group 1 at 9 1/8 long). Battery capacities were stated a bit different back then. It was 130 amp hours @ 20 hour rate, 5.0 minutes drop to 1 volt per cell at 300 amps at 0 degrees F, 4.4 volts at 5 seconds at 300 amps at 0 degrees and 350 minimum life cycles.

I don't know how to translate those numbers into current CCA ratings, too many free variables involved. I don't think you can find a group 3 battery any more. You might find a group 2, which splits the difference. A current group 1 may have as much output as a group 3 had. A group 1 with good wires etc. will probably be fine.
Wed Dec 23, 2009 2:38 pm
Five or six years ago was the last time I bought a battery for what was my dad's Super M, I priced Groups 1 and 2 after I heard the price for a Group 3. I think it was something like $50, $75 and $100 at NAPA. I went with the Group 2 but had been using a Group 1 for several years before that. This was with an M & W power kit installed quite some time ago and the Group 1 got the job done.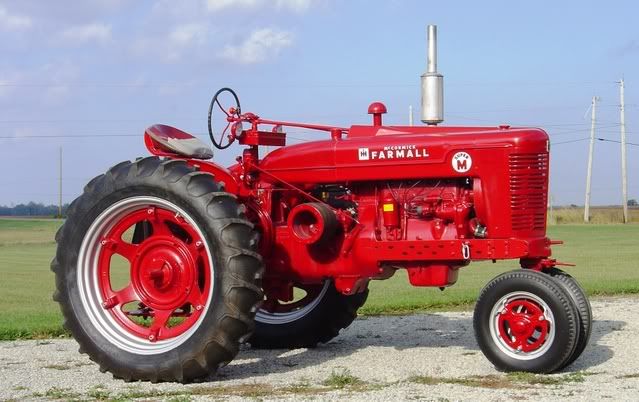 Last edited by
Denny Clayton
on Wed Dec 23, 2009 4:52 pm, edited 1 time in total.
Wed Dec 23, 2009 4:43 pm
Denny WOW!!!!!! Nice tractor!!! waaaaa I want my H pretty!!!
Kevin
Sat Dec 26, 2009 9:45 am
Well I guess the big day is here for Phil...best of luck!

Denny I sure would like to see some more pics of your Dad's Super M in a seperate thread...hint, hint

Dusti
Sun Dec 27, 2009 9:32 am
Dusti, I just don't have much in pictures of the SM. Mostly, it's what is in my minds eye through memories. He bought it new and it was the family workhorse for 25 years until he retired from farming. He repainted it about 10 or 12 years before he died and it just sits in my barn riding herd on the Cubs.
Mon Dec 28, 2009 9:07 am
Well Saturday was the big day, Christmas Day was the day to prep for the start.
We started with the starter Button purchased last year at Christmas, that was arcing , the posts were shorting out on the sides , no insulation around the posts through the metal casing, my brother disassembled and fixed it up, It is a 12 volt starter , I purchased a new 6 volt 625 cranking amps cold. would not even throw the starter forward to engage, we hooked the 12 volt battery up, and fired right up, My brother was amazed how smooth it runs, we adjusted the carb out , tightened up the few leaks, water pump packing, lifter cover, hose clamps . then adjusted the valves (hot) the drove around , can not go to far with a distillate. pony tank on the tractor. engaged the Belt pulley that I went through, Nice
Spent the rest of the day touching up paint,replacing water for antifreeze, My brother said it would be better to run on water to start so the leaks could be easily cleaned up, then put the antifreeze in.
Thanks for all the help that folks gave me to getting this project under my belt.
I will try to get a short video loaded up on the start-up.
This year will be sheet metal parts and a finished project in 2010 that will make it 70 yrs old when it is finished.
Phil
Mon Dec 28, 2009 9:40 am
Glad everything went smooth!!! I look forward to seeing it at SCRAP this up coming year!!PS Merry Christmas!! Kevin
Mon Dec 28, 2009 10:16 am
Thanks Kevin
If we bring any tractor out to scrap , it will be the M , so my son can pull a people hauler.
My Uncle came over Christmas eve and was wondering why I kept the tires turned as narrow as possible , I mentioned it would be easier to trailer, and that is how it was when we received it..
Phil
Mon Dec 28, 2009 2:52 pm
Congrats on a successful startup! I believe the best sounding engines are the ones you've put together yourself! look forward to the video.

Dusti
Tue Jan 12, 2010 6:58 am
Have recently received the decals from Maple hunter.
I am up in the air on placement of a few decals
1 . does the air filter decal go on the cup or above the retaining clamp
2. The draw bar details of make sure tight etc. where does this go.
3.there is a Small Open decal I am guessing this is for shutters
4.I purchased the McCormick Deering - Farmall without the IH on the hood the best I can tell this is right for a 1940. Right?
5. I put the saftey decal for PTO on the rear end on top most part the best I could see from other tractors this is where it goes.
6. are there any other decals that go elsewhere, I know the shift schematic goes on the hood anything else go on the hood , battery box etc.
I checked out the WHS site but not close enough for the decals mentioned to tell where they go.
Any help would be helpful.
Thanks
Phil
Tue Jan 12, 2010 9:39 am
Phil,
Sounds like you're getting close. I'll take a stab at your questions based on what I've learned...
Air filter decal goes on the cup.
Drawbar decal does on the back of the seat.
McCormick-Deering without IH pictogram is correct up to '47
PTO caution centered on rear, not sure about vertical location though.
Shift pattern I'm not certain, but I thought on the rear of the light bar...I may be wrong.
I have seen a decal in some vintage pics on the left side of the battery box

I've got Guy Fayes book at home and I can check it this evening. It's got good info for the '39-'47's but has nothing on the '48-'52's like mine. I think there is a lot open to interpretation on these things...

I'll probably be ordering decals from Maple Hunter as well. Some of the sets I've seen I just don't care for and I don't think they're complete sets. How many was in your set? Were you satisfied?
Tue Jan 12, 2010 10:45 am
Make sure you get the die cuts.
They are superb.
I have the hitch to draw bar on. the other one says make sure all bolts are tight , the deal is approx 2" tall by 3 or 4 inches wide
Thanks for the help if you can look at Guy Fays book I would appreciate it.
I do not have a copy
Phil
Tue Jan 12, 2010 11:41 am
We need some recent photos, Phil.
Tue Jan 12, 2010 12:03 pm
Phil,

I'll check the book tonight and let you know...

Dusti
Tue Jan 12, 2010 8:37 pm
Well Phil I looked, and I'm striking out. It's been a while since I looked at the book and it does have alot of info for the A's, C's and Cubs, and a lot of infomation for the Super series above '52. I can remember being a little disappointed in that part of the book and now I recall why. The book has a list of most of the decals but not the placement drawings that for all of them...

Hopefully someone else will chime in here...in the mean time I'll keep lookin'...sorry.

Dusti