Sat May 22, 2010 6:36 pm
I looked at a Farmall 450 yesterday with spin out rims on it. I think it is a pretty good deal except for the fact one rim is rusted out and needs replaced. I have never seen a 450 with these rims before and wondering how rare they are to find a replacement. It will need a rim and new rear tires but I just want to get a rim first. Anybody have any leads on a spinout rim size 14 - 38 with 6 bars, or is there some place that will make one close to Champaign IL???

I will post pics later.

Thanks

Jason
Sat May 22, 2010 9:15 pm
I can't find my Valu-Bilt catalog. Any way. Check their web site. If the rims are listed on their site they are available. Check around for prices.
Also check your area tractor salvage yards.
Also check other tractor dealers in your area. Those rims were probably used on other makes of tractors.
Humm. 14 x 38, 6 bar spin out. Valu bilt only shows 12 x 28, 4 bars as the largest spin out rim available.
Edit 2. All of the spin out, power adjust, rims in Valu bilt only come with 4 bars.
Last edited by
Eugene
on Sat May 22, 2010 9:23 pm, edited 1 time in total.
Sat May 22, 2010 9:20 pm
I think they are pretty rare, but you might check with JP Tractor, one of the sponsors at the bottom of the page.
Sat May 22, 2010 9:33 pm
Depending on how bad the rim. Perhaps it can be repaired. We, neighbors and I, have repaired several rear tractor rims by cutting good pieces from other rims and then cutting, welding and grinding.

Out of pocket expense for our repairs is next to nothing. Labor is involved. But at $450- or so for another rim, we can afford a couple hours of labor.
Sat May 22, 2010 10:02 pm
Sat May 22, 2010 10:12 pm
I for got the pics. Still trying to decide if I want to go get it or not??? I want it but don't want to spend the money type deal. I find deals like this and sit around and hee and haw about them too much. Maybe I should just block myself from Craigslist for a while.. HAHA
http://chambana.craigslist.org/grd/1750849191.html
Sat May 22, 2010 10:48 pm
Maybe you can get a new blank rim and move the rails from the old one.
Sun May 23, 2010 7:55 am
Or, maybe you could just go back to the more common non-spinout rims ???
The 450 with 2 point Fast Hitch(and I think live PTO) and Torque Amplifier looks like a lot of tractor for $1,500. Be sure to check the T/A, Big Dollars if it needs fixing. NJDale
Sun May 23, 2010 8:32 am
I know Miller tire lists spin out rims you might check with them.

Billy
Wed May 26, 2010 9:36 pm
Most of the bigger tractors would tear up these type wheels and were refitted with standard type wheels. thanks; sonny
Wed May 26, 2010 9:46 pm
For 1500 if the TA works I would be all over that if I was you! I heard one time that the spin outs were especially popular on tractors that were used with corn pickers. Judging by the placement of the headlights, I would say that tractor was under a picker at one time or another.

I had a 450 for a while and it was a great tractor. Does like gas though....

Al
Thu May 27, 2010 6:57 am
I am looking for the cost of a rim and tire first. I have him talked down some and I think I may be getting it next week some time when school gets out. It did have a picker on it and I will most likely be putting a picker back on it. I have found that 2ME picker and I think it would look neat on the tractor. My buddy says go for it, and the man did pull it ?Monday and got it running and it does run prettty good but, the tach is broken, the lights don't work, and there is oil leaking from the top somewhere, don't know if it power steering or bad valve cover gasket. I will be painting it this winter but would like to get the picker on it by fall to take to a few shows.
I have a few pics of the bad wheel and other.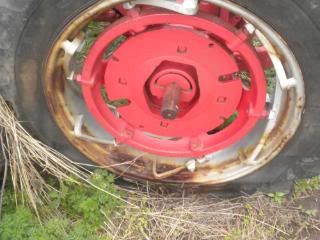 It has nice metal, very few if any dents.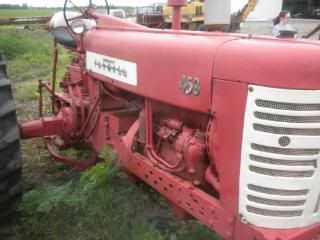 and the picker I want to put on it.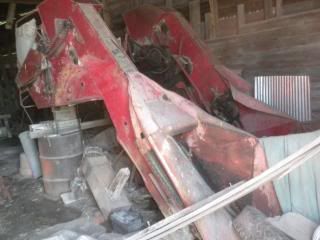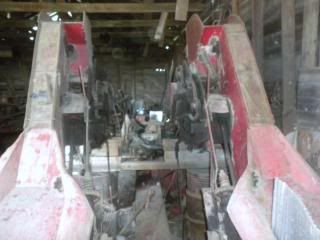 Check out my photo site below for more.
Thanks
Thu May 27, 2010 10:44 pm
Make sure that the picker brackets are actually for a 450 tractor before you buy the picker, because different brackets for them are impossible to find now days! thanks; sonny
Fri May 28, 2010 8:52 am
The pick cam off of a Farmall M. So all should line up shouldn't it??? Or should I put the picker on the Super M?? I Thought it would look better and neater on the 450. I have to work a deal on this first. The guy and I are throwing offers back and forth right now...

If I dont get this I will look for a 400 with a two point. That is what Grandpa used to have back in the day..

The picker will go on that..

Thanks

Jason
Fri May 28, 2010 9:48 am
The Super M mounts would be slightly different than for a 450 because the 450 is a little bit longer. I would still go for the 450 if I were you....always easy to spend someone else's money!
Al