Forum rules
Notice: For sale and wanted posts are not allowed in this forum. Please use our free
classifieds
or one of our site sponsors for your tractor and parts needs.
Thu Jun 16, 2011 11:19 am
Project update: After not wanting to risk damaging the creeper unit I took the whole transaxle assembly over to a man who runs a farm equipment repair business out of his home. He's a retired tractor mechanic who works at home specializing in older equipment. He has a 1904 Case steam tractor in his front yard, plus Farmalls and other tractors awaiting repairs. I showed him my problem and he was able to get the creeper off the transmission in about half an hour. The problem was in parts #6, 9, and 10 in gitractorman's illustration above. Gears 6 & 9 had rubbed together and there were burrs that had to be removed to get them off the shaft. Everything else looked pretty good in there except for bearing #14, which will be replaced. I am checking on the availability of parts right now. Of course the gears I need are hard to find, but that's to be expected. It's always the ones you really need.Thanks for everyone's input on this project.

Ed
Tue Jun 21, 2011 11:13 pm
I had hoped to have the Cadet running by now, but I am having a problem locating part #9 in the illustration that gitractorman posted earlier in this thread. It's seems like new ones are NLA, so I am looking for a used gear. Does anyone on this forum have an organ donor creeper drive that has a good gear in it? A good used gear would work as well as a new one. If not, does anyone have an entire creeper drive unit for sale?

Thanks,

Ed
Fri Jun 24, 2011 8:35 am
Things are looking up. I have located all of the parts necessary to repair my creeper drive, including the elusive gear #9 from the illustration. That gear is NLA, but I found a good used one. Surprisingly enough, everything else I needed was available new. That's not bad for a 42 year old machine. The parts should arrive early next week and hopefully I'll be mowing again by the 4th of July weekend. Thanks for all the help on getting me this far.

Ed
Sat Jul 02, 2011 4:00 pm
The parts arrived for the creeper unit and it is all together again. I am mounting the transaxle into the frame but ran into a snag. I cannot remember how the linkage to the rear 3 point hitch goes. Mine has been modified by a PO and has some extra metal welded on at the lift lever end. Since that linkage all fell out when I removed the transmission I never saw how it was hooked up. The parts manual doesn't show this clearly. Is there an online manual that shows how this hooks up? If not, does anyone have a photo of a 124 that shows it? It's like a jigsaw puzzle to me.

Thanks,

Ed
Sat Jul 02, 2011 5:54 pm
Here's a three point on my 125 ( the hydro "cousin" to your gear drive )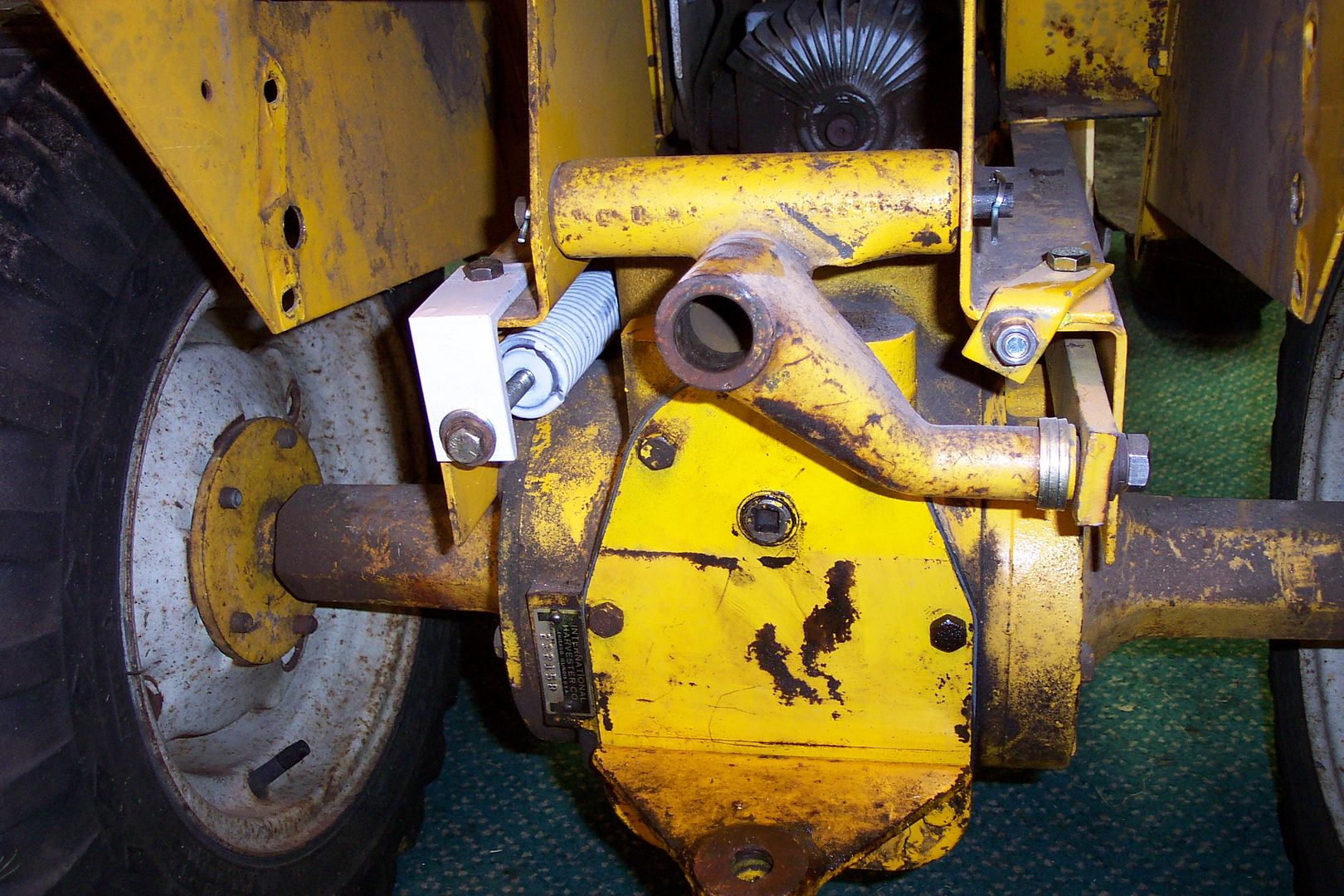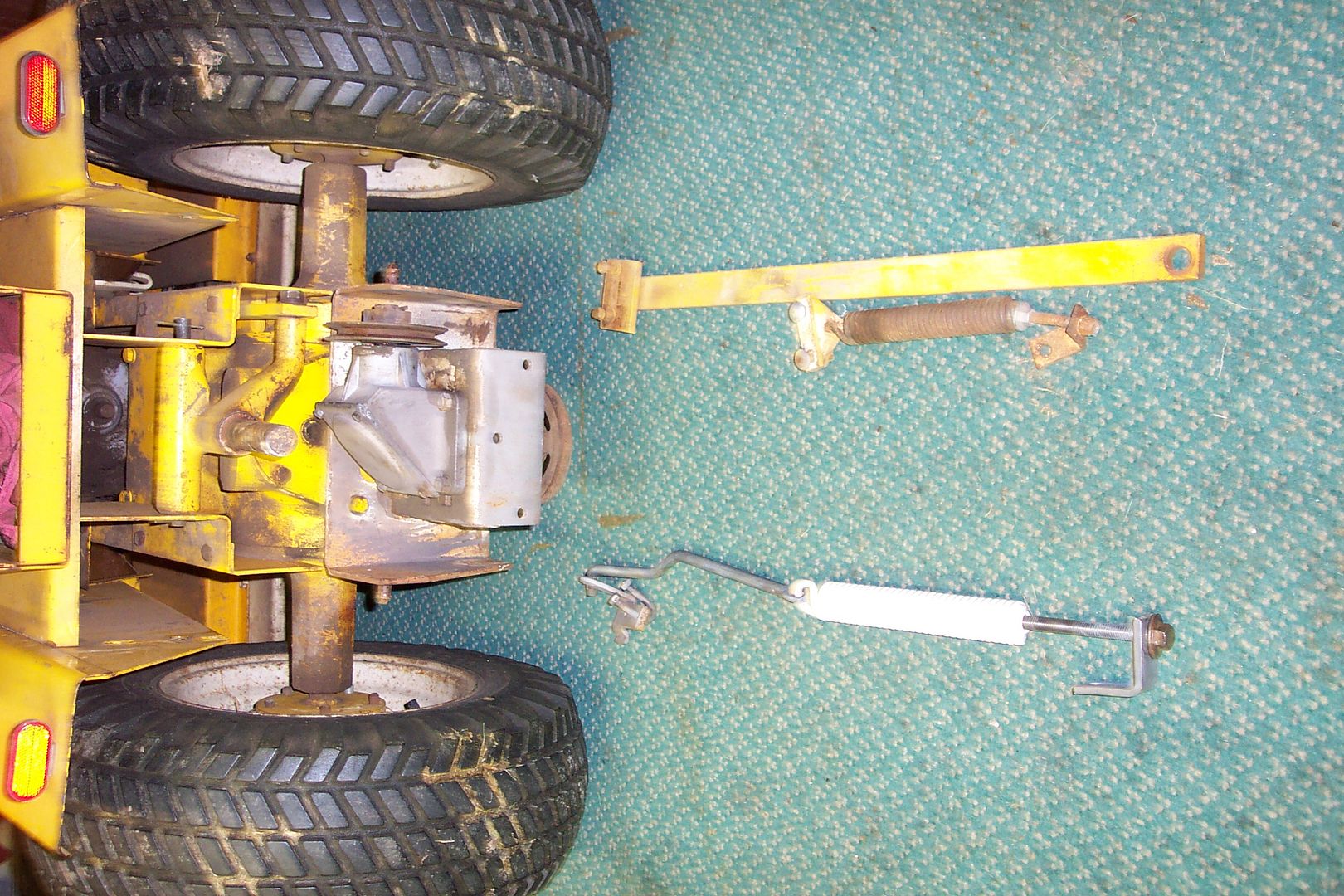 click for big pic
That help? Or do you need to know how that bar attaches to the lift handle?
edit-- here's a pic of the rectangular bracket that attaches to the lift handle.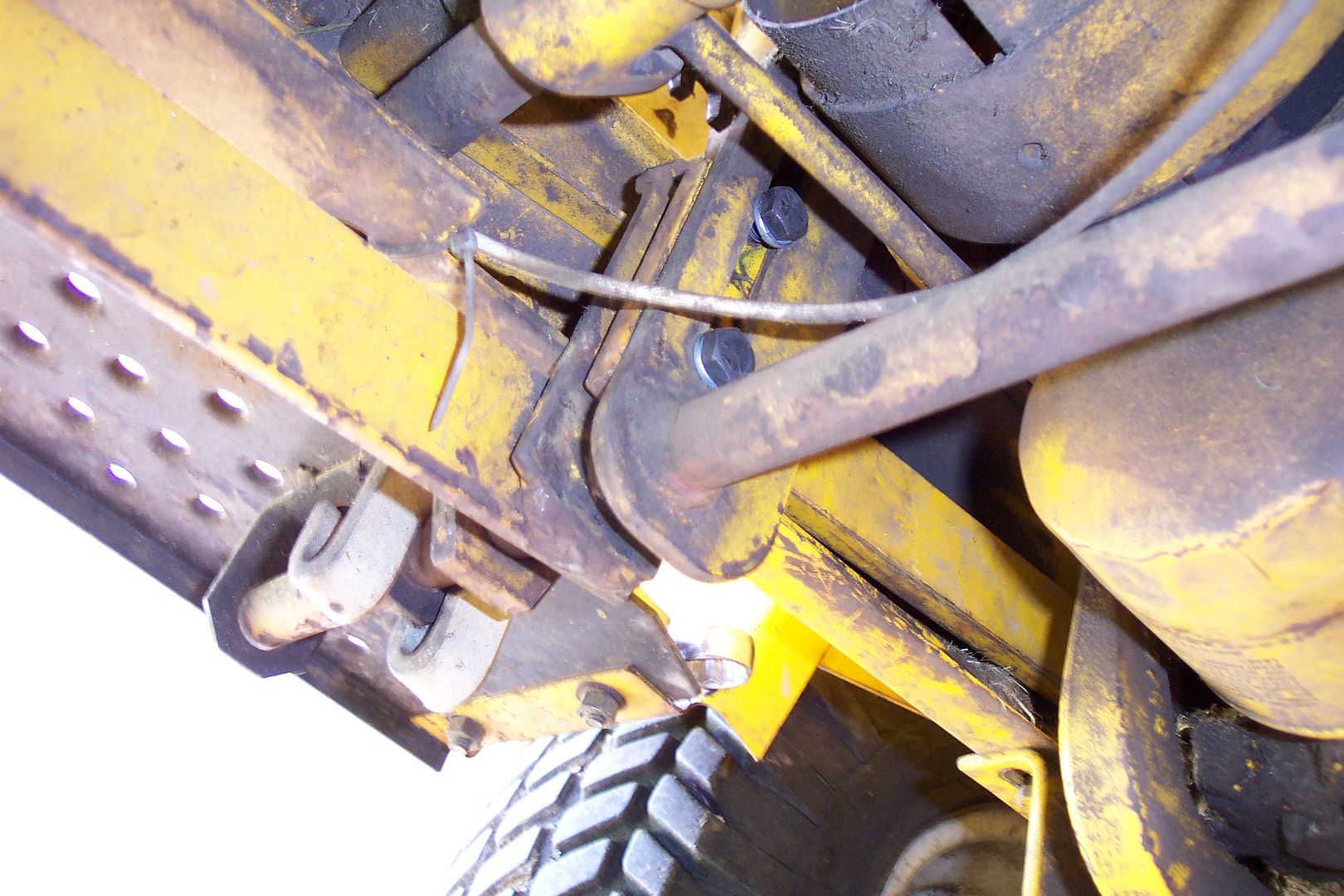 NOTE!!!! If you slide the bracket all the way down in the slots, it will either be difficult or impossible to attach your mover deck or front blade.
Sun Jul 03, 2011 6:28 pm
Jeff, Thanks for the photos of your 125. They showed me EXACTLY what I needed to see. How the linkage hooks up to the lift handle was especially handy. That was modified by a PO but now it all makes sense. Right now it's too hot to work on it, but towards evening I'll get out there with printed off copies of your photos and get started on reassembling them. It looks like I'm going to have to remove the transmission again, or at least pull it back a little to get the linkage in there, but it all makes sense now. Thanks again.

Ed
Sun Jul 03, 2011 7:45 pm
ebax wrote:.......... It looks like I'm going to have to remove the transmission again, or at least pull it back a little to get the linkage in there, but it all makes sense now. Thanks again.

Ed
You're welcome
I put mine together without any disassembly. Slide it in from the back of the tractor with the rectangular bracket on and then put in the two 5/16-18NC bolts. ( the rear panel between the fenders comes off. it's held in place by two 1/4-20 NC bolts on each side )
Jeff
Sun Jul 17, 2011 9:14 am
Good news! The job is done and I mowed the lawn with the Cadet on Saturday afternoon. Thanks to all who helped me. The photos that Jeff in Pa. sent me were a real life saver.

This job took longer than I expected, but it's done now. Locating parts and waiting for shipment took a while. As a college student in my 60s I had to find the time to work on the Cadet after my homework was done. The last time I went to college was when this CC124 was brand new.

Now all that remains is to remount the rear wheel weights and get the clutch and brake adjusted. I got a surprise on a slope when I discovered the brakes weren't working. Is there a trick to getting the clutch and brake both properly adjusted for optimum braking and shifting into gear? The there isn't much of a neutral spot in the foot pedal between where the clutch is disengaged and the brakes start working. It seems that the brake adjustment is pretty sensitive and it doesn't take much to go from no brakes to too much brake. I am supposing there is an ideal spot I need to find by adjusting the clutch and brake linkages together. The CC124 Operators Manual says nothing about this. Thanks.

Ed
Sun Jul 17, 2011 12:09 pm
ebax wrote: I need to adjust the clutch and brake linkages together. The CC124 Operators Manual says nothing about this.
The instructions for adjusting the clutch/brake linkage are in the service manual - under adjusting the clutch.
If you need a service manual - PM me with you e-mail address and I will send it to you. The service manual is quite large. Be aware that it may show up in your in box as 64 smaller e-mails.
Sun Jul 17, 2011 8:13 pm
Thanks, Eugene. The email address is
ebax@embarqmail.com
. I only have the operator manuals for the Cadet and its implements. I did some more adjusting of the brake and clutch and got them a bit better than they were. The rest of the lawn got mowed this afternoon and all went well.
Ed
Sun Jul 17, 2011 8:37 pm
E-mail sent. Broken into 64 smaller e-mails. You will have to search through the e-mails to find the appropriate section.

Edit: I think Rudi has the service manual on his server.
Fri Jul 22, 2011 2:45 pm
Thanks to the info I got from all of you and the GSS-1464 manual my Cadet is all adjusted, drives fine, and will now stop on a grade. I really missed having the Cadet out of service for a month plus while I went through the whole repair process. I really learned a lot doing this. It's great being able to use the Cadet for lawn mowing rather than a walk behind power mower. I can also pull my little dump trailer instead of using a push cart. Going without a Cadet for a month really make me appreciate it now that it's in service again.

Ed