Wed Aug 06, 2014 7:36 pm
I have looked several times for a replacement of the 3/8 x 79 inch deck belt for my 1650 with the 50A deck. I have never been able to find one, and with the CC belt running in the 30+ dollar range, I have been distraught. While I have gotten above average service from the CC belt, it is still a hard pill to swallow for that amount of money. I finally found a replacement. I think the number is 3L79. I bought two of them ( they were less than $10 a piece) from USA Belts and Bearings. They had them on backorder for a week, but I received them today. It is the right length/width/pitch, but not as "thick" as the CC belt and not nearly as heavy duty, but I put it on and ran it for a few minutes before darkness fell. I will keep you posted on whether its a hit or a flop.
Wed Aug 13, 2014 10:22 am
I been using the belts from McMaster Carr with no problems yet on the mule drive and mower deck belts. I been using the McMaster belts on the S/G too.
Mon Sep 29, 2014 2:54 pm
I've been running non-cc belts on mine for as long as I can remember. In fact, I have a combine belt on my mule drive. (a bit wider, but works) Actually since it rides a bit higher, there may be a few more rpm's.
Mon Sep 29, 2014 3:13 pm
I've only replaced the PTO belt to a 44C deck once last year (been mowing with my 782 for 1-1/2 years). Bought it at TSC, Huskee Kevlar construction. Replaced last Fall and it's still going. Being a 44C, it uses the 5/8" wide belt instead of the 1/2". Think it was this one for $24:
http://www.tractorsupply.com/en/store/huskeereg%3B-kevlar-v-belt-5-8-in-x-88-in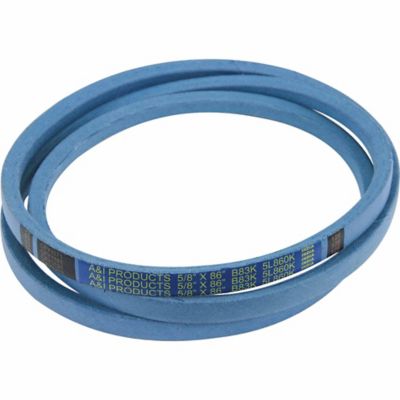 My old Simplicity mower would break a belt annually. I was buying Gates power-rated belts from O'Reilly auto and always kept an extra on hand. Hoping to get more than one season out of the Huskee belt.
Let us know how the rest of your mowing season goes with this new belt.
Fri Sep 09, 2016 10:48 am
So I am bumping this post to the top to provide some results. I have found the 3L790 to be the right size when new, but after some stretching ( and because my mule drive has some slop) it gets to the end of the adjustment range. I have tried some 3L780 belts, and while tight when new, once they stretch a bit with use, work perfectly. I am buying these belts for $7.00 plus shipping, and can usually get a full season out of one or two belts, which is still way cheaper than the CC belt. I now have a newer 50 C deck, which has a 5/8 pulley. I wanted to try the 3/8 belt on the 5/8 pulley to see if it would render more speed without destroying the belt. So far so good. I will keep you posted.
Sun Oct 02, 2016 11:04 am
McMaster Carr also has belts too. I buy my int154 belts from them the longer one. My 3260 deck belt comes from surpluscenter.