Tue May 15, 2007 5:59 am
My corn is popping up!!!!We need rain here,been dry as a popcorn f--t.Peas are up also,planted early this year and don't think we are to get any more frosts!Pics to come!!!Kevin
Tue May 15, 2007 6:13 am
Dusty and dry here too Kevin. Supposed to see some rain today though.
Tue May 15, 2007 6:56 am
We had a frost night before last. Maybe this weekend some corn and veggies will go in.
Tue May 15, 2007 8:11 am
Last edited by Redman on Mon Jun 14, 2010 5:55 pm, edited 1 time in total.
Tue May 15, 2007 8:30 am
This has been a pretty good year for gardens so far here. We're starting to get a few spotted gardens with corn ready to eat. I'm eating snap beans already. Most gardens has tomatoes big enough to fry. A few cucumbers here and there. Mine is about 1 inch long now so it won't be long. Squash has been in for a long time. Going to my neighbors this evening and pick a mess of peas. Yep, its been a good year so far.
Tue May 15, 2007 2:08 pm
Incredible differences in this great country of ours! Here in New England, the lawn is just about to be mowed the first time, and unless you're a gambler, you won't plant a tomato for another week or two. This last weekend was great for turning up the garden. We'll do it again just before the seeds go in.
Sun May 20, 2007 3:12 am
Here in Burgettstown, about 1:45hrs south east of Akron, we have corn up, too. The problem is, we have been pretty dry the past 2 weeks, which is good to get the rest of the corn in, and to get our weekly planting of sweet corn. We are gonna need some rain soon, even if it's once a week, it will be better than what we have been getting. The other problem is, we got frosted last night. That is nt good!


Hopefully things will balance out. Last year was a great year for corn, if we could get a repeat, I would be so happy.

I am really looking forward to the first taste of that "silver queen" sweet corn we have in the ground. That has to be some of the best sweet corn ever.


Good thing we didn't do any soybeans this year. The late frost would have really messed with the yield, if not crippling it completely.


Wishing the best of the 2007 harvest!
Sun May 20, 2007 5:57 am
We to have had frost warnings but no frost!!I got luckey this year!!I put tomatoes in a week and a half ago.This is the last weekend for frost that I've seen since I moved to Ohio.Somtimes I get luckey and sometimes I get frosted
Kevin
Sun May 20, 2007 7:56 am
kevin, i live less than 1 hr away from you and i had to scrape my car windows twice last week. good luck on the crops
john
Sun May 20, 2007 11:22 am
Kev, I may have to ship you some corn and such
Your Garden will be fine just give it a week or two
David
Sun May 27, 2007 12:39 pm
Kevin my corn is up too
This is my lovely wife Joyce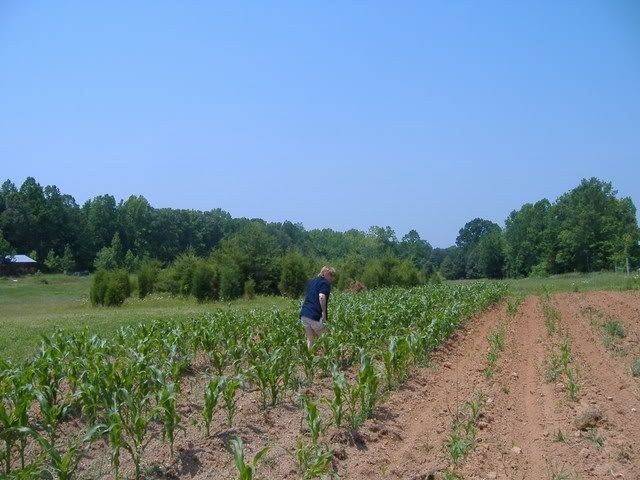 I told her your corn was up Kevin and she went out to check to see how her's was doing
Sun May 27, 2007 12:55 pm
Much better than mine!!!You are a few weeks ahead of me!!!Tracy is out with the tiller cultivating between row[she didn't want it fertilized]haha for her!!!Tractor does it in half the time!!!See ya Kevin ps great pics!!!!!
Fri Jun 22, 2007 10:06 pm
Spose most of ya are already eating your corn .
Wifey took this pic today, we planted "Mirai 131" a new (new to us) supersweet variety, I can't wait to unleash (I eat about 4 ears for every 12 I pik).
Mon Jun 25, 2007 12:41 pm
Mine is waist high now!!!!Looking good so far.Past 4 days at the RPRU and off the plants go!!Kevin
Mon Jun 25, 2007 2:03 pm
Isn't it great when it finally starts to happen? My first planting is doing well in spite of the lack of rain. The leaves reach shoulder height when unfurled. The tassels will come out tomorrow.
The second planting was doing well too, except the stalks were about 8' apart! It was ripped up and replanted last Friday. The nearest row of the first planting was skimpy so there is some okra sharing the row. Now all we need is a little rain.